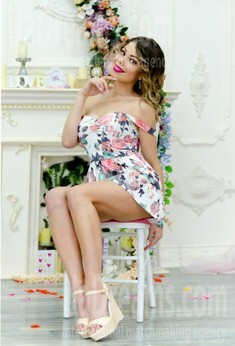 About my family
My family is very important for me. There are people who always ready to help or support me in a difficult situations of my life. I have to say that my family is not big, but very friendly. I grew up in the family with a lot of love, tenderness and care. I am very close with my mom. I can share all my secrets, thoughts6 worries and experience with her easily as she always can give me a good piece of advice and never will be envy knowing about my wins! In the future I would like to see my children growing up in the similar family relations.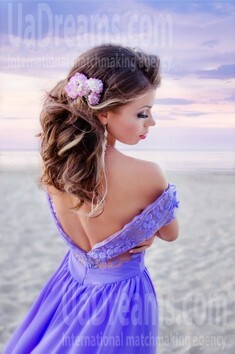 The type of man that I desire
Every single girl dreams to find her prince..... But, let's come back to the reality, no one is ideal in this world. To become a man of my dream, to be my prince is just enough to be helpful, tender, attentive, clever. I wish my future husband will be gentle and I always can melt like a piece of chocolate in his hugs. I always pay my attention to that kind of men who love kids. That means that they are very kind, patient and responsible. So, if you have all of the characters listed above you are exactly right person which I am looking for.
See her fascinating movements and charming smile...
Feel as if it was your first date with this lady — it is worth 1000 pictures!
Watch this video for FREE
Get a much better idea of the lady's personality!
Discover her life and secrets no other men know :)
It's intriguing like finding an unknown world...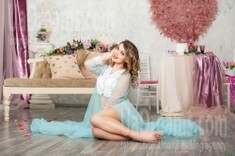 My future goals are
Every person all around the world must have goals. From my point of view the family plays the most important role in our lives. So, my goal is to create my own strong and reliable family. Also I'd like to have my own house where my lovely husband will be waiting for me. I need someone in my life, with whom I can share my love, who will supзort me in my up's and down's. Family members are always the closest people in the life of every person, in my opinion if you are happy with that, you can be happy with everything because it is the first key to success. Also I dream to be a good mother. In the future I would like to have at least two adorable and cute kids or even more.
What I do in my leisure time?
Leisure time is very important for me. First of all it helps me to relax.There are things which I like to do most of all and also they help me to refresh my mind. I like to cook new dishes that are popular in another countries, to bake delicious cakes, so in this way I can surprise my family and friends. I am enjoying needlework, this kind of work helps me to relax after a long working day. Sport is the part of my life. When I am working out I feel myself cheery and mostly I am focused on yoga, that's what helps me to keep fit and relax. Like everybody I like to go out and have some fun with my friends. We spend our leisure time dancing in the club, watching movies at home or sometimes just going to the theatre.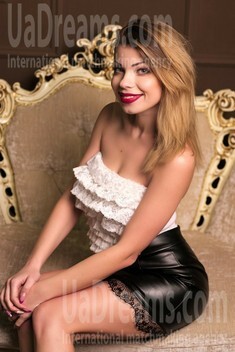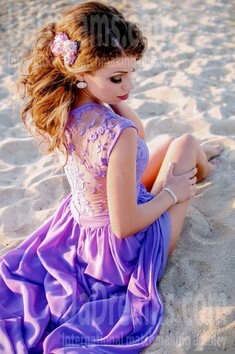 Our personal opinion of this Lady
When we saw this lady in our agency for the first time, her sincere smile brought a lot of positive emotions and a good mood for us. We have a great first impression of her. She is a beautiful, positive and clever young lady, it was such a big pleasure to meet her and to have a conversation. We saw some kind of sparks in her green eyes, looks like these sparks will set on fire someone's heart very soon.
My typical day
I am a very active person and always full of energy. I am trying to fill up every day of my life with a positive emotions, and I always have my friends to help me with that. There are a lot of beautiful things around me that can make my day and cheer up my mood. That's why I am waking up happy and going to work with a pleasure.I have part-time job, so I have a lot of free time for myself and my family. I really like what I do. Even after a hard day I can always find some time to spend with my friends and family. I am cooking tasty dinner for all members of my family. After having dinner, we are watching movies at home or in cinema or going to the theatre. By the way, it's a very big pleasure just to have some tasty tea, to talk to each other, sharing our impressions in a comfortable atmosphere. That's the best way to finish a hard day.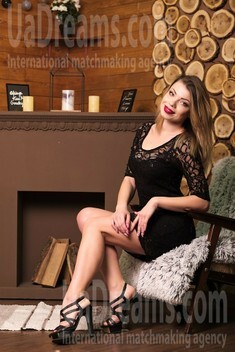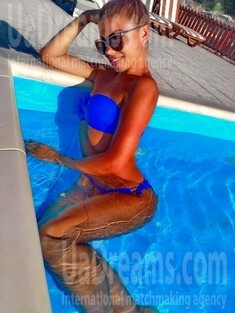 Domestic abilities
I like to live in comfort,- so I adore to create cozy atmosphere in my house. I love doing different work about the house. I have a very good girl friend-her parents live in a private house. We love visiting her parents in spring and summer time and help in the garden. I think that lady should create comfort atmosphere at her house so her husband would have a desire to return home as soon as possible :) Most of all I adore cooking some tasty dishes. But I believe that man can always cook better ;)
How would I describe myself
The one who will be interested in me, can always ask, and I will answer all your questions. I can only tell you a little bit about my traits. It doesn't matter what is going on in my life, I am trying to stay kind, sincere and honest. I am always trying to avoid any conflict situations with people, especially people I love, so I am always ready to solve that kind of problems in easy and funny way.