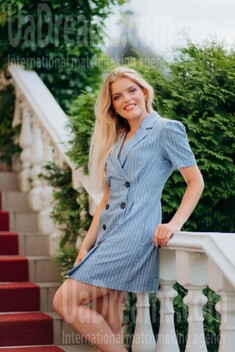 My future goals are
To be honest, I have many dreams and goals in life. I live my every day with understanding that I am thankful for my life and I know that step by step I will reach all my goals. First of all, I dream to find a right person, who will be my second half for the entire life. I want to find a nice, respectful man, who will make me the happiest girl in the whole world. I wish to create a big family, in which everyone will support and respect each other. Secondly, I want to travel a lot with my beloved. In my opinion, the best experience is to travel together with my love and to enjoy benefits of each trip together.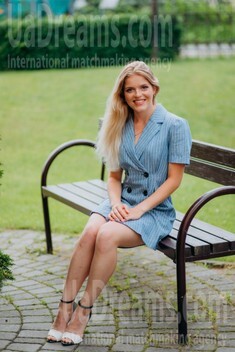 How would I describe myself
I am very energetic and cheerful. I may wake up early in the morning and have an extremely busy day at work, at the university, spend much time doing sports and still smile in the late evening being full of energy. I never complain and live life to the fullest. I may be romantic and calm as well as very funny and brave at the same time. I am caring, reliable and responsible. I like to help others and I am always honest. It doesn't matter if it is a stranger or my best friend. I like to travel and meet new people. I am always open to new trips, activities and meetings.
See her fascinating movements and charming smile...
Feel as if it was your first date with this lady — it is worth 1000 pictures!
Watch this video for FREE
Get a much better idea of the lady's personality!
Discover her life and secrets no other men know :)
It's intriguing like finding an unknown world...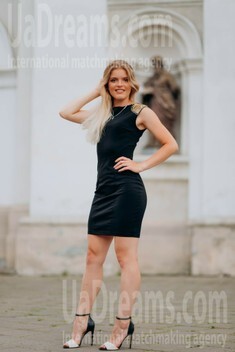 My typical day
My typical day starts very early. Usually it starts at 6-7 am. I like to wake up with the first sunrays and open my window with a big smile, saying hello to the world. I drink a glass of water, do morning exercises and take a shower. After my breakfast I study and go to the gym. In the afternoon I work as a tutor for a few hours and I spend my free time in the evening at home or outdoors. I may read a book, watch some series or movies, meet with my friends. Sometimes when I am very busy with my university classes I study in the evening as well. It's very important for me to have a walk in the fresh air before going to bed.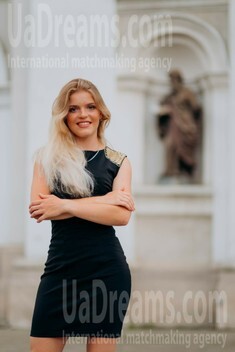 About my family
My family consists of 5 people: my parents, older brother and my little sweet sister. I have a very friendly and supportive family. I appreciate it so much! I may always ask my parents or brother to help me or give an advice and they are eager to do everything for me. My parents always appreaciate my opinion and they love me for who I am. Despite living many years together, my parents still love each other. I think their love is becoming bigger and deeper each year. My mother is the closest person in the whole world for me. I may talk with her about everything and I am sure that she will always be on my side.
Our personal opinion of this Lady
The most important for this lady is to find a right man in life. She is searching for a pure love and she believes that her dream will become true. Katy is a very charming young lady and she has a beautiful smile. She is polite, kind, honest and is ready for a serious relations, which will lead to a marriage. Despite her young age, this lady is very intelligent and knows what to do in order to achieve her goals. She may find a common ground with everyone and it feels like there is a lot of true love inside her heart, which she wants to give her future beloved.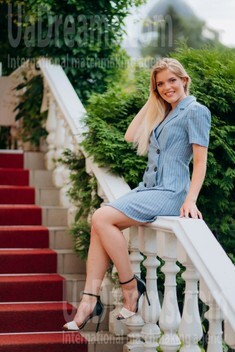 What I do in my leisure time?
I try to spend my leisure time outdoors or at the gym. I adore sports and different outdoor activities. I've been doing sports since my childhood years. I did weightlifting when I was younger. Now I prefer to ride a bicycle, do sports at gym, jogging. A few times per week I attend pole dance classes. I also enjoy reading and listen to the psychological lectures. I like to spend time with my friends. We meet at the cafe and have pleasant talks about the last news in life. Sometimes we go out to have a walk in the park. I like to walk alone as well. I need to take time for myself to think a bit and to reload my mind after a daily routine.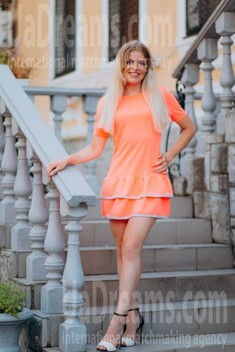 Get a much better idea of the lady's personality!
Discover her life and secrets no other men know :)
It's intriguing like finding an unknown world...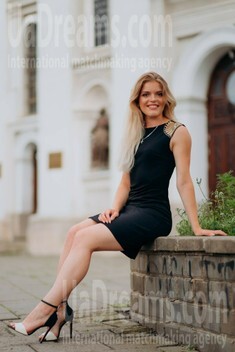 The type of man that I desire
I dream about an energetic and brave man, who likes sports and active pastime. He should be responsible, supportive and very caring. My beloved has to know exactly his life goals and how to reach them. He should know how to solve problems and how to take care of his future family. The most important thing is love, so he should love me to the moon and back, and I will love him in the same way. My future husband will be honest, reliable, kind and intelligent. I want to be his princess, best friend and loving wife.