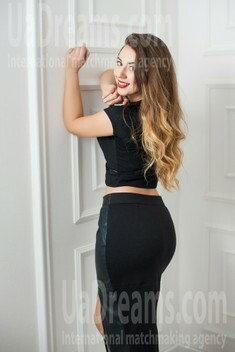 My future goals are
I want to be a good mother and wife! Surely creating my own family is my aim number 1 in life! I think this is the main goal of every woman, as to give life to a new human being is our main task with which we came into this life! Nowadays many women try to combine carrier and family routine! I think its already a life style of every woman nowadays! I do not mind it. If I have enough time to work why not. Of course, it will not be a full time job at first but something where I can develop myself and something that can bring me pleasure and some income!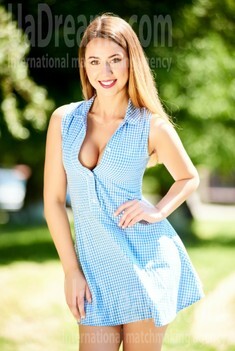 Domestic abilities
I do not spend much time at home, but keeping our house clean is important to me! My mother likes to cook, so I just give my help when she needs or cook something myself! I like to see happy faces of my parents when they try my dishes! But my main judge now is my nephew:) I try to impress him with something tasty:) It's so easy nowadays to cook with the help of Internet, you can find any recipe you can imagine there, add something yours and here is a new family dish! :)
See her fascinating movements and charming smile...
Feel as if it was your first date with this lady — it is worth 1000 pictures!
Watch this video for FREE
The type of man that I desire
My man must be a special one:) Special to me! I know for sure if I am in love with this man will be the best to me, all his disadvantages will be advantages to me! I do not have a wish to change a man but to love him as he is. No one is perfect! But I believe that meeting the right person is like making a puzzle, the shape is not perfectly right, but it suits you perfectly! I want my man to be polite, caring, attentive to my wishes and my opinions, he should have aims in life and love his family! I want to be close to my man, to have a strong wish to have common activities, common time spending, in spite I think a man in the relation should have his life as well, time to spend with his friends, time for his hobbies etc!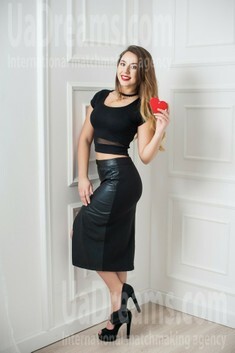 My typical day
My weekdays are almost the same as if I am at work! I wake up early in the morning, have coffee, take a shower and get ready for work. My shift is pretty long and I spend my working day at work. I am okay about that because there are not that many things you can do in a hotel in the middle of the mountains :) Sometimes after work, if I still have time, I am watching a movie or spending time with my colleagues. The situation is different during my days off because I have plenty of stuff to do. First of all, I am cleaning up my room and doing some laundry and then I like to enjoy my free time.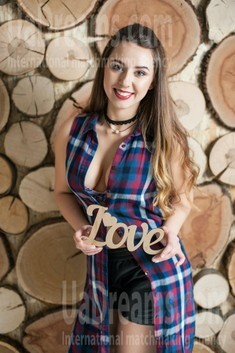 What I do in my leisure time?
Now I work at one famous ski resort in Carpathian mountains. I love this area. Wild nature, fresh air, new people everywhere are my inspiration. My schedule allows me to go to my home town for 2 weeks every month and during that time I like to spend some time with my friends and family. But even when I am at work, I have enough free time and often I like to go for a walk and just enjoy the beauty of the mountains and nature.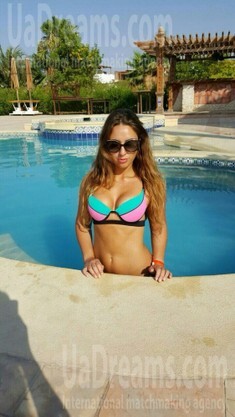 How would I describe myself
I am a special lady with simple aims in life! I like to be active and to make my close people happy! I am mature enough for my age, very loyal, caring, with good sense of humour and good heart!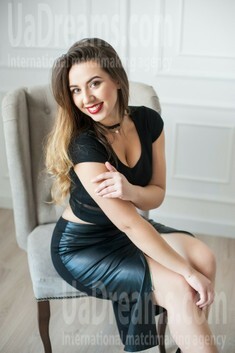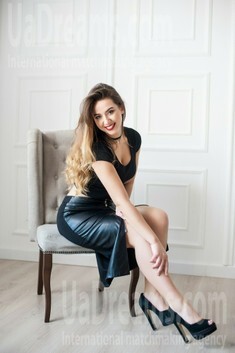 Our personal opinion of this Lady
Very nice, smart and cute lady, with a sincere smile! She has definite goals in life and works hard to reach her aims! The lady is very attentive to others' wishes and thoughts!
About my family
My family is not big one but very loving and caring. I have mother, father, my older sister and my nephew! My sister and her son live separately but I often help her to take care of him. Life is very unpredictable and it's good when you have a family who will always accept you with all your problems and help you any time! I do appreciate each of my relatives in my life and try to give my help when I can! And I know if sometimes I need their help I will get it! Unfortunately nowadays life goes very fast, everyone is engaged with their work, other business but it's important to find time to spend it with your family.