The type of man that I desire
I am looking for an active man, who likes active rest and nature. It will be good if he has no bad habits and likes sports. He should be purposeful and kind, romantic and tender with me. Looking for a simple man with charming and warm smile and good sense of humor :) Where are you, my lovely man? :)
My future goals are
Oh, I have so many goals so I hope to make them all come true :) First of all I want to find a decent man and to create a happy family, I also want to engage myself in self-realization having some nice job. I have never been abroad so I plan to start traveling and to visit interesting countries. But I am sure that traveling is great with your beloved one only :) And a very important goal for me which I have started making steps towards its accomplishment is learning English! I want to speak it fluently :) or maybe some other language. If I meet my second half and he is a foreigner, it will be my main goal to learn his language.
See her fascinating movements and charming smile...
Feel as if it was your first date with this lady — it is worth 1000 pictures!
Watch this video for FREE
Our personal opinion of this Lady
Lily is very nice young lady, smart and she is a good listener. She has beautiful eyes and warm smile.
My typical day
I start my typical day with a mug of coffee and making plans for the day. I look at myself in the mirror and smile, hoping to have a productive day ahead :) I do all the things about the house. In the evening I like to watch comedies or romantic movies or read something interesting. Sometimes I meet my friend for a cup of tea and hearty talk. This is how I spend my typical day :)
What I do in my leisure time?
My leisure time can be very different :) On weekends I like to join my friends on bbq and picnics. I love nature very much and everything what is connected with spending time outdoors is for me! I like long walks, enjoy looking at night sky and sleeep in tent :) I think it's very romantic. Also one of my favorite hobbies is handicraft. I like to do hand-made pictures, quilling, decoupage and I love drawing and designing! I am a creative person, I like to make interesting things with my hands :)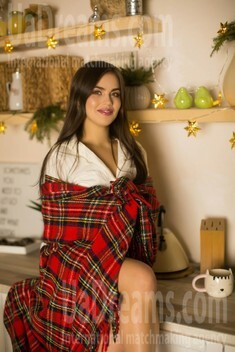 How would I describe myself
I am easy-going and do not like to make things complicated. I like volunteering and take part in charity events. I cherish individuality in every person because everybody has his pros and cons. I believe love and peace will save the world :)
About my family
I live with my mother, we are very friendly and support each other in every situation. Mother is my best friend, she always gives me good advice. I appreciate her help and support. I am so thankful she gave me such a good upbringing and education and I hope in future to have relations with my future husband which are based on trust and respect.