Our personal opinion of this Lady
This lady is incredibly positive but at the same time calm, very feminine. The feeling of inspiration won't leave you for a long time after a conversation with her!
How would I describe myself
I love life, love people and love love! :* I know what I want from life and I know how to enjoy what I already have :)
See her fascinating movements and charming smile...
Feel as if it was your first date with this lady — it is worth 1000 pictures!
Watch this video for FREE
My typical day
My days can be so different! But what never changes is the morning exercise and morning shower, to keep my body fresh and fit ;) After taking care of my body, I make some outer beauty - a nice hairstyle, shiny lips and high heels make my mood only better as it makes me believe I bring a bit of beauty and spring to this world. After a workday I go for a walk, to meet with friends or just chill with a book.
About my family
My family is big enough - mom, sister, and two nephews! We are very friendly and always stay as one team.
The type of man that I desire
I guess every lady dreams to find her prince, but it's not about me. I want to find a real man... A loving and caring man who is ready to write our own story, with happy and sad times, with our common and personal ups and downs. What matters to me is that we both will support each other through all those times and share all the love we have!
My future goals are
First and foremost my goal is to have a family... I really need a touch of man's hand in my life... I need my darling to share home, heart, and life ❤️
What I do in my leisure time?
I'm a very positive, friendly and open-minded person so I like being with friends, spending time outside, enjoying this wonderful life! And when I want a bit of quiet rest, I like reading books, watching movies and concerts, listening to music. Another hobby I have is taking care of my home - keeping it clean and shiny! With the delicious smell of dinner in the evening and sweet aroma of flowers in the morning.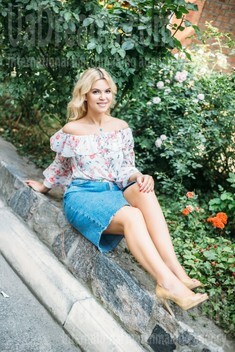 Get a much better idea of the lady's personality!
Discover her life and secrets no other men know :)
It's intriguing like finding an unknown world...