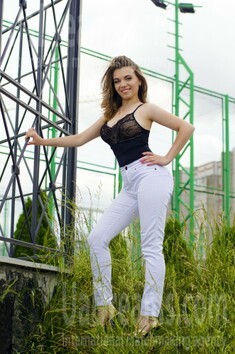 What I do in my leisure time?
I think that leisure time it is a Time for our Soul and Pleasure and I think that the best way to spend it is to be with your Family...I am a very active person) I love to spend my leisure time with my son) I try to manage my life in such a way that my son doesn't feel lack of my attention and I am sure that my man won't feel it too) We like to go to the movies, in summer time we love to go to the zoo, in winter time we often go to the skating ring. As he is a big fan of Lego) we stay at home and make some nice cars and figures using all his Lego collection when the weather isn't good )) I also like to meet with friends... I think that life is so short and I try to enjoy every new day with my son and friends.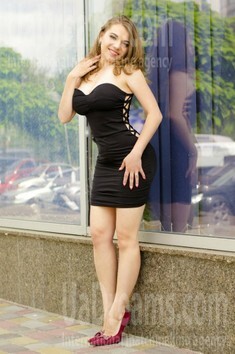 The type of man that I desire
I am looking for a serious, family-oriented person. With a big kind Heart... who is ready to be a good father for my son. With a good sense of humor and strong character...I am not looking for a rich person in material way, I need a person with a Rich Inner world and High Moral Values..Person who is ready to share all his life, and interests with me and who will make my son and me happy. Person who knows what he is looking for. If you feel you are such person please write me.
See her fascinating movements and charming smile...
Feel as if it was your first date with this lady — it is worth 1000 pictures!
Watch this video for FREE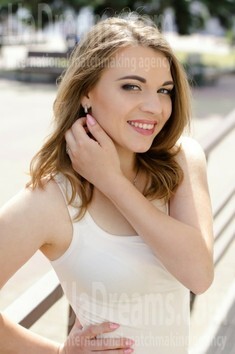 How would I describe myself
I am a very active, positive person. I have a good sense of humor. I like to bring some Happiness in other's Life. I like to make people Happy.
About my family
I was born and raised in a small city. I have a nice and friendly family. I have a brother who is 2 years older than I am. I have loving parents. My family is a good example of a good and loving Family. My parents still love each other and they support and respect each other. I hope that I will have the same special atmosphere in my future family as I have in my family now) We have a very friendly family and love to gather for all Holidays together. We support each other in all ideas. They support my idea to find a man abroad and wish me Good Luck))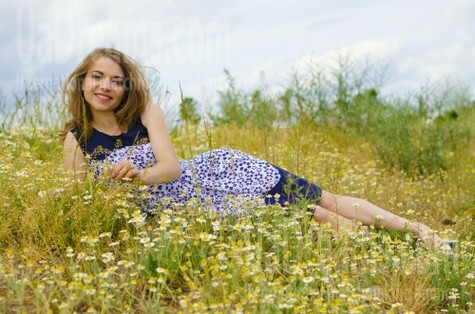 Domestic abilities
As my son is still a little boy I do everything at home by myself. I have to do both man's and woman's work... Sometimes it is a little bit hard.. and I dream to have a good helper at home but I think that God gives us testing what are easy for us and make our personality stronger. I like to keep my home clean, as I have a very active son I always have what to do at home))) Cleaning and washing. I also love to cook for my son and friends. My Son loves to call me "Mom Chef" )) I like to find new recipes and try to cook new dishes. I have some flowers at home and I love to care about them)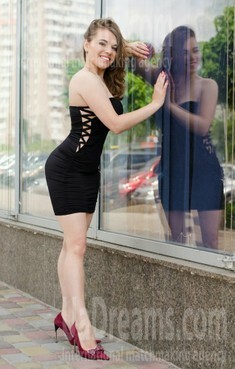 Our personal opinion of this Lady
A very pretty young Lady. A very open and sincere person, family-oriented. She knows what she is looking for.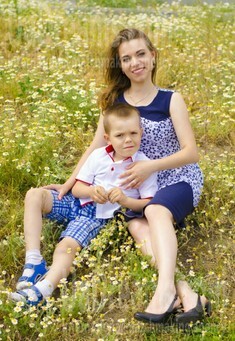 My future goals are
I know that everyone tries to Plan his life in a good way. I can't say that I try to Plan my Life.. I just have some Goals in my Head and I try to reach them. I wish to have a Strong Family and feel My Home and my Family is Full of Support, Understanding, Love and Care. My main goal is to be a good mom and a good wife. The main goal for me is to see that my family is happy and Healthy.
My typical day
My typical day starts at 6 am. I wake up, turn on music and make some healthy breakfast for my son and a cup of coffee for me) I dream that one day I will wake up not because of my alarm clock but because of some sweet morning kiss) After breakfast I start to get ready my son to kindergarten, give him his breakfast and take him to the kindergarten. After it I go to my work and work there till 5 pm, after work I pick up my Angel from kindergarten and we go home, have some dinner, can watch some cartoons, play with Lego or some video games) When I am with my son I always feel like a little girl) and we always have some fun) and at 10 pm we go to bed) I believe that one day my typical day will finish in other way... I wish to finish it in a strong warm hugs and to feel I am beloved..