My future goals are
I want to live a happy life))))). I want to see happy and successful people in my surrounding. The biggest goal for today is to see the "whole world". And of course, like every woman, I want to be desired.
What I do in my leisure time?
In fact, I have a lot of activities that I like to do in my free time. But most of all, I like to spend time with my children, although they are already adults and have their own interests, so it does not happen often. I also like to relax on the nature to enjoy fresh air. I love swimming in a pool or in a river. The water calms me down and relaxes.
See her fascinating movements and charming smile...
Feel as if it was your first date with this lady — it is worth 1000 pictures!
Watch this video for FREE
How would I describe myself
I am very sociable and opened person, I like to communicate with people and make new acquaintances. I am very kind and responsible lady. I am sensitive, caring, loving, understanding and I hope that the man I am looking for can give me the same. I am cheerful, energetic, so my friends never get bored with me. I usually notice only good things around me and I don't like to waste my time doing something meaningless.
The type of man that I desire
I want to find a real man with whom I will open a new page in my life. I am an easy going, positive lady, so I am looking for a positive, cheerful man with whom I will never be bored, who will make me smile. And of course as every woman I want to be happy, desired and loved, so of course I am looking for a loving and caring man. I hate lying, so I want my man to be opened and honest with me. I want to find my soul mate with whom I will live a happy and joyfully life. I am looking for a man with whom we will share common interests. Understanding and support are also important for me in relationship. I am ready to give my care, support and understanding to my man. And I hope that the man I am looking for will also give it to me.
My typical day
I wake up at 8 a.m. I cook breakfast and enjoy my morning meal with my family. Before 10 a.m, I leave my home to go to work. At work, I communicate with different people and have quite active days, so after work, I like to relax at home reading a good book while drinking coffee. But if my day is not very busy, I like to meet with my friends to have a nice chat and go for a walk.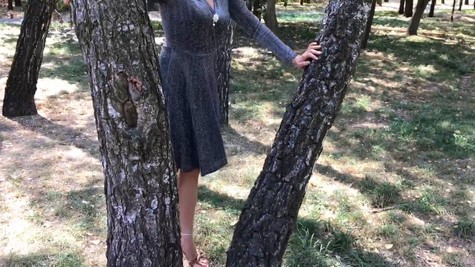 Get a much better idea of the lady's personality!
Discover her life and secrets no other men know :)
It's intriguing like finding an unknown world...


About my family
My family is very friendly. I have two wonderful kids, they are my biggest support and pride. We like to do everything together. Besides I have my mom who is one of my best friends)))))))))))))))))).
Our personal opinion of this Lady
She is very romantic and feminine lady. This woman will never let you get bored, she is very cheerful and she is the life of the party. She is a very responsible and hardworking lady))).