New lady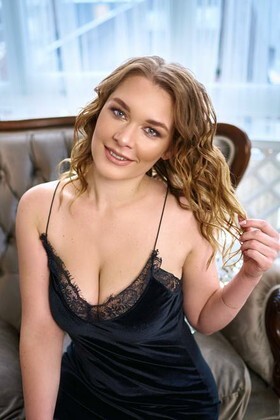 lutsk
Birth Date
Height
Weight
Eyes
Hair
Build
Glasses
She is
Smoke
Drink
14 April
162 cm 5' 4''
60 kg 134 lbs
green
blonde
petite
No
right-handed
No
Socially
Occupation
Make-up artist/ Hairdresser
Marital status
Single and I have children / 1 girl
Children age
0 y.o.3 March
Want to have children?
will decide with my husband
I'm looking for
Marriage, Romance, Friendship, Relationship, Dating, Traveling
Share your love with Natali!
Share your love with Natali!
Birth Date
City
Height
Weight
Eyes
Hair
Build
Glasses
She is
Smoke
Drink
I'm looking for
14 April
162 cm 5' 4''
60 kg 134 lbs
green
blonde
petite
No
right-handed
No
Socially
Marriage, Romance, Friendship, Relationship, Dating, Traveling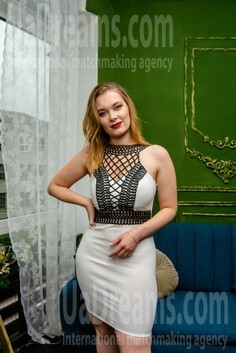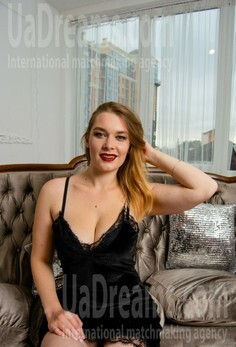 Our personal opinion of this Lady
Lady Natali has really very strong and positive energy! She has so beautiful deep blue eyes and sexy shapes. Natali is well-educated and intelligent woman. It was a big pleasure for us to work with her. She has such a warm and pleasant smile. Natali has a lot of goals in her life, she has an amazing small daughter Kia. We will do everything to help her find her soulmate and build a happy family.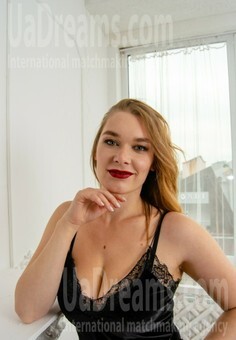 My typical day
Honestly, I have not got any typical days. Every day I do new things - I think it is the best way to improve myself. I wake up at 6-7 o'clock in the morning, during my daughter is sleeping. I do my morning work out enjoy the cup of espresso. I cook a breakfast for my family and I really enjoy this. When I go to work my mother helps me with Kia. Twice per week I visit Latin dance and Bachata - it is my hobby. I like to spend my evenings with my friends and family.
How would I describe myself
I think that I am hard-working lady with my personal goals and point of view. I am a friendly person. I think my friends can better tell you about me. I am a positive person. It is really hard to see me in a bad mood.
The type of man that I desire
It is really important for me to be protected and provide. I will let my future husband know that I believe in his talents and skills and be supportive of him. For me understanding in relationships is also really important. I want to hear compliments from my husband and solve all our problems together without any secrets. One of the best ways to show love - is to respect feelings of another person. I understand that it takes time to build trust in relationships by being honest with each other, communicating often, and learning how to fight fairly.
About my family
I live with my small daughter - Kia. The love between a mother and daughter is FOREVER. She is like a sunshine in my life. I am really happy to wake up every morning and see this small blue eyes like a small angel. My mother lives in the same city but separately. She helps me with my daughter Kia. She always gives me a lot of advises. My father lives abroad. We stay in a really good relationships. My father is my big support. Every summer I spend with my father and mother abroad. We like travel and have fun together. I think that family is the most important in my life. I want to build my own happy and strong family!
My future goals are
My main goal is to be the best mother or my small princess Kia! I would like to grow her really intelligent and well-educated lady, I will give her my love. I want to find my soulmate and share with my future husband my goals. In the future I would like to open my own salon, and I am sure that I will achieve my goal. My work is my hobby and I really enjoy doing make up for ladies. I have a beauty blog in social media with a lot of followers. I think I can help girls to be more improved and confident.
What I do in my leisure time?
A lot of my free of work time I spend with my daughter. She is like an angel in my life. We play together different games and I just enjoy her. I really like to spend my leisure time with a pleasure, to turn on my favorite jazz music, make a tasty dinner at home. All my friends tell me that I am a great cooker. I like to bake different cakes. 2 days per week I visit yoga and stretching, I always want to be in a good condition. I visit a lot of different courses online of psychology and marketing, different programs. I really like to spend one day per week alone.
Lady will meet you in 11 hours Good luck!
Lady wants to chat with you in 11 hours
Lady offers to move chat for 11 hours
Lady declined invitation, but explains why:
Thanks but I can't come. Thanks though! Appreciate it!
She's online and waiting for you!
Lady is late, will be at 12:30