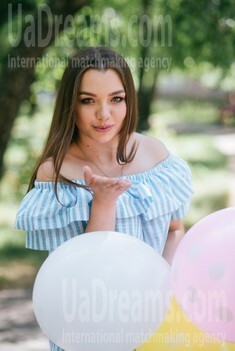 About my family
There are 4 people in my family: mother (Nina), father (Anatolii), sister (Viktoriia) and me (Natalia). My sister is 2,5 years older than me. We have warm friendly relations, she is like my best friend, i can share everything with her, even if it is good or bad, something happy or sad. She is still single in her 25 and doesn't have kids but she is doing great on her work and also dreams to create a happy loving family. She joked that we she will look on my experience, being a member of the agency, and may also join it later). My parents have been together for 25 years already. My mom is a pastry-cooker. My dad is an entrepreneur. There are a lot of things which they have taught me, and I know what I would do in totally different way, when I will have my own family.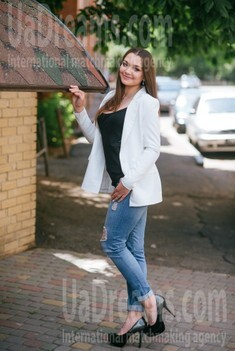 My typical day
I must say, my days are almost the same when there is a working week. I wake up at 6:30 a.m. A little bit early for me but what can I do), duty is calling me. I have an uniform at work, almost like a super hero costume), joke (shutka in Russian). My breakfast is oatmeal porridge with milk and fruits, usually. Trying to keep healthy lifestyle. My work starts at 7:30 and finished at 19:30. I'm working on a factory, in Lviv, at the moment, which produces ingredients for very popular trading marks in my country. After work I usually meet my friends, or spend my evening watching a movie, cooking or reading).
See her fascinating movements and charming smile...
Feel as if it was your first date with this lady — it is worth 1000 pictures!
Watch this video for FREE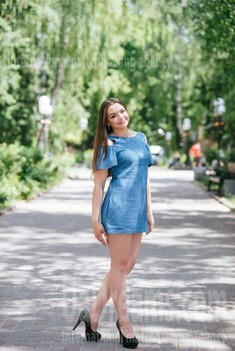 Our personal opinion of this Lady
This girl seemed to be very intelligent, open, and friendly. Romantic and naive from one side and self-reliance and purposeful from another. Her struggling towards her dreams and goals made us inspired. She is very positive, active and sporty girl with a big passion towards life and towards everything she is doing. Besides she showed herself as very honest and respectful person. Go ahead, write her to find out more.
My future goals are
When I look into my future, I imagine cozy house which is full of kids laugh, warmth and family pictures. Beloved husband, who loves me and our children. I want to have a beloved work which also will be my hobby, want to keep developing myself physically and spiritually. In future I want to become a better person), good wife, loving mother and professional in my sphere of work.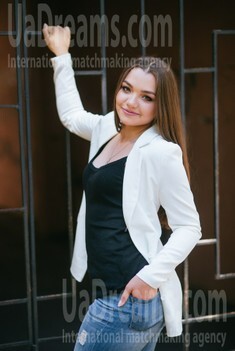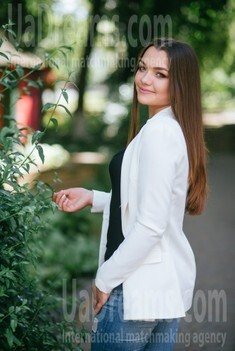 What I do in my leisure time?
As soon as I have some free time I try to really enjoy it. Most of all I like to spend time with my friends, they are very kind and positive people and I can rely on them in any situation, they never screw me. Besides of meeting my friend I like to play volleyball, it keeps me fit and strong, that's why I don't attend gym at the moment. Also this game gives me a feeling of team work when you need to understand each other, working as a mechanism. It is very interesting and it makes my brain work almost as much as my body). Scary movies attract me because of adrenaline explosion while watching those unexpected things and ways of how story can turn in totally other direction. All that excites me and adds some spices into my daily life).
Domestic abilities
My parents raised me and my sister in small village in Poltava region so I must admit I'm not lazy to do some work around the house. We have a private house and a big garden, where we grew fruit trees and veggies. Mostly, when talking about my domestic abilities, those are about helping my parents with anything they will ask. I must say we have a lot of seasonal work , but it gives us the chance to enjoy fresh food almost all year round and we never buy veggies in the store).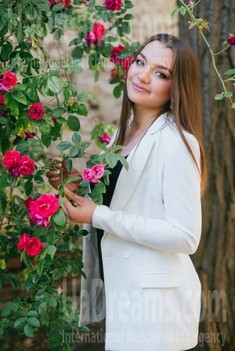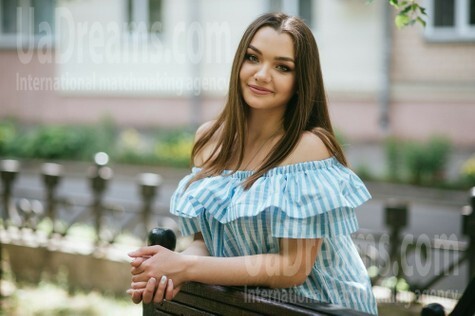 How would I describe myself
I am a very romantic person. When I stay at home alone I like to sing in shower, to light candles and to cook a nice meal for myself), it brings me good mood and joy, I like when there is a chance to enjoy something not only tasting it, but even when only observing it. Also my favorite movie "My best friend's girlfriend" can tell you a bit more about my romantic nature, I like re-watching it from time to time. One of the best ways to spend free time for me, is to cook some classical dishes like stewed meat, salads, different Ukrainian dishes, like borsh). But most of all I like homemade sweets cooked by my mother).
The type of man that I desire
The man of my dreams is kind, honest, wise, openhearted, brave and reliable. Kindness is for kids, honesty is for me and the rest is for making right decisions. I think, a man should be like a team leader of our family. And I would follow him and give all my support, respect, care and love to make him feel like he is happiest man in the whole Universe).