Birth Date
Height
Weight
Eyes
Hair
Build
Glasses
She is
Smoke
Drink
7 July
172 cm 5' 8''
55 kg 121 lbs
blue
blonde
slim (slender)
No
right-handed
No
Socially
Occupation
shop-assistant
Marital status
Divorced and I have children / 1 girl
Children age
22 y.o.15 July
Want to have children?
will decide with my husband
I'm looking for
Marriage, Romance, Relationship
Share your love with Nataly!
Share your love with Nataly!
Birth Date
City
Height
Weight
Eyes
Hair
Build
Glasses
She is
Smoke
Drink
I'm looking for
7 July
172 cm 5' 8''
55 kg 121 lbs
blue
blonde
slim (slender)
No
right-handed
No
Socially
Marriage, Romance, Relationship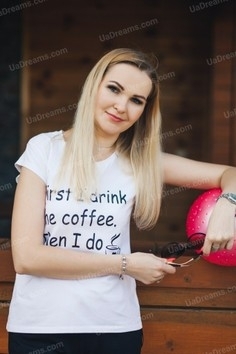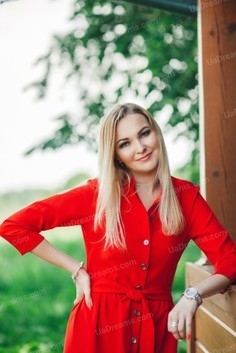 What I do in my leisure time?
I like to spend my free time somewhere in the nature, to enjoy beautiful weather and nice scenery. I like to go to the swimming pool as swimming is very good for the body and health in general. I like to watch good movies, mainly romantic comedies, or historical movies.It would be nice to watch movies with my second half as soon as I meet him.I like to do shopping but who doesn't? Shopping raises my mood when I am a bit down. I like to buy gifts for my family as it also brings me pleasure. I think it is important to give not only to take.Do you agree?
My typical day
I work as a shop-assistant and when I need to go to work I wake up early in the morning and get ready to go to work.I often have breakfast with my daughter as she is getting ready to school and I am getting ready to work. When I have a day off I cook breakfast for my daughter and then I care about the house and other things. I care about myself and like to have my nails and hair done. I know I should look beautiful for my future man. When nobody is home I can read a good book. We usually have dinner together as a family.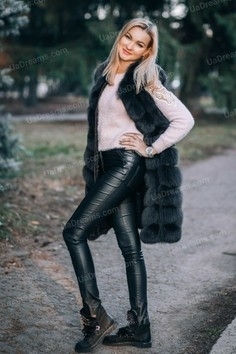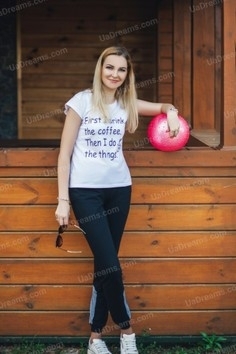 How would I describe myself
I am happy because I have close people next to me. I am happy because I am healthy and loved by my close people. I just need my second half.
My future goals are
I am here to be happy but not only with my daughter but with my second half. I am here to create a family and to live together no matter where. I can move abroad if we both decide so it is not a problem for me. My daughter is not small so if she likes she can move with us. I would like to enjoy this life with my family, to travel and visit some nice and interesting places that nature hide from us.The main word is" Together". For this I need " Him". I often imagine our first date and our first emotions. I know I am on the right way.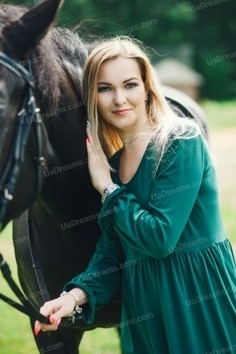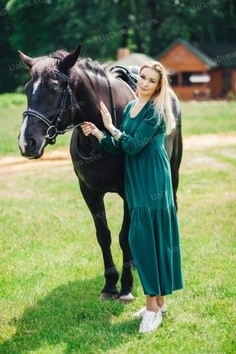 Our personal opinion of this Lady
This woman is very beautiful, in a good shape at her age but she is a bit shy. She is very sincere and polite. She is looking for her own happiness and we can easily see it in her beautiful blue eyes that shine when she talks about the man she would like to meet.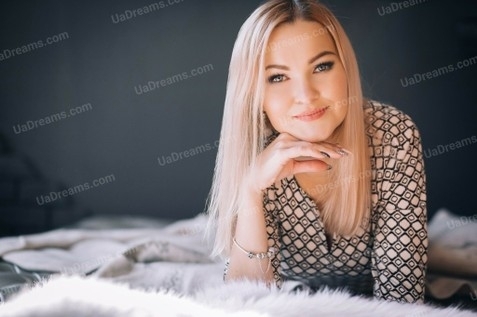 The type of man that I desire
I need a man with whom I can feel feminine and protected, who will be my good friend, who will care about me and will love me deeply. My man should be kind-heated and family-oriented, the one who will accept and love my daughter and will get along well with her. I hope he will be financially independent, not like the one I dated before. Love is a feeling that makes you feel happy, enjoy life, laugh and accept your second half as he is. I do not want to change my future man, I want him to be himself. I have so much love inside but do not have the right person next to me.
About my family
I had a wonderful family until my father and my brother passed away. We were so friendly and always cared about each other. Now my family is very small, just my daughter and my mother. My mother is my closest friend, who is always ready to help me and to give a good piece of advice.I am the same for my daughter because I want to give her everything she deserves.Also I hope to meet a man who will care about me and my daughter as well.She needs a father to be always near and who will help her to discover this life and to learn many things.
Lady will meet you in 11 hours Good luck!
Lady wants to chat with you in 11 hours
Lady offers to move chat for 11 hours
Lady declined invitation, but explains why:
Thanks but I can't come. Thanks though! Appreciate it!
She's online and waiting for you!
Lady is late, will be at 12:30