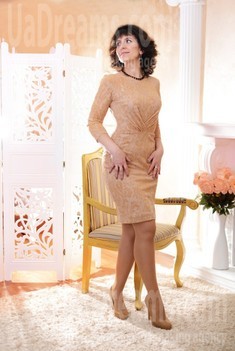 The type of man that I desire
The type of man that I desire? Probably he will be the one, who will love me and who I will love the same way - strongly and unconditionally! I can say what features of character are attractive for me, maybe that was a question. :)) He is loyal, kind, with amazing smile (which is 200% sincere), maybe he is quiet, maybe talkative! I cannot say for sure, but...there is one important thing – he loves me! He relies on me, and...I'm sure that I can do the same. We will complement each other, and if there is a day of his sorrow, I will be the one who will be able to improve his mood very fast!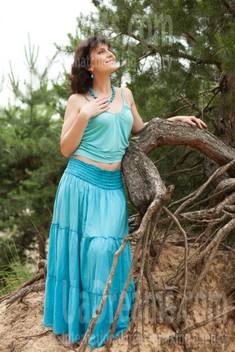 How would I describe myself
What else can I tell you about myself? I love life and I believe it's the most important thing you need to know about me!))) When I go to work I see many people, and I notice that some of them have extinct eyes, tired faces, melancholy and sadness, it's easy to notice that they believe – life is not a present, but a heavy burden. Even when I have the most difficult periods in my life, I do not feel myself like that. For me life is a present, even if your house is on fire – probably it's a sign that you need to build a new one. Maybe you can conclude that I'm an optimist and more than likely you will be right! : )
See her fascinating movements and charming smile...
Feel as if it was your first date with this lady — it is worth 1000 pictures!
Watch this video for FREE
My typical day
Usually I get up early, because I do not like to hurry in the morning. Nothing can be done perfectly, if you count every minute. At first I cook breakfast for my girls, we share our thoughts about coming day while drinking our tea and eating, then I have time for walking with my dog, taking a shower and getting dressed. After that there is time to work! I really like my job, I have been working there for more than 20 years and it's real pleasure to cooperate with clever, hardworking and talented people. We spend a lot of time working and I consider myself a lucky person to have such a job which I really like. Maybe because of this I do not feel myself very tired in the evening and have some extra energy for my hobbies: sports, English, reading, painting and others.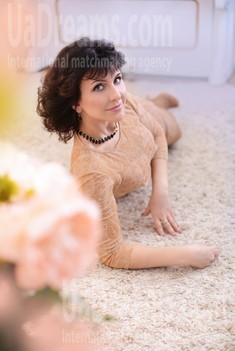 About my family
My family is big and friendly! I live with my daughters – Alyona and Elizabeth. They make my life brighter and more interesting. My parents live separately in a small town Krasnograd, which is not far from Kharkov. Also I have a brother and a sister, they often visit me and it's always a great time when they come. It's difficult to describe what a nice family I have! There is atmosphere of love, understanding and support in our family circle. I wish everyone to have the same friendly spirit in their homes. I'm very close with my father, because we are very alike. We have the same signs of horoscope, maybe this is a reason of our common views on life.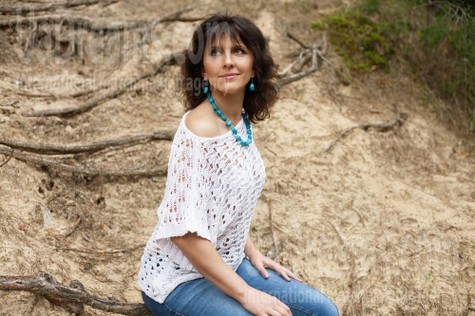 My future goals are
Well...I have many goals. You could notice that it's the same as with my free time))) One goal is not enough for me, I want many! And of course many efforts, work, a lot of desire to reach them! At first I would like to learn English, so I will be able to understand my man, and also English will be good for my work. That's why currently I attend courses, and every day I devote some time to learning. Another goal comes along with these ones...meeting someone special, who will help me to learn the language))) Well, I mean, my reason to meet a man is not a language, but of course LOVE. I can confidently say that my current goal is to find my second half, the super man of mine! ))) Of course, there are some other plans in my "wish list", but I will tell about them privately :)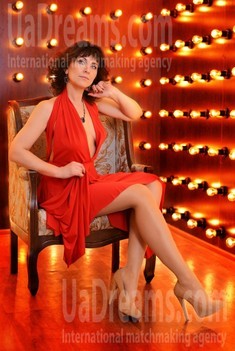 Domestic abilities
On weekends I really like to bake sweet cakes, cookies, biscuits, cheesecakes or pancakes with different fillings. And during the week days I like to make interesting beautiful breakfasts. I believe that food is not the most important thing in our lives, but still it takes a special place! Well served breakfast can improve your mood and make your day! Do you agree?) Apart from cooking I really like flowers and I have many of them at home. Of course, they need special attention and I take care of them with pleasure. Flowers mean beauty for me. And beauty means what? Of course, inspiration and good mood! Maybe someday I will be lucky to have a garden, but right now I have many different types of flowers at home. They all have special stories and meanings for me.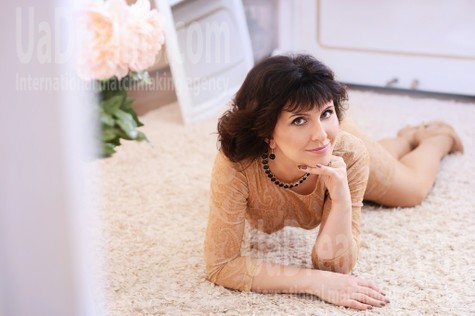 Our personal opinion of this Lady
Sometimes you meet someone, and after this meeting you realize that you have something to think about. You feel that time you've spent with this person was not wasted. And there is a feeling of joy that was left inside of you. Your mood is getting better and you start smiling remembering that meeting. Nina is the one who can leave this feeling of joy or settle it forever in your heart, if you let her do it.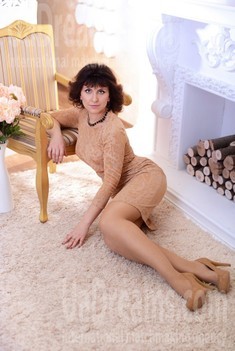 What I do in my leisure time?
I'm wondering, if there is enough space to write everything I like to do during my free time? :) I hope so!) The worst thing for me is doing nothing! :)) And speaking about my favourite activities, this is riding a bicycle, painting, having rest in the nature, knitting, writing poems, learning English, meeting with my friends and going to the fitness centre. Sometimes it's very surprising for me to hear from other people that they do not know how to fill their free time. Life is so interesting, full of information, learning, events, creation and new acquaintances! I'm one of those people who never get tired of living an interesting full life, I just need a good company! Maybe you can help? :)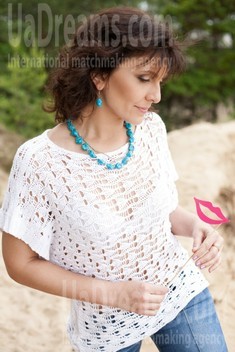 Get a much better idea of the lady's personality!
Discover her life and secrets no other men know :)
It's intriguing like finding an unknown world...