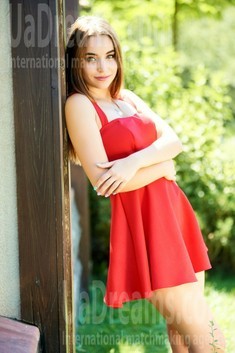 About my family
My family is my main value! It consists of my parents, my brother, me and my cat=) (She's also an important family member) My brother is 6 years older and lives his own life. When we were children we always quarreled, but now I really feel his support and help. If I have any problems I'm not afraid of telling him about it! My parents live in the other city, so I miss them very often. But I enjoy any opportunity to see them. I really appreciate the time we spend together. We respect the traditions of our country and always try to retain them.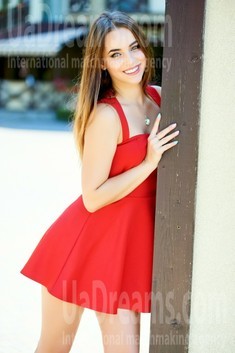 The type of man that I desire
I'm not perfect, so I'm not looking for a perfect man. I need the one with all his cons. We shouldn't be completely different but have some common interests. My desired man should always understand and support me, he shouldn't force me to change my qualities or a way of life. I want my man has a good sense of humor and is always able to increase my mood. We both should seek for the positive moments and enjoy our life together! My desired man should respect my family and our values, the traditions of my country and my religion.
See her fascinating movements and charming smile...
Feel as if it was your first date with this lady — it is worth 1000 pictures!
Watch this video for FREE
What I do in my leisure time?
I found my inspiration in the art, it sparks my imagination and helps to see beauty in the details. So, I like painting and visiting different art galleries. I'm very interested in reading, especially psychological books and the biographies of successful people, that are the examples to follow. I always develop myself! I want to discover every side of our beautiful world! But my most enjoyable thing is spending time with my friends. I meet them as often as possible. They make my life more interested and never boring! We like walking through the city, watching movies, taking pictures...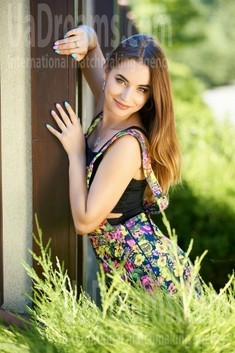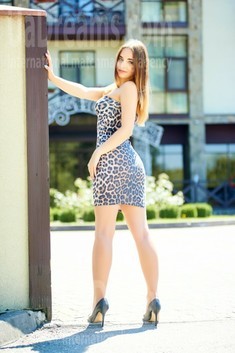 My future goals are
My main purpose in the life is to be a good wife for my future husband! His good mood and praise would be my happiness. I want to have a strong family with a couple of children, to have someone to take care of and to share my love with them. My next goal is volunteering. I can't see how people suffer! I hope that my small help will reduce their pain. That's why I want to earn enough money to be able to help poor children, orphans, and homeless people. Moreover, I'd like to build an animal shelter. My big dream is to be the UNICEF Goodwill Ambassador! Maybe it will come true, who knows=)
Domestic abilities
Well, my main domestic ability is cooking! I am very keen on playing with different ingredients in order to prepare something tasty and to satisfy my family or friends. I adore cooking meat courses and Italian pasta. Sometimes, when I'm in a good mood I like to bake cakes for my best people. I often like creating my own interesting recipes, they are not always successful, but I need at least to try=) When I come back home from my studying I try to do everything at home to help my mother, as I don't want she to be tired.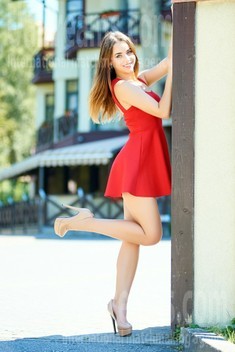 My typical day
I wake up early, have a breakfast, go to the university, have a dinner, go to the gym, meet my friends, come back home, have some snacks and go slеeping...Sounds too boring? That's right. So, to make my typical day not so typical, I do everything to make it special! Every day I come up with new ideas! It may be a trip to the countryside, visiting museums, wandering through the old streets of my town etc. If the weather is bad, I cook something new! So, even my breakfast can change my day and increase my mood! And, of course, no day without my friends! It's easier to make up the mind together!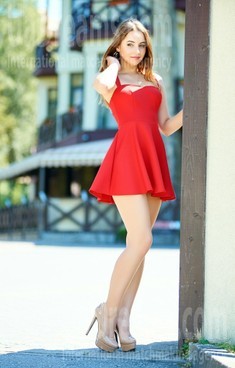 Our personal opinion of this Lady
A girl has made a really good first impression. She is very easy-going, sincere and outright. She doesn't tend to fall into depression if she has any problems, сontrary, she always seeks some positive moments in any situation. She finds a reasonable solution for any case! She's always smiling and charges everyone with her energy. Solomiya is a kind girl who is always ready to support even if she doesn't know that person at all. She is happy if she's useful and is able to help somebody. She's a romantic person who enjoys every minute of her life.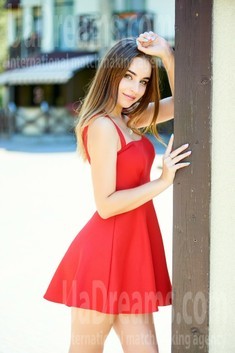 How would I describe myself
I am quick on my toes! If I get an interesting proposal to travel somewhere, I never hesitate! I like to enrich my life with new memories and emotions! I'm always ready for new adventures! I like to be out of my comfort zone, I feel more comfortable when I'm trying something new! Traveling helps me to be myself and to feel free, to enjoy the life and to relax...=) I always try to find a positive side in any situation, because I love my life! I believe that every experience is useful, so never give up after the failure. I'm looking for a harmony in my minds and in my soul.