How would I describe myself
I will not be too modest:) I think I am caring, tender, beautiful, smart, purposeful and sexy:). Do you agree with these statements?:)
See her fascinating movements and charming smile...
Feel as if it was your first date with this lady — it is worth 1000 pictures!
Watch this video for FREE
What I do in my leisure time?
Even though I feel comfortable with company of me and my 2 cats, but I prefer to spend my free time with people I love - family and friends. There is nothing better than a long walk together, having lunch out, I even go to gym together with my girl friends, so as you can see I am very sociable person, and really love people that surround me. Also I like cooking a lot, so whenever I bake or cook something really delicious, I always invite my friends or granny for a nice dinner to my home :) Especially when it is cold in winter, and going outside is stress :)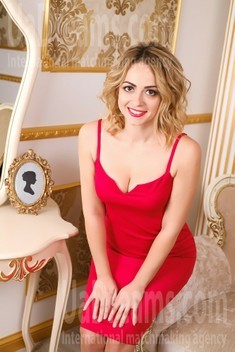 The type of man that I desire
I am looking for a mature man who knows what he wants, and who values what he has. I believe that is the most important thing. Of course I want loyalty, romance and reliability, but I think that when both people respect and care for each other, it comes naturally!
About my family
My parents got married right after high school and they are still together!They carried the feeling of love and care of us through all life! I have younger sister, but the closest relations I have is with my mother! She is my best friend and she will support me in any situation!
Our personal opinion of this Lady
Lady is very bright and smiling!:) Very communicative and ready to help and to pay attention to your problem:). Responsive and kind!
My typical day
My typical day is very standard. Necessarily coffee, then breakfast and work!:) After I can meet with friends or spend time at home, playing with my cat, making dinner, reading books.
Get a much better idea of the lady's personality!
Discover her life and secrets no other men know :)
It's intriguing like finding an unknown world...


My future goals are
I want to create strong family! I feel that I am ready for this! Spiritual and intellectual development, financial well-being of my family! Family is on the first place for me! I want to share my inner energy with my partner!:)