Birth Date
Height
Weight
Eyes
Hair
Build
Glasses
She is
Smoke
Drink
23 August
165 cm 5' 5''
46 kg 103 lbs
blue
blonde
slim (slender)
No
right-handed
No
Never
Marital status
Single and No children
Want to have children?
will decide with my husband
I'm looking for
Marriage, Romance, Friendship, Relationship, Dating, Traveling
Share your love with Svitlana!
Share your love with Svitlana!
Birth Date
City
Height
Weight
Eyes
Hair
Build
Glasses
She is
Smoke
Drink
I'm looking for
23 August
165 cm 5' 5''
46 kg 103 lbs
blue
blonde
slim (slender)
No
right-handed
No
Never
Marriage, Romance, Friendship, Relationship, Dating, Traveling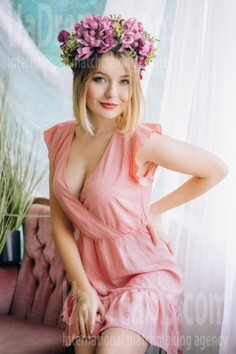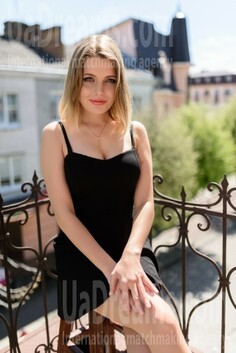 How would I describe myself
I'm a kind hearted, cheerful, open for new experiences and easy going person and I'm always ready to help people. I am fond of art and photography. I like theatre and cinema. I would like to get some experience in the field of directing movies because. I have been doing dancing for 14 years. I took part in many competitions and concerts. My last unforgettable trip was to Spain. I finished musical school and I can play the piano. I 'm a creative person. I would like to visit Italy, United States, Switzerland and other countries.
My future goals are
In my opinion love is a feeling that gives you wings and makes you the happiest person in the whole world. I would like to meet a right person, to share my wings and to make a strong and happy family with him. I will do everything that will depend on me to make my family friendly and happy. I want trust, understanding and love to become the main priorities in our life. One person says: Life is full of surprises, you never know what will happen. I want to be sure in my future husband and he must be sure in me too.
My typical day
My typical day is not very exciting. Usually I get up very early in the morning, make breakfast, do the house work. Then I go to work and I spend time with my little pupils, they make me very happy when I see their progress in what we learn:). In the evening I like to meet with my friends to have some walk in the fresh air. Also we like to watch interesting movies and making picnics or BBQs. Sometimes I invite my closest friends to my place and we have a dinner together and have a good time in my living room playing board games.
The type of man that I desire
No one is perfect and to say that I want to meet a perfect man is wrong. I would like to see a brave, honest, intelligent, faithful and cheerful man near me. That would be great if he had a good sense of humour. I want him to respect me and I will do the same for him. The most important for me is to make my husband feel special. I will support him in all his beginnings. I will become not only a wife, life partner but also the best friend for him so he can rely on me and trust me. I will make everything possible to make all his wishes and dreams true.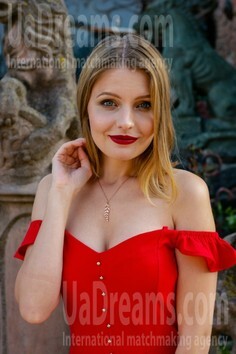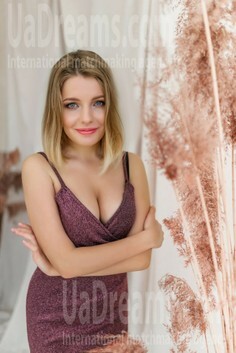 About my family
My family is not very big but we always support each other. I have a younger brother. He is a student. I lost my father long time ago so my mom is still alone and lives with us. I always help my close people. We like to come together for big holidays and to celebrate them with songs and dances. Also we like to spend at least one day per month in the nature. My mother taught me that love, compromise, trust, honesty and understanding are the main things on which I should build my family.
Our personal opinion of this Lady
Svitlana is a good, cheerful and nice looking lady. She is a very cute and sincere person who has a big desire to meet her true love. She believes in love from the first sight. She is a family oriented girl. She is interested in making family with a kind hearted, honest, strong and faithful man.
What I do in my leisure time?
I enjoy to spend my leisure time in an active way. I like to ride a bicycle. I like nature very much and I try not to lose any chance to go hiking, camping and simply enjoy its beauty. I am fond of traveling. I would like to make a round the world journey with my other half:) I'm a very sociable person. I like to meet new people. I don't have many friends but I have a few true ones. Like a proverb says: A friend in need is a friend indeed. I'm always ready to help my friends and give some piece of advice if they need it.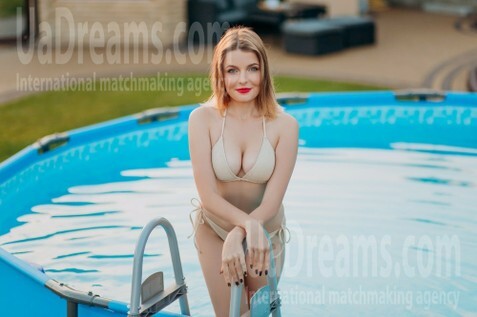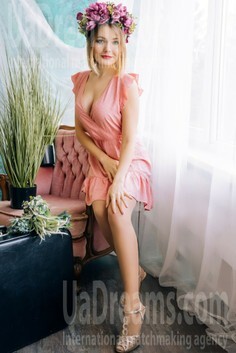 Lady will meet you in 11 hours Good luck!
Lady wants to chat with you in 11 hours
Lady offers to move chat for 11 hours
Lady declined invitation, but explains why:
Thanks but I can't come. Thanks though! Appreciate it!
She's online and waiting for you!
Lady is late, will be at 12:30