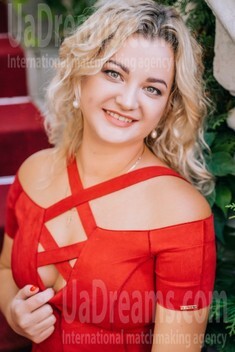 What I do in my leisure time?
I like spending my leisure time with my family, or with my friends, it is always much more fun when you can share happy moments with your dear ones. When I am in a mood for spending time in the nature I will put something tasty in a basket and call my sister and my parents to invite them to a picnic somewhere in the forest;). I like seeing my friends after work, we can meet and sit in a cafe discussing some news and cheering each other up. When the weather is bad I stay alone at home, I will read an interesting book, or watch TV, or...I can bake a cake and share it with my flat mate:). I have a lot of interests and can`t wait to share them with my man.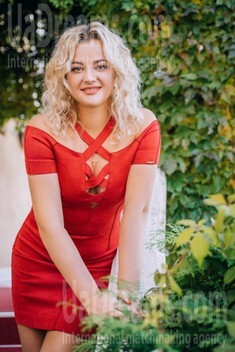 Our personal opinion of this Lady
Svitlana is modest and nice lady, she is very caring by her nature and she likes to help people, that`s why she decided to become a doctor. The lady has much love in her heart and she will be a wonderful wife and mother if she decides to have kids with her man. Svitlana deserves to be happy and we sincerely wish her to find her love.
See her fascinating movements and charming smile...
Feel as if it was your first date with this lady — it is worth 1000 pictures!
Watch this video for FREE
How would I describe myself
I am a modest and cheerful young lady, I believe there are more nice people around than bad ones and I believe I will find my soul-mate and will be happily in love with him. I am mature and serious and not afraid to change my life when I will meet the right man. I know it will be time for serious decisions and I am ready to make them.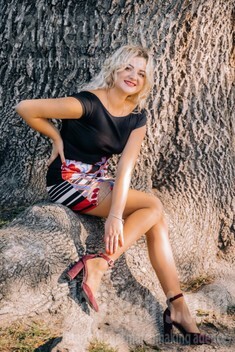 My future goals are
My biggest goal in life is to be a happy woman, I know I will never reach this goal if I am alone, because I dream to get married and to create a loving and strong family. Another goal of mine is to continue leading a healthy life-style and to work on my self-improvement together with my beloved husband, I feel he will inspire me to be a better person and together we will be able to make all our dreams and goals come true.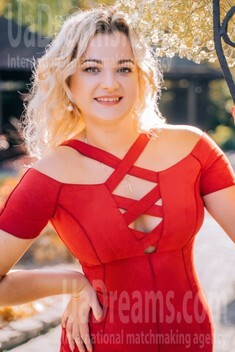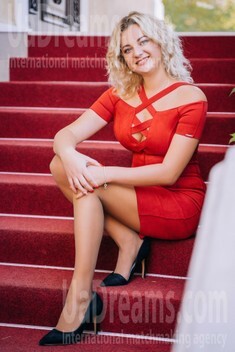 About my family
I grew up in a loving and friendly family. My parents are still happily married and they live in the village not very far from Lutsk. I try to visit them every weekend. I treasure those family gatherings a lot. I love being with my family on Christmas and on Easter most of all, we have a lot of nice traditions for those holidays. I have a younger sister who is married and has 3 lovely daughters, I adore my cute nieces and I spoil them;). I have warm relations with all my family members and they support me and wish me to find a man of my dream as soon as possible.
My typical day
I am an early-bird and I start my day at 6.30 a.m. to be at work at 8 a.m. Sometimes I have a second shift and then I start working in the afternoon, but it is already a habit to get up early:). I like to start my day with a hot shower and a cup of a strong coffee, breakfast is a must for me too. After work I like to take a little walk on foot, it helps me to clear up my mind. I do the necessary shopping and go home to cook dinner. Sometimes I go out in the evening with my friends or co-workers, but mostly I stay at home. I go to bed at 11-11.30 p.m.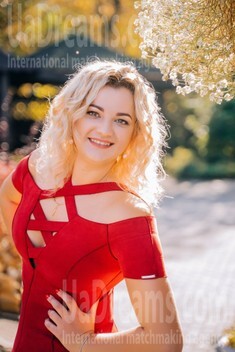 The type of man that I desire
I am a grown and mature lady who can take a good care of herself, I am not looking for a prince on a white horse, or for a man who will support me financially. I am looking for my soul-mate, for a life partner who will be my beloved man and my friend, who will want to build a serious relationship with me and to grow old together. I am very loving and caring and looking for a kind-hearted man who is supportive, understanding, intelligent and very trustworthy. I believe we will find a lot of common interests and will enjoy being together as a very happy couple.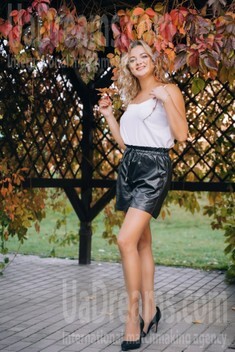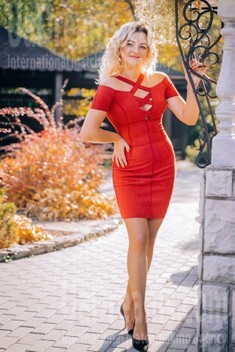 Get a much better idea of the lady's personality!
Discover her life and secrets no other men know :)
It's intriguing like finding an unknown world...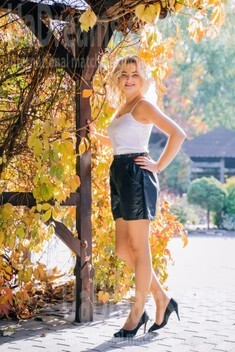 Get a much better idea of the lady's personality!
Discover her life and secrets no other men know :)
It's intriguing like finding an unknown world...