The type of man that I desire
I want my man to be kind, caring, reliable, sincere. It is very important for me to know that my man is honest and faithful. I don't want him to be jealous and I want us to trust each other. I would also like my man to be goal-oriented and not selfish. I love romance and to organize romantic dinners and surprises for my man. I hope that he will be ready to do the same for me. I want our relationship to be filled with love and passion.
My typical day
I usually wake up early in the morning, have breakfast, drink my morning coffee and go to my work. I also like to do some morning exercises when I have time or to listen to some nice music in the morning. It puts me in a good mood when I do that. I start doing my work at 8 a.m. and I come back home at 4 p.m. Then I cook dinner, do some work about the house and spend time with my daughter. We are very close and we can talk about everything. I also like to meet with my friends sometimes or to go shopping after my work.
See her fascinating movements and charming smile...
Feel as if it was your first date with this lady — it is worth 1000 pictures!
Watch this video for FREE
Our personal opinion of this Lady
The lady is very sincere, kind and honest. She really wants to find true love and she wants to have a happy family. She was hurt in the past a lot and she had a hard life, but she managed to stay very positive.
How would I describe myself
I'm a very kind , caring and family-oriented woman. I usually do my best to enjoy every day of my life and to stay positive in every situation. I don't like to argue and to quarrel. I like to take care of those people whom I love and to make them happy. I'm a good mother already and I know that I can be a very good wife to a man who will love me and who will treat me with respect.
My future goals are
I want to say that I dream about having a happy marriage and about having a loving husband by my side. I want him to inspire me, to make me feel special, to support me and to help me with my self development. I believe that when people fall in love, they become much better and happier. So, I want to fall in love and to feel loved very much. I also want to travel and to visit some nice countries. I would like to improve my knowledge of English. I think that we should stay active and open-minded in any age.
What I do in my leisure time?
I like to cook in my leisure time very much and my daughter is always happy when I treat her with my tasty dishes. We also like to cook something together with my daughter sometimes. I like gardening and it always brings me lots of positive emotions when I spend time in my garden. I grow some fruit and vegetables there. I also have a nice flowerbed near my house. I like to meet with my friends and to go to some nice places with them. I also like to read a good book or to watch an interesting movie on TV in my leisure time. I like to listen to music.
About my family
I have two wonderful children, a son and a daughter. I live with my daughter and we have very nice relationship with her. She is a student and she likes to study very much. My son is married and he lives abroad with his wife now. They work there, but they come back to Ukraine several times per year. I'm very proud of my children and I love them very much. I also have a brother and a sister. I like when they visit me and when we have family dinners.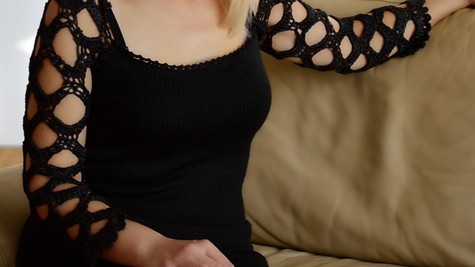 Get a much better idea of the lady's personality!
Discover her life and secrets no other men know :)
It's intriguing like finding an unknown world...