The type of man that I desire
I am dreaming of a stately man with a kind heart and virile mind. I guess that every woman needs someone to show her that she is a real lady who is loved and desired, and I'm not the exception:) I want my man to live in harmony with my inner world. The one, whom I will make a cup of coffee in the morning and give a tender kiss, wishing him a good night. We will build our world together, and it will certainly become ideal for us!)
See her fascinating movements and charming smile...
Feel as if it was your first date with this lady — it is worth 1000 pictures!
Watch this video for FREE
My future goals are
Love is life! The life, you're living for another person, for your second half, and setting a high value on every minute near him. So I want to breathe with full lungs and feel the real life on a full scale! I wish my days to become brighter and filled with romance and adventures. I'm an idealist, and I try to succeed in everything, but the most important for me is to become the best woman for my lovely man!
About my family
There are two lonely girls in my family: my lovely daughter Natasha and me. The only man in our girlish crew is our dog Limon) Natasha is a young independent lady, and I am a proud mother!) She likes to embroider and to make origami, so being in her company is never boring! Though we have nobody to support us, we are very close-knitted and vigorous.
See her fascinating movements and charming smile...
Feel as if it was your first date with this lady — it is worth 1000 pictures!
Watch this video for FREE
How would I describe myself
I can say that I smile in every situation. No matter how hard life is, I always try to find some light in it! I can be strong and independent but in need of the one, with whom I'll bridge over the difficulties! At the same time, I am frank, and ready to compromise with my man! So I am a woman with mystery, will you try to read my riddle?)
What I do in my leisure time?
I am a person of the nature! I like to live in harmony with the outer world and myself, so most of all I enjoy spending my free time outside. I really adore animals! You know, dogs believe that people are weak and defenseless creatures, who need permanent love and care. The dog just licks unexpectedly his owner's hand, chafes with his shaggy muzzle, that the poor human could know that his friend will never leave him in need. Buying a dog is the only way to buy love for money, because it is the only creature that loves his wallah more than itself! I'm very caring and tender, that is why I always need someone to care about) Taking my dog Limon for a walk is one of my favorite activities. Fresh air and a good company inspire me!)
My typical day
Waking up early and having morning jogging with my four legged friend is my secret of being cheerful and optimistic during the whole day) When I come back, I drink some juice and go to work. I work a lot, my motto is 'no pain - no gain'. So I put all my efforts to have a good life. I return home and enjoy the company of my daughter and my dog. And every night before I go to bed, I make a wish...hope that soon it will come true)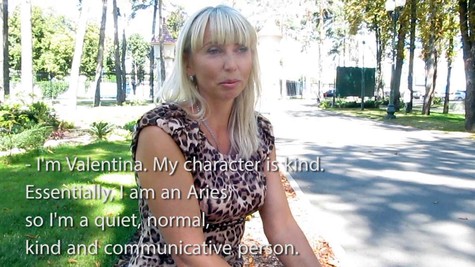 Get a much better idea of the lady's personality!
Discover her life and secrets no other men know :)
It's intriguing like finding an unknown world...


Our personal opinion of this Lady
This lady is a plain dealer! She is strong outside, but delicate inside. Very kind and pleasant in socializing.