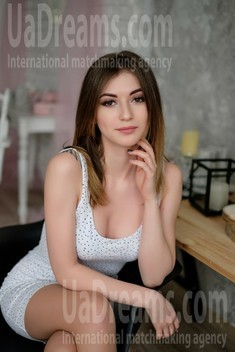 My typical day
My typical day starts at 7 o'clock in the morning. I get up, have a breakfast and go to my work. I am a massage therapist and I like my work. After work I go to the gym or yoga. These things bring me a lot of joy and after a hard working day gym or yoga help me to relax. After yoga or gym Sometimes I meet with friends. We go to a cafe, drink tea and discuss events of this day. I am usually the one cooking dinner for my family, treating them with some nice meals. I enojy baking and making desserts.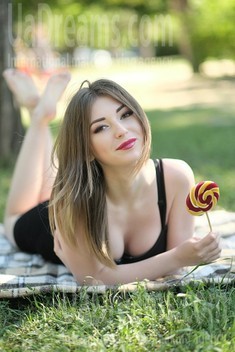 Our personal opinion of this Lady
If you are looking for a wife, then you definitely will not go wrong if you choose Valentina. This lady is very cheerful, kind, simple, interesting, positive, friendly, open and of course very pretty, without bad habits. We are sure that when you communicate with her you will feel some good emotions, positive and happiness. We think, this girl is ready to be a good wife and loving mother in future. We are sure you will not regret if you choose her!
See her fascinating movements and charming smile...
Feel as if it was your first date with this lady — it is worth 1000 pictures!
Watch this video for FREE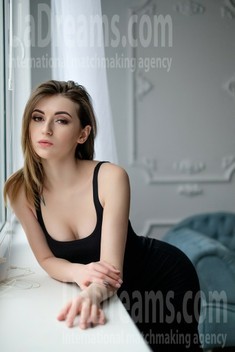 My future goals are
I love my family and it is example for me. In the future I want to have a big, strong and amicable family! I think, it is very important for everyone to have support, reliance and feel it every day and every moment. So, strong family - is my major goal for future. Also I want to have a good job. In my opinion, work should bring not only money but enjoyment as well. I dream to rule my own business that will bring me happiness every day! I am a professional massage therapist, so maybe I will open my own salon in the future. I believe that everything is possible if there is a supportive man beside you! I would like to travel all around the world together with my future husband.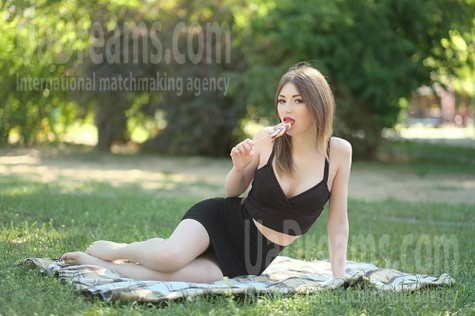 How would I describe myself
I am a very kind, friendly person with sense of humour. I like making new friends and just communication, that's why I like open, cheerful and good people who don't lie. As a lady I think I am a pretty girl. I think every girl should look after herself. So I do sport and yoga every day. Sport helps to keep your body strong and toned while yoga keeps you beautiful inside. I think that in a person everything must be beautiful: face, clothes and of course a soul. Everything should be in harmony and only then a person will be happy.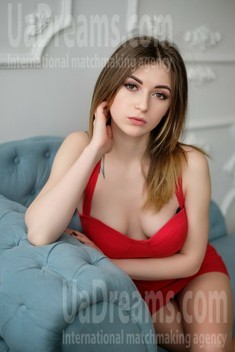 About my family
My family is not big, it consists of my father and two brothers. My elder brother is twenty-three years old and younger brother is seven years old. I love them too much. As I said, family - is the most important thing for me. I like spending my free time with family. My father is the closest person for me. When I have any problems or questions I immediately go to ask for advice to him. Unfortunately, my elder brother lives in Kiev and we cannot see each other often. I think it's important that each family has its own traditions, has such qualities as mutual understanding, support and confidence. And my family has this.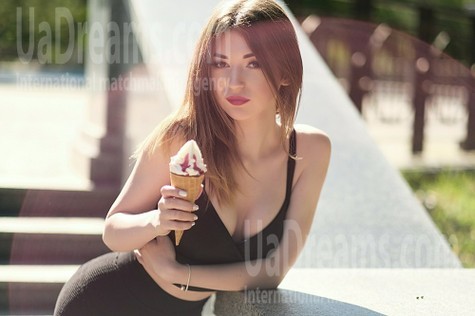 What I do in my leisure time?
When I have free time I like reading a lot of books. I go to the gym often and also I like doing yoga. In my leisure time I like walking with my friends. I am a very friendly person, so I like to spend my free time with my friends. For example, I like to go to the cafe with my friends, just chat over a cup of coffee after work. I love my family, so it is very important for me to have enough time to devote for my family. Also I like watching movies. I like films about real love. There are my favourite films: "Titanic", "Pride and prejudice", " Green Mile", "Ghostly beauty" and so on.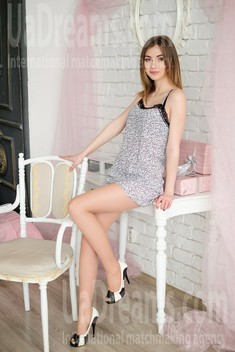 The type of man that I desire
I want to see a man who knows what he wants from life next to me. My future husband must be: clever, kind, independent, reliable, faithful and has good manners. I don't like men who smoke, but if you are really kind person, I can put up with it. I don't like rude people, who cannot control themselves. I am afraid of such people and try to avoid them. It is also important for me that my man had hobbies. Maybe in future we can do it together. I would like to travel all over the world but it will be better travelling together.