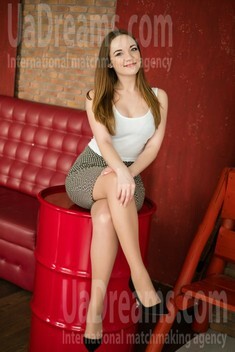 The type of man that I desire
I am looking for an honest man, with kind heart, with good sense of humour. I want to have such man close to me, who will love me, care and protect:) I think that with my soul mate we will be able to talk about everything, discuss any topics or keep silence and at that time feel easy and comfortable. I will be the best woman for him and I am sure that we with my future beloved man will be able to keep our feelings for many years, add new emotions to our relationships, to try something new together. I want to support him in his beginnings and to be for him a beloved woman and best friend :)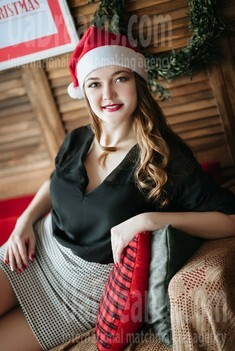 My future goals are
For today my the main goal is to create a strong and lovely family with my beloved man. I want to live in his country, to know something new, to accept his traditions and lifestyle. My parents are used that I lived far from them during long time, so they would be glad if I live in the other part of the world not because of job, and because of my soul mate. I know that if two people love each other very much, they will get only the best from destiny and their children will be the happiest in the whole world:) I believe that here I can find my other half, with whom we will be able to create a real fairy tale:) Also I dream to learn English to communicate with my future other half easily:) I want to move to foreign country to live with my future husband, I want to learn traditions of his country and to create our own family's values;)
See her fascinating movements and charming smile...
Feel as if it was your first date with this lady — it is worth 1000 pictures!
Watch this video for FREE
My typical day
I have one rule for happiness day:) I try to begin every new day with good thoughts and a cup of hot coffee:) I like to spend 30 minutes to enjoy this time, to read about some pleasant news in the world:) I prefer to begin my day only with positive mood and then, I am sure, it will be great:) If I have free day, I like walking with my nephew, spend time with my beloved sister or with my friends. I often help my mother to cook for our family:) In the evening I like to get together with the whole family and discuss how everyone spent this day, to plan next day or just to talk heart to heart with my mother or sister.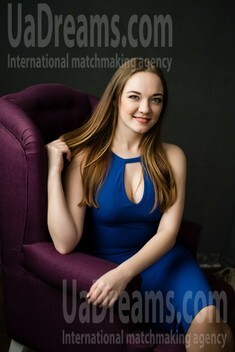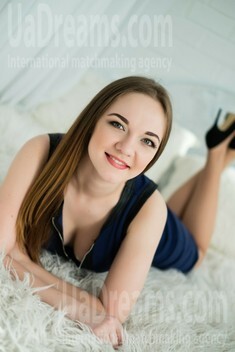 How would I describe myself
I am a creative person and I adore everything, which is connected with music:) It is my passion and it gives me pleasure and inspiration:) I like reading novels, books about mysticism, science fiction. Despite my young age, I visited many interesting places and got a lot of knowledge for myself:) My friends often say that I can not sit in one place, because I am always ready for something new and I like moving. So, now I am ready for searching my happiness here:) I often hear from my parents, that I am tender, positive and kind lady, who needs her prince:)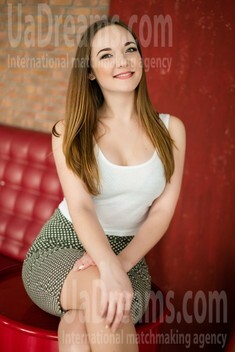 About my family
My family - is my support, my power, my the most native people. I love them very much! I have parents: my mother is a teacher of Ukrainian language and literature, my father is an entrepreneur, I also have an older sister - we have difference of age in 4 years. She is photographer:) I am happy that I grew up in my family, because my parents always support me, they gave me wise advises in every life situation, they taught me how to live, how to achieve something, how to build this life. And I am very grateful to them for everything, that they have done for me:) With my sister I was always the best friends from childhood. I have a big desire to create my own family with such values:)
Our personal opinion of this Lady
The lady is very interesting, kind and positive person. She is ready for serious relationships and she will be able to make her man happy. This lady is completely ready to move to another country, because she has experience of living abroad. She is full of big desire to find her other half and she wants to share her good emotions and energy with her other half. She is sure that here she has a real chance to meet her soul mate and to learn English.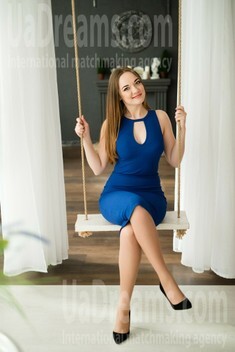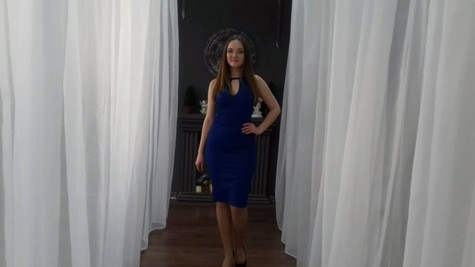 Get a much better idea of the lady's personality!
Discover her life and secrets no other men know :)
It's intriguing like finding an unknown world...


What I do in my leisure time?
Last time I didn't have much free time, because I had been working in Qatar during 1 year, so I worked a lot and didn't have enough time for the rest. Now I came home and try to spend all time for developing myself. I visit lessons of English, go to the gym, read books and want to create my future. I try to enjoy life every moment and be grateful for everything that I have:) Of course, I have different interests. In my leisure time I prefer going to cinema, my favourite genre is comedy. I adore to sing songs in karaoke or just at home:) I like walking around the city in the evening, breathe fresh air and enjoy the night lights of the city:) Also one from my favourite activities is to travel to different cities, to explore our wonderful world and to learn something new all the time:) I think that when we know something new, we get pleasure and develop ourselves:)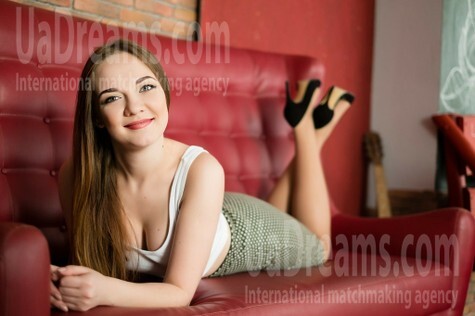 Domestic abilities
I can say that I always try to be open for something new in my life. I like to learn something interesting and unusual, to check my abilities. Our life is amazing and full of unlimited opportunities, our task-not to be afraid and try everything, explore, get experience:) I like to create coziness in my home, because I feel comfortable and nice when my home is bright and clean:) I adore cooking delicious dishes - unusual and special:) I would like to learn to cook some dishes from foreign country. When I have a beloved man, I would like to cook for him some traditional food of his country:)