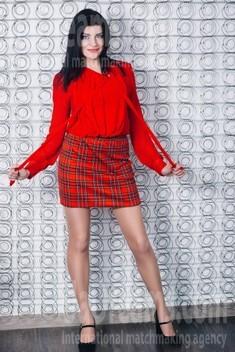 The type of man that I desire
I really hope to meet a man who is accurate and caring, attentive and loving, kind but confident, honest and loyal, brave and smart, hard-working and intelligent. I hope he will have a good sense of humor and good manners. ;) This is a dream man for me but I understand that there is no ideal man on this Earth as surely as woman also. ;) Everybody has his bad features of character. ;) I only wish that good features will dominate. ;) Frankly speaking, honesty, kindness and intelligence are the most important features which must have every real man on my opinion. ;)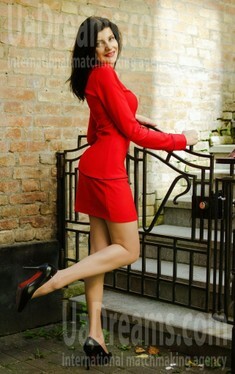 My future goals are
I want to be healthy, happy and successful. ;) In order to be successful I need to realize myself as a good specialist in the sphere I work and in education I have got. When I have a good job and earn enough money I can feel myself more confident in my life. It is very important for me to be independent and to feel myself comfortable in the reality. In order to be happy I need to find my love. Then I dream to create a happy family and to give birth to our children. I am sure that I will make happy my family because it is the main goal in my life.
See her fascinating movements and charming smile...
Feel as if it was your first date with this lady — it is worth 1000 pictures!
Watch this video for FREE
My typical day
My working day begins at 7am. I always have breakfast in the morning as it is useful to eat in the morning. ;) Then I go to my lovely work and stay there till 6pm. I really like my work as it is interesting for me and is never the same. ;) Twice a week I go to Yoga. I enjoy this time very much! Yoga is a workout and relaxing at the same time for me. I always feel better after yoga. In the evenings I usually stay at home. I can cook, clean the flat, watch TV, read and care about myself these evenings. But sometimes I meet my friends and we can go and have some fun together. On weekends I usually spend time with my parents.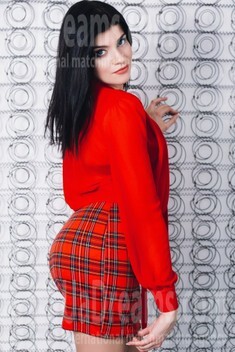 Our personal opinion of this Lady
Ivanka is a great personality. She is a very lovely lady. She is so kind and generous. The most important thing is that she is family oriented and ready to make her man really happy. Ivanka is a smart and goal-oriented person who knows what she wants in her life and how to make all her dreams come true. She is eager to share with her beloved man her best moments in their common life. She likes to advance as a person and thinks more about spiritual concepts than about material ones. She wants to build an ideal family.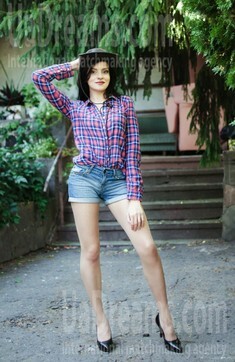 Get a much better idea of the lady's personality!
Discover her life and secrets no other men know :)
It's intriguing like finding an unknown world...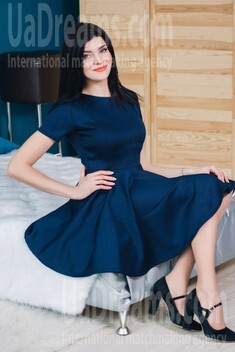 Domestic abilities
I like to keep my home clean and nice. I do the cleaning every day as a clean house is a fresh air and a good atmosphere at home. I really like to change something in my home design. Sometimes I move the furniture and change the curtains. It makes me feel that I changed something for better in my life. I also like to cook especially to bake something sweet. As I am a candy girl I try to bake cakes and pies very often. I try to keep myself fit, that is why I find mostly useful recipes. One of my main abilities is to care, walk and feed my lovely dog Lobo.
What I do in my leisure time?
I like to spend my leisure time with some health benefit or to improve my skills and knowledge. I like doing sports, especially riding a bike. I often ride on weekends. Some of my friends like this activity also and make me a company. I also enjoy yoga. It involves not only the physical aspect - this system teaches to manage my own thoughts, allows me to achieve spiritual and physical perfection, teaches me to concentrate on the state of my inner peace. Reading is also one of my passions. Most of all I like to read detectives and psychology books.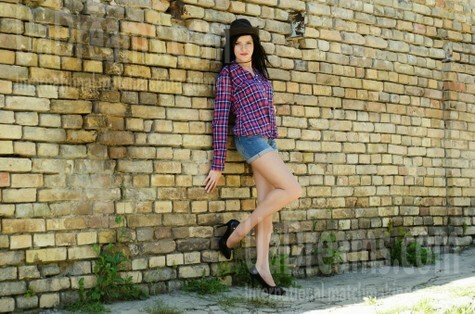 Get a much better idea of the lady's personality!
Discover her life and secrets no other men know :)
It's intriguing like finding an unknown world...


How would I describe myself
I am a goal-oriented person and always try to achieve my aims. I like to learn new things and grow as a person. I always try to make myself better and the situations surrounding me. While I am blessed to have certain possessions, I look to obtain more. I don't think only about myself but about my loved ones as well. My close friends and relatives tell me that I am kind, intelligent, quiet, hard-working, accurate, family-oriented and friendly. I am a good cook and I think I will be a hospitable wife. I like to keep everything in order. I am a listener more than a talker. I suppose I am a positive person. ;)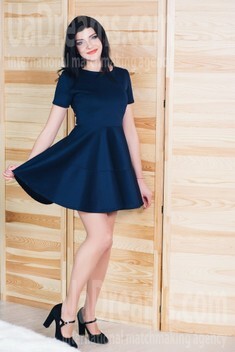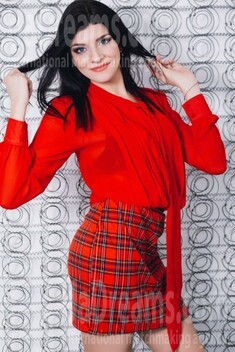 About my family
Family is the most important for me in my life. I will always be thankful to my dear parents for their care, love and support. I live in a family of four. I have an older sister and she is my best friend also. As she is older she taught me much. I get along with my mother best of all. She is very kind and wise. We often cook together and talk about everything. She always gives me the best advices and supports me in all my ideas. We all like to spend time together on weekends and often go to our house in the country to rest from the civilization.