Our personal opinion of this Lady
The lady is a very pleasant person, It is a great pleasure to communicate with her. She is very attractive. When you see her once, you will never forget her. She has a big heart and she will open it to the right man.
See her fascinating movements and charming smile...
Feel as if it was your first date with this lady — it is worth 1000 pictures!
Watch this video for FREE
What I do in my leisure time?
Unfortunately, I don't have much free time, but when I do I try to spend it most usefully. One of my hobbies is reading. I like to read psychology books. I read and reread so many books and I always need more. Also I try to do sport. I think, that sport is very important in our life. I like my emotional condition after it. I feel more energetic. When I do not have an opportunity to go to the gym I try to do some exercises at home. When the weather is bad I stay at home and cook a tasty dishes to my family. When the weather is fine I go for a walk with my friends. We go to the cinema, after that we go to the café. I just enjoy everything that makes me happy and leaves pleasant memories By the way, I am learning to play the guitar. Do you want to hear my play?
My future goals are
My future plans are to build a happy family with a faithful man, to support him, a good wife and his pride, to love and support him, to give him children, to raise them properly and to keep our family hearth. I dream to find a real man. As my hobby is traveling I dream to visit as many places as I could and collect a lot of memories and emotions from different places. Spain and USA are to be the first places to visit. I know, that traveling alone does not bring enough pleasure, that is why I want to find my future husband and make our dreams come true together. What are your most treasured plans for the future?
See her fascinating movements and charming smile...
Feel as if it was your first date with this lady — it is worth 1000 pictures!
Watch this video for FREE
Get a much better idea of the lady's personality!
Discover her life and secrets no other men know :)
It's intriguing like finding an unknown world...


The type of man that I desire
I want to find a man who will have a good sense of humor and have a cheerful view on life. I believe that in our life we always get what we deserve. I think that I deserve a good man. I am a down to earth, open and carrying lady and I deserve to have the same man in my life. I want to find a man who is honest and loyal. Man is a reliable shoulder to me, so I appreciate if he cares about me and my problems and helps when it's needed. I am also willing to put my hand out to him to support and encourage him. Maybe it`s you?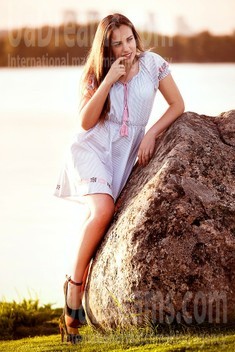 My typical day
My typical day begins early in the morning. Every morning I start with a smile on my face. I wake up at 7 o`clock, cook the breakfast and get ready for the new day! Then I go to work. I have many friends so I never get bored there. After a fruitful day, my fitness workout is waiting for me. In the evenings I like to meet with my best friend to go somewhere. When I come home in the evening, I love to cook a delicious dinner for the whole family, we sit down at the table and discuss everything that happened with us during the day. What is your typical working day routine?
About my family
Family is very important for a person. Here, the person draws strength, the desire to live, learn and share hidden secrets. It is important that anyone can find protection, support and advice at the most difficult moment. Every person has a home where you return with a smile on your face. Where your family is waiting and loving you. It is small: dad, mom and me. I am the only one child in the family. My family always gives me support and love, I want to create a family just like mine where people honour and respect each other. I live with my parents. We are a very friendly family. My parents always give me all the best. My parents always help me, support and respect my way of thinking! I am very grateful to them because they have given me a very good education.
See her fascinating movements and charming smile...
Feel as if it was your first date with this lady — it is worth 1000 pictures!
Watch this video for FREE
How would I describe myself
To tell many good words about yourself is not very modest, but I am a loving, passionate and so sensual woman. I make friends easily. I like communication with other peoples. My friends say I am reliable, honest and cheerful. I think that trust is a very important part of life in general and in the relationship. I am looking for an understanding, loving and carrying man with whom we will create a happy life together. I have a great sense of humor, I am hard working and so emotional lady. Let's find out it :) I will give you all specter of emotions.