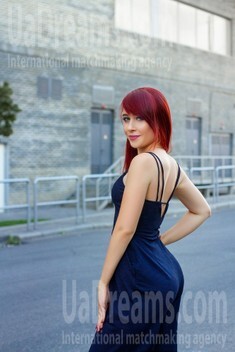 The type of man that I desire
I want to be with a calm and adult man and this is not about age)) I want to feel safe and protected) I am sure he should be my best friend and the more best lover in the world))) And in my turn I will be his muse I will be his source of energy and inspiration) I know men do not love disputes and you can be sure I do not have a worm in my tongue))) I have only sweet words for you)))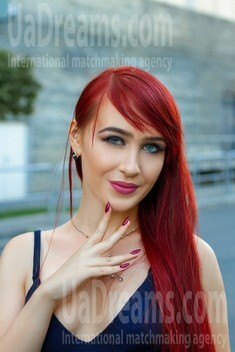 What I do in my leisure time?
I am a creative person I am an artist and I think I can stop here)) I love to make every new day better and brighter and I think I am good enough at it)) I love to learn new things and try to get as many as I only can. As I am an artist and I am a student so I am learning how to become a good architect. Also, I am learning to play the guitar, synth, violin. I love to sing, draw, of course, to dance, to spend time with friends and to read) As you can see I am a lady of many talents!))) Also I love to visit a nude beach, I think people are more free there))) Do you love such places?))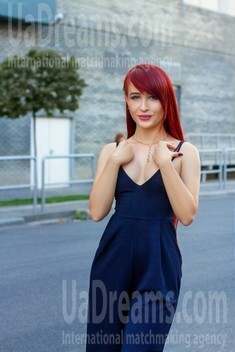 Our personal opinion of this Lady
She is very bright! Both out and inner! Her red long hair and bright blue foxy eyes will appeal to you too for sure!!!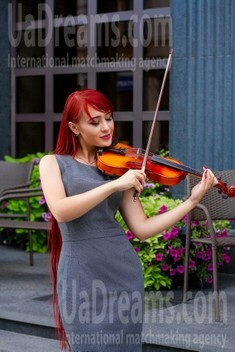 About my family
I am a single child. My childhood was in the west of Ukraine with my relatives.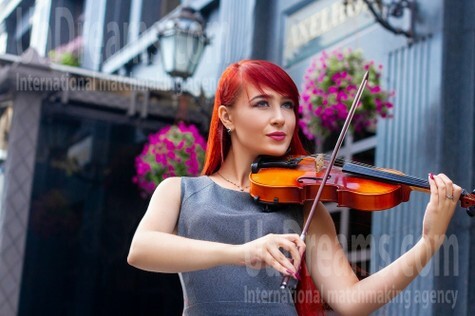 My typical day
I am a rather organized girl)) I wake up at 6 o'clock during working days and at 10 a.m. on weekends. Every my morning starts with the training. Even before the university, I have s training) Also I take several violin playing lessons a week. I try to meet with my friends and, of course, try to dream every day and to send messages to the Universe)) I know it will hear me one day )
How would I describe myself
I am a very determined person, I am brave, I am a good friend. I was an excellent pupil at school) I participated in many competitions and I always get the first places)) I am a very open lady, I love to learn new things and I am happy to get to know everything new every day. I try to make this world better ))
My future goals are
I want to be a self-dependent lady. It doesn't mean I don't need a man, no, I need a man who will allow me to be independent) Not from him but from the world around ) I want to be a muse to inspire him. But also I want to be on the first place for him) I do not want to be only his shade) I want to become a successful artist, I want to create the best family in the world, the happiest and the most beautiful)) As you can see I am a maximalist but I am sure, to become a great person you need to dream great...