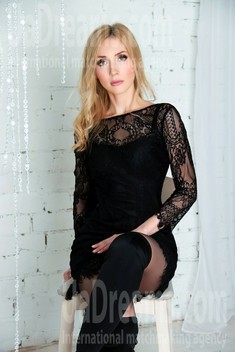 How would I describe myself
What can I say about myself? I am kind, caring and outgoing woman with a good sense of humor. I can not only put goals in front of me but also achieve them so I am motivated and energetic. And above all I am a tender woman open for love. I'd like you to know me better and to tell me what am I.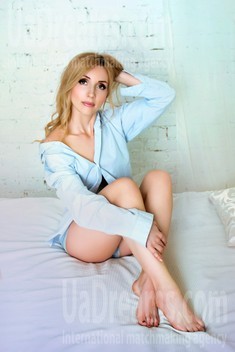 About my family
I was born and raised in a friendly and loving family that respects every its member and honours traditions. I've got the most confidential and warm relations with my mother. She instilled high values in her children. I have a younger sister. My mother is a real example of caring and wise woman. And I would like to create a new family of my own because I am deeply family oriented woman. I appreciate family values, especially such as honesty and mutual respect. Cheating is absolutely unacceptable for me, it ruins the trust which is hardly possible to restore. I'm looking for a man who can share this values with me. I have two beloved children from the first marriage: a daughter and a son. And one more member of my family is a cat.
See her fascinating movements and charming smile...
Feel as if it was your first date with this lady — it is worth 1000 pictures!
Watch this video for FREE
Get a much better idea of the lady's personality!
Discover her life and secrets no other men know :)
It's intriguing like finding an unknown world...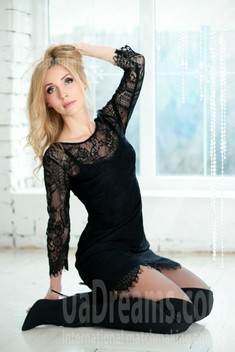 The type of man that I desire
I look for a decent, respectable, kind and caring man, who loves children and is family oriented. I can't stand impertinence and rudeness in people as well as lying. I'd like to meet a man who shares these views with me. A man who is able to support his woman in all her beginnings and to respect her, to be proud of her in success. I look for a man to discover the rest of the world together. I like travelling and I am looking for a partner interested in life and in people.
My typical day
The healthy way of life is my choice, fitness is one of my hobbies for already 18 years. So my usual day begins with doing sport. Then starts my working day. I like my work as it gives me great opportunity to meet everyday challenges and to find the best solutions in every case. At home I spend time with my son. We like playing together. I cook a light supper and we have it with my son. Then I read some book that meet my current interests and have a good slеep.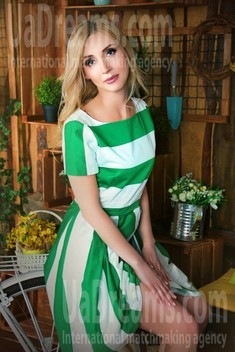 Domestic abilities
My home is a place to relax and to get rest and positive emotions. I like to cook and usually pamper my close people with delicious and healthy dishes. I have a special pleasure in making my place comfortable and cozy. I like to tidy up together with my family, it's a great way to have fun together, to help each other and to do something useful for your family.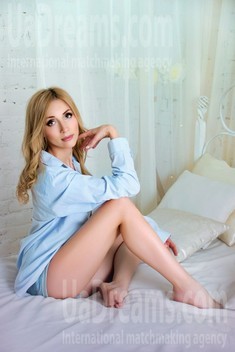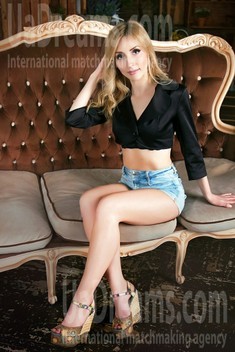 My future goals are
Building a strong and happy family is vital for me. The first marriage showed me the importance of sharing common values and interests with the partner. To prevent the relations becoming a mere habit a man and a woman need to bring more warmth and romance to their everyday life. I'm ready to give, and are you? Further self-development is also important. I'd like to start my own business project. I've got an experience of running other's dreams, it's time for me to realize my own.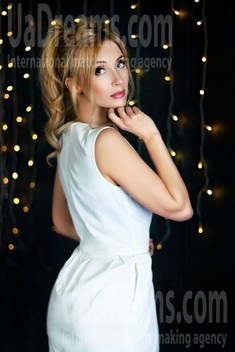 Our personal opinion of this Lady
The lady is nice and friendly. She believes in the power of laughter. She exudes an energy that draws people to her, but you will never find her wasting her time fishing for compliments or begging to be noticed. The lady is skilled at spirited conversation, so she can become a real friend and partner for her man.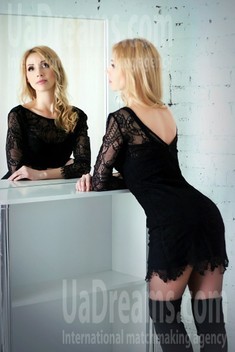 What I do in my leisure time?
I like reading books, and it's one of the things I enjoy. It can go more in depth than a movie can. When you read a book and then watch the movie more details are added that would not be there in a movie. I like doing yoga. It relies a lot on honesty, rhythm, openness, sustainability. Yoga gives me relaxation and flexibility of my body and my mind. I wonder would you join me in the practice? Since I was a child I always liked swimming. To my opinion this is one of the best sports, I think so because besides to be very funny, it's very healthy. I love meeting with my friends and making new friends and connections. Especially when I travel. Travelling is one more hobby of mine. I like to discover the history, the culture and the cuisine of the countries I visit. I like to have a good rest in the bosom of nature.