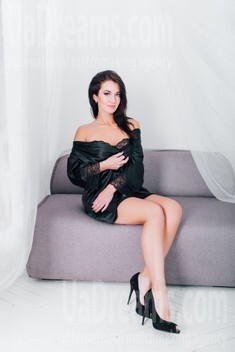 Domestic abilities
As any woman I have my household chores... I even like them...It is nice to keep your house tidy... And everything is simple, I cook some tasty things for my little princes and for myself, I like baking some cakes too. Every three days I try to clean up my flat! I am happy that the problem of cleaning up has never been a generation gap in my family. So I do not have it for now too... I also have a dog... And I also need to take care of her too)) We like to have long walks with our dog and to give her different tasty things))...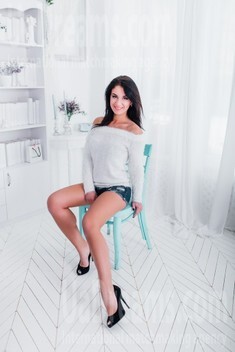 My future goals are
When I was about 5 I wanted to be a millionaire and I think it was what most people wanted to be. Nevertheless, money can satisfy people's desires. But not all of them. I thought so when I was young. But our desires are changing while we're growing up. And NOW I want to read the best books of the world literature, to be a volunteer, to gift my parents an unforgettable rest, to meditate as Meditation gives me a sense of inner equilibrium. I want to fall in LOVE with all my heart again!!! I want to create a big and happy family!!
See her fascinating movements and charming smile...
Feel as if it was your first date with this lady — it is worth 1000 pictures!
Watch this video for FREE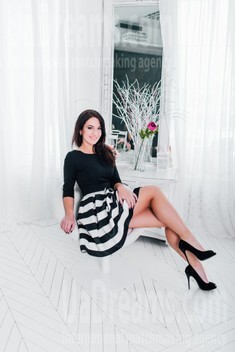 The type of man that I desire
I think that a man should not be a Super Hero. I want a man who can easily notice sadness in my eyes, or share my great mood, who will wish me a good day and make a cup of my favourite coffee. I think these deeds make a woman truly happy... Sure I want that we have much in common. Agree, similar attitude towards life is very important too... LOVE is an endless notion, so why do we need any rules to make the dreams come true???
What I do in my leisure time?
First of all I like to spend my time actively! I also like to travel if I have such an opportunity)) I like to do everything what brings me good emotions... So, camping, fishing, scuba diving, biking what else... I do not have some hobbies like shopping or reading a novel, for example, I want something that will excite me!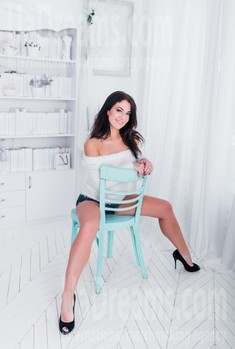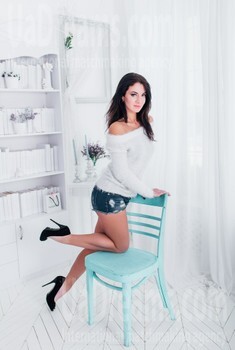 Our personal opinion of this Lady
This lady is cheerful, likes to spend her time actively! Likes traveling and is always open for something new! She also knows what she wants from life and you will never get bored with her!
My typical day
How does my day start? Sure with a cup of hot coffee! I cannot imagine my awakening without it) So, I get up early in the morning though I am not an early riser but I am used to it. Then I prepare some breakfast for my daughter and after that I leave home for work... I do not have a big variety during my day! As I am a young lady I like to attend GYM to keep fit, so I do it three times a week,.. Evenings are particularly relaxed... It is a play time for my daughter and me)... Before going to bed I drink a cup of tea with some milk) and have a pleasant dreams for the whole night...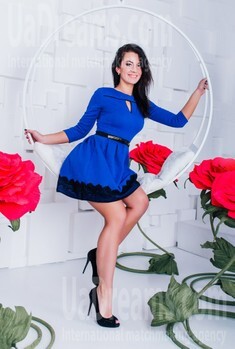 How would I describe myself
They say that if you want something to be done well, do it yourself... So sometimes I follow this wise saying.. For instance I haven't noticed how 20 years of my life had passed. Now I am 28. My early years, which I remember only partly, were interesting and careless. In my opinion I'm a kind-hearted and jolly person. I am also responsible and reliable. I never refuse if people whom I love, need support or a piece of advice. I try to be fair and just. I like staying alone and sometimes I 'hide into shell', but at the same time I like noisy companies of my friends...I like to laugh and joke with them too)))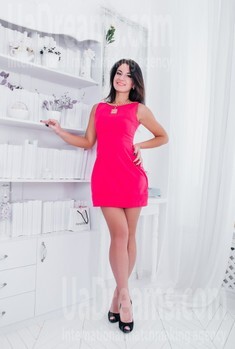 About my family
I think that the main thing in our lives is family! My family is not very big... We are a family of five... I have a mother which is my best friend, I have my father who is my support and I can relay on him and I have a brother he is 6 years younger than me... So he is a student... And I have one lovely lady in my Life - my daughter Eva.. She is 5. As we are have much work to do we do not have an opportunity to spend as much time together as we want to, so that is why all our gatherings are so warm and so special...