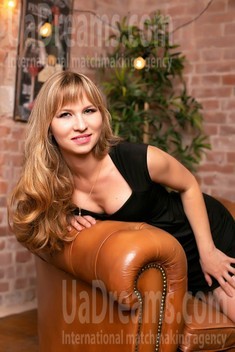 My typical day
I have to be at work at 9 a.m. Before this, I do my morning preparations, shower, coffee and dressing up. I like to look feminine that`s why I like dresses and prefer to wear them often. After working hours I go home or can grab some tea or coffee with friends. I don`t go out often but I try to fulfill my life with interesting events. When I stay at home I do some house chores. It always brings me pleasure. I like to watch something in the evening or to read an interesting book. I was impressed by Anna Karenina because of her self-sacrifice to love.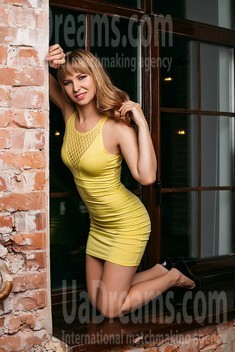 About my family
I live with my mom. I try to help her as much as I can. I have a brother but he does not live in Ukraine. My family is small but strong. We help each other and support if it is needed. I want that to be in my own future family. I have had very nice relationships with my dad. He had been my support always. He is not with me anymore. Now the best relations I have are with my friend. I am a God mother of her child. We are quite close and I consider her a part of my family as well. Anyway, I miss my better half and I look forward to fall in love.
See her fascinating movements and charming smile...
Feel as if it was your first date with this lady — it is worth 1000 pictures!
Watch this video for FREE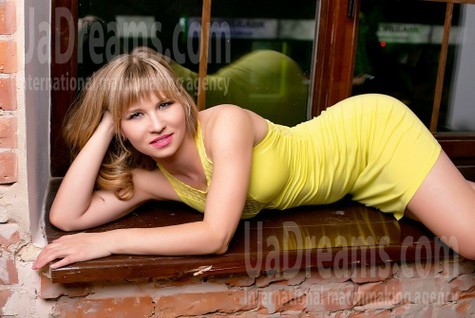 The type of man that I desire
You never know whom you might like ;) I want him to be caring, intelligent, reliable and have a great sense of humour. Is that you? ;) I need to feel that click being with a man. It`s like a sparkle! I want to be one team with him! Two people that create one big love together! I want a man who can rise my mood when I am sad and who can be a hero of my dreams like in old love stories. What can be better than a strong shoulder when you need it? Mutual passion, respect and harmony are necessary and of course, unconditional love!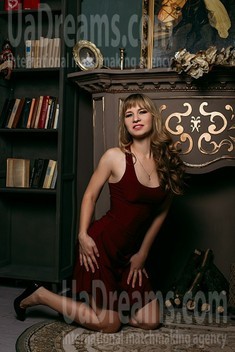 How would I describe myself
I would like to find someone special who would be my adoration, center of my world and my adornment. I am cheerful and positive. People say that I am a good woman. I am kind and reliable, caring and attentive. I am helpful and caring. I look after myself and my man would be enveloped in my care and attention. I like a good laugh and I appreciate a sense of humour in a person. I like to pamper my man. All I need is just to find out what my man likes. I really want to dive into the ocean of love and tenderness with my beloved.
My future goals are
There are some goals in my life that I would like to reach. I have a job but now I am focused on starting a family. I think, it is the right time for it. As every woman, I want to be happy with a loving man by my side and children. That`s why I am here. You can change your place of living, people around you or your job, but family is number one for me always. It`s an inseparable part of you which will be all your life. It is something that brings you happiness and there is nothing more important than that. I want my man to be happy.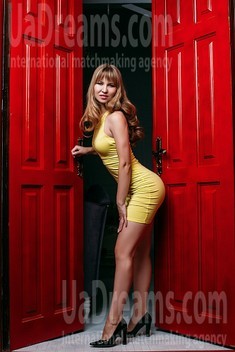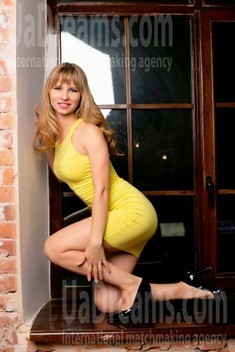 What I do in my leisure time?
My city is small, quiet and green. So, no surprise that I like to spend time outdoors admiring nature. I am open to trying any outdoor activity. Frisby? Ha! Easily! If I go to the cinema it`s a big event for me. Because I adore watching movies. It inspires me a lot. Once I went to the cinema to watch horrors.... I laughed a lot... I have friends and I like to spend my free time with them as well. What can be better than to have a funny or deep and meaningful conversation with a person? I like to read. I do it often and with a big pleasure. I open new dimensions. Don`t tell anyone ;)
Get a much better idea of the lady's personality!
Discover her life and secrets no other men know :)
It's intriguing like finding an unknown world...


Our personal opinion of this Lady
Tanya is a wonderful lady who charges people with a positive energy. She has a nice sense of humour. When you communicate with her you can feel intelligence and calmness. She is a very open person. Romance is her another name ;) You can rely on Tanya. She always keeps her word and she is very responsible. If you want someone who can care about you and help you, this lady would be happy to do it. She is very serious and we were very impressed with her. This lady is the type of loving, caring and reliable woman.