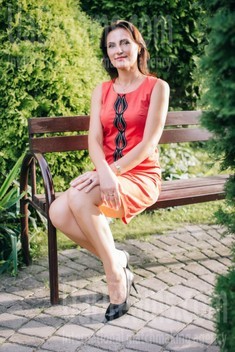 How would I describe myself
I'm a very cheerful, active and energetic lady.;) I have a very sparkly personality and I'm a very trustful person. I was hurt and betrayed in the past, but still I believe that there are more good people than bad people in this world. I'm perfectionist and I always try to be the best in everything I do, especially in my work and in my family. I try to be the best daughter for my mother and the best mother for my son. My family is my everything. They inspire me and they help me to achieve my goals. I also want to find true love to feel completely happy.
My future goals are
I have a good job and a wonderful son, but I feel that to be completely happy I need to have a nice man by my side who would fill my heart with joy and happiness. So, this is the most important goal for me to find such a man and to make a happy family. I also like learning something new. I want to learn some foreign languages, to learn how to dance ballroom dances, to travel and to see the world. One of my goals is also to raise my son in a right way and to be sure that he will become a nice, intelligent and responsible grown up man in the future.
See her fascinating movements and charming smile...
Feel as if it was your first date with this lady — it is worth 1000 pictures!
Watch this video for FREE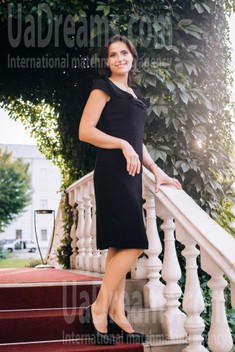 Our personal opinion of this Lady
She is a very mature, serious, experienced and family-oriented, but she is also very cheerful, active and positive. This lady is a good mother for her son already, and she also wants to become a good wife. She has serious intentions to find her future husband here on this site.
What I do in my leisure time?
I'm usually busy with my work, but when I have free time I like to spend it with my family first of all. I go to take my son from the kindergarten after work, and we have a nice walk with him. Then I cook tasty dinner for us and my mother joins us sometimes. I like reading, listening to the music, watching some interesting programs on TV. I also like decoupage and knitting and it always helps me to relax when I do something like that.:) My mother is very good at knitting too, and she taught me how to do that many years ago.
My typical day
I usually start my day by cooking breakfast for myself and for my son. Then I take my son to the kindergarten and go to my work. I like my job very much and I always enjoy doing it. When I finish working, I usually go to take my son from the kindergarten, and we go for a walk to the park or to the play-ground with him. If the weather is bad, we go to the pizza-place, or we come back home and I cook dinner for us. My mother likes to visit us and to cook for us sometimes. It is nice for me to read a book or to listen to the music before going to bed.
Get a much better idea of the lady's personality!
Discover her life and secrets no other men know :)
It's intriguing like finding an unknown world...


About my family
I live with my son and I also have a mother who lives in the countryside. My mother visits us often, and she helps me to look after my son when I need it. My son is 5 years old, and he is a wonderful boy. We always spend a very nice time with my mother and with my son, and we like to have family dinners. I and my son also like to visit my mother and to spend time in the countryside. Unfortunately my father passed away long time ago. I have brothers who have families on their own and who live in the same city as me. We are close with them.
The type of man that I desire
I want my man to be responsible, honest, kind, romantic. It will be important for me to share similar views on relationship and marriage with my man. I hope that my man will be intelligent, without bad habits and with positive attitude to life. I have a son whom I love very much and I hope my man will be ready to accept my son as a part of our family too. I will be ready to accept children of my man from his previous marriage also if he has them. I hope that my man will be supportive and helpful. I like goal oriented and hard-working men.