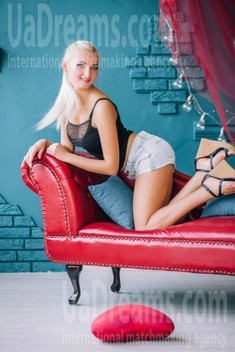 Our personal opinion of this Lady
Lena is a very positive girl with a cheerful smile:). She has a bright appearance and a very kind heart. It feels she is smart, respectful and very helpful lady. She knows to listen to you. Lena is ready to make serious steps in her life, she just needs a reliable man by her side who will support her and help her to be happy.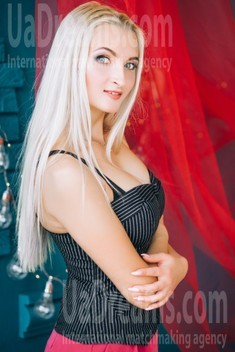 The type of man that I desire
I desire to see a mature, self-confident, kind and caring man by my side. I imagine my man as a very positive person who will laugh together with me and who will agree that life is a good thing:). I dream to meet a man with a nice personality who will accept me the way I am, will respect me and will not try to change me. I hope to inspire and motivate my second half and I want to be together with him in good and in bad times of our life. I know that together we will be able to overcome everything and to build a nice future.
See her fascinating movements and charming smile...
Feel as if it was your first date with this lady — it is worth 1000 pictures!
Watch this video for FREE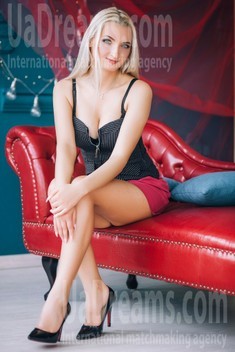 How would I describe myself
I am a cheerful young lady, I love my life and I dream to meet a nice man who will want to share my life with me and to make it even happier:). I am not afraid of difficulties and I am ready to learn a foreign language to understand my man. I love romance and I am a giver, so be ready to accept my love, dear;)! It`s hard for me to talk about myself, so I invite you to discover my personality and to make your own conclusions.
What I do in my leisure time?
I am an active young lady and I like to spend my leisure time usefully and in an interesting way:). I adore to be in the nature, so be ready to have a nice picnic with me somewhere in the park, or to have a bike ride in the forest;)! Even when it is raining outside I will not complain - I will take a nice book, make myself a cup of tea and will read sitting by the window, or I will call my parents and talk to them:). I try to stay fit, so I exercise a few times a week at home, I just turn on my favorite music and...my training begins;), it really helps me to be in a good shape.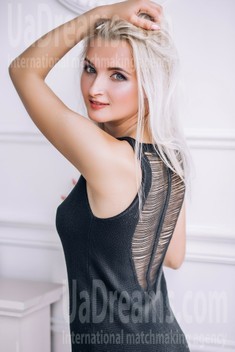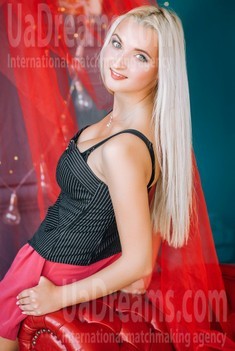 My future goals are
My biggest goal is to create a strong family and to be happy with my beloved man. I also want to work on my intellectual development and to learn new things. I want to learn English! I want to travel together with my man and to explore this big and interesting world:). I also have a dream that maybe will become a goal of mine if my man supports me - I want to open my own hotel and restaurant where people can celebrate their special events. I think it could be a very cool family business and great basement for a financial well-being of our family.
Get a much better idea of the lady's personality!
Discover her life and secrets no other men know :)
It's intriguing like finding an unknown world...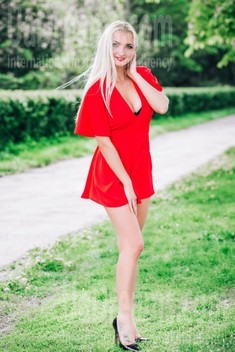 Domestic abilities
I like to cook and to create comfort at home:), I never complain about the housework, because it is not difficult for me to cook, or to keep my place clean and cozy, in the contrary- I like it! My mom and my granny taught me to cook almost all dishes of Ukrainian cuisine, so I think my husband will never starve with me;). I like to have plants and flowers around, so you can call me an amateur gardener already, it`s just getting hard to find space for all my plants, I need a real garden to work in, maybe one day I will have one;).
About my family
I was brought up in a nice and caring family and I am very lucky because my parents are happy together and they are still in love. I dream to have the same nice relations with my future husband. My mom and dad taught me to treat people in a way I want to be treated myself and I appreciate their lesson very much. I have got a younger brother who is my friend. We live in different cities now and sadly don`t spend much time together, but when we meet up we can talk for hours and he shares his secrets only with me;).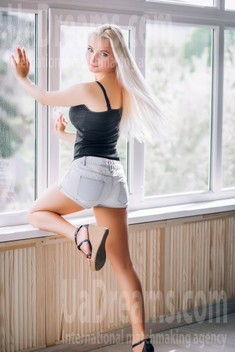 My typical day
I know I won`t be original when I will say that I start my day with shower and coffee;). I always have a light breakfast in the morning, then I get dressed and go to the office where I usually spend 6-7 hours depending on how much work I have. After work I usually do shopping, meet with friends, walk a bit, then return home, exercise, do some housework and make plans for tomorrow. On a weekend I can slеep in a bit and then I just enjoy myself. I adore to explore the places I have never been before and to take pictures:).