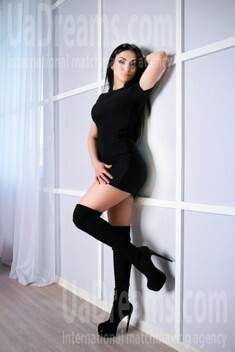 How would I describe myself
My favorite flower is an orchid, this flower is my talisman. And I believe that I am just like this flower. I need to find a person who will give me all his love, care and warmth so I could bloom all year around and make him feel in a special way. This feeling is true unconditional love which I keep inside... Do you want me to bloom for you?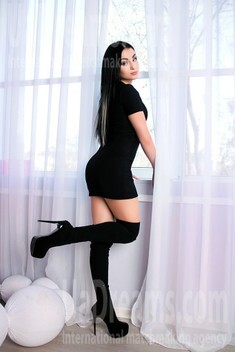 The type of man that I desire
I am looking for such a true man, loyal, sincere, kind and romantic. Who will talk less and do more. A man who is ready to find his happiness and to build a strong and long-lasting relationships, who is ready for family and who knows how to create a really nice family.
See her fascinating movements and charming smile...
Feel as if it was your first date with this lady — it is worth 1000 pictures!
Watch this video for FREE
My future goals are
I want to become a successful woman. Being a successful woman for me means to be a good mother and a loving wife. I believe that I manage to be a good mother. But loving wife is the goal which I try to achieve as soon as possible. That's why I am here. And I hope you are here because you want to become a loving husband. If I am right that means that we have found each other! Do not hesitate. I am waiting for you! Oh, and also I would like to travel, I would like to go to Armenia. What do you think about this country? Maybe it will be our first mutual vacation there? ;)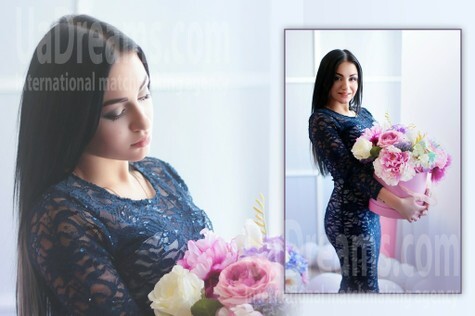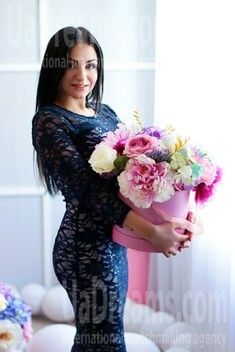 What I do in my leisure time?
I'm an active person, so I prefer to spend my free time in the gym and I like to do yoga. I like to be in a good shape. Health body is the way to success. When spending time at home I prefer reading a nice book, or watching a romantic movie. It would be better to do it in a company of my beloved person. But the first of all my goals is to find him;)
Domestic abilities
I can not say that there are some domestic chores I do not like to do. I was brought up in a family where a woman is the guardian of the hearth. It is my pleasure to keep my home clean and cozy. I like to do everything about the house, to clean, to wash clothes, to cook food. My hearth is missing the head of the family who will give me a kiss when the dinner is on the table. :) By the way, I hope you like kisses and hugs because my husband will never feel lack of it. :)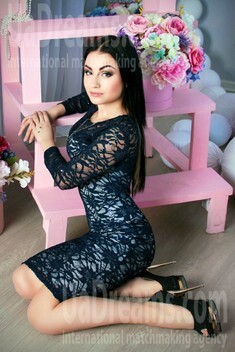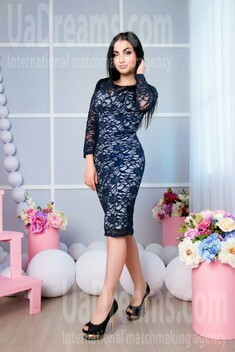 About my family
My family for now consists of my parents, my daughter and also we have one more member of our family - our dog. Do you like dogs? Anyway, if you haven't not met my dog yet you do not know how much you love dogs. :) I grew up in a good and nice family. I value advices of my parents. My father always helps me and always gives me good advice, he always supports me. I believe that support means a lot in a family. I can say for sure that I will always support my husband no matter what! This is the way I was brought up and despite my age I have old fashioned family values. I have a good example of a happy united family.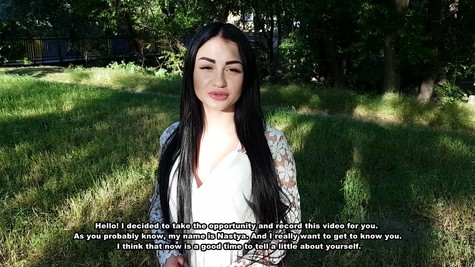 Get a much better idea of the lady's personality!
Discover her life and secrets no other men know :)
It's intriguing like finding an unknown world...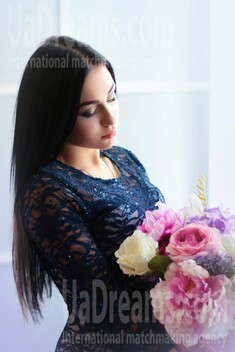 My typical day
I'm an early bird, I wake up early in the evening, I take my daughter to the kindergarten. Then I go back home and I take a couple of hours for work as a journalist for online magazine. After work I do everything about the house. In the end of the day I pick my baby back home, and we spend time together. We always take a walk together and learn something new. And my favorite part of the day is when my daughter goes to bed and I read her a fairy tale. I really believe in stories with happy ending, I believe that dreams can come true and I do believe that it is possible to create your own real fairy tale.
Our personal opinion of this Lady
The lady will charm you with her beauty. She is a kind person, and knows how to take care of her dear people. She is smart and once you know her, you will never forget her.