Our personal opinion of this Lady
This lady is very sophisticated, kind and gentle. She would be a perfect match.
My future goals are
I am quite a determined person. I always know what I want from my life. I set goals and achieve them. Of course, to create a lovely family is a priority. But to achieve my major goal I need to tackle a few small ones. First of all, I want to meet my Special Man, a man who is gentle and kind yet has inner strength and a passion for life, who likes simple things in life, like long walks holding hands, laughing together. Someone who likes to be loved and who wants to share good life, hopes and dreams with me. The man with whom I would like to try scuba or sky diving.
See her fascinating movements and charming smile...
Feel as if it was your first date with this lady — it is worth 1000 pictures!
Watch this video for FREE
My typical day
I try to spend my every day useful and active. I start my morning with an aromatic cup of coffee, a little lift to begin a day. Then I go for my work, spending the whole day dealing with customers. In the evening I meet with my sister or hang up with the friends. If I stay at home I can watch a movie or read a nice book. On weekends I like to clean my house and to cook something tasty.
The type of man that I desire
If love can be described in words - then it's not love. After all, you are not able to describe it. Do you know how the wind blows? You feel it on your skin, you may sense its scent ... but you do not see it?! ?! So it is in our lives but it is not. I'm looking for your eyes ... I look out of you from millions. Whom I'm looking for? - A simple answer! - A man! In the full sense of the word !!! I'm tired of being the head, breadwinner and I want to be just a woman, a friend. It is difficult and useless to describe a man whom I would like to meet. Real love rarely flares up instantly. First of all, a man should be loved. After all, if there is no love, neither beauty, nor wealth, nor other dignity will please. My special man should touch my soul and my heart. I believe that he should be an interesting person, a person who can learn something, next to whom you will not cease to be surprised and will develop all the time. Self-confident, held in life, purposeful, stylish, spiritual.
About my family
My family means everything to me. It means to feel secure, to have someone who you can count on, who shares your problems. It also means to have respect for each other and responsibility. My parents are happy in their marriage. They are an example for my sister and me. We are close-knitted and have a lot of family traditions. Sunday is a family day because we have family gathering and do a lot of things like playing board games, cooking special meal and having fun.
Domestic abilities
I adore my home and I like to do everything about the house. I like when everything is clean and cozy that is why I like to clean every spot of my appartement and to put everything in right places. I delight in cooking and knitting.
What I do in my leisure time?
In my spare time I do what makes me happy. On weekends and during holidays, I prefer to stay in my family circle. Only with loved ones I feel comfortable. Together we overcome various life difficulties, but we still love each other. No less fun brings reading books, watching movies, listening to music. My tastes are pretty eclectic. Sometimes I read detective stories, sometimes - romance novels, and sometimes I open psychological books. The same can be said about music: I can include either acid jazz, or lounge music, or RnB- the choice depends on the mood. I like to sit in cafe, sipping a cup of coffee and watching people from the cafe window are the moments when I feel relaxed and happy.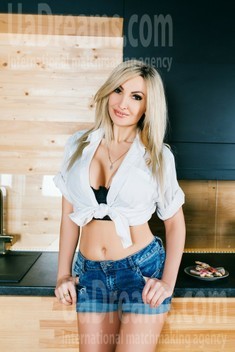 How would I describe myself
I am a loyal and caring person. I believe in giving to the community and helping others. That's how I would describe myself. However, my family and friends would describe me as spunky, energetic, outgoing and very, very sweet. I am not too sure about the spunky part… But they are family and friends, so they know better, right?