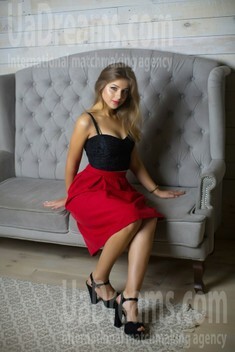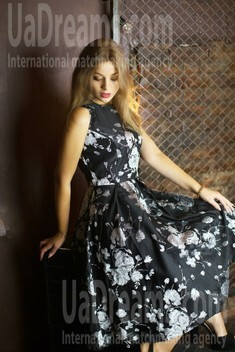 My future goals are
The main future goal for me is to find a sincere and serious man, with whom I will create a strong family. This life is too amazing, to live it alone and be unhappy. I hope to find my second half in the nearest future and be "the one" with him. I study excellently and do my best to find a nice job in the future, to became a successful doctor who will help people.
See her fascinating movements and charming smile...
Feel as if it was your first date with this lady — it is worth 1000 pictures!
Watch this video for FREE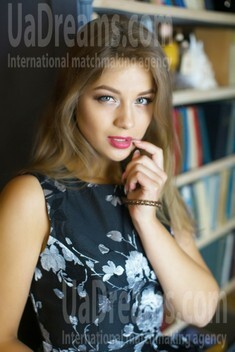 My typical day
I start my day with a cup of coffee early because I study at the university, so, when I have a weekend I like to stay in bed till the daytime, I hope that it's not a crime:) I do some simple tasks at home, like cooking and cleaning after my lessons. In the evening time I study medicine subjects and my favorite part of the day starts after that: I take a hot bath with many bubbles, relax and read a good book.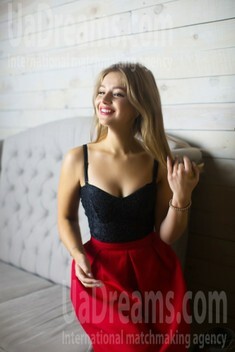 About my family
My family consists of 4 persons: my mother, father, brother and me. I can say that my family is a great example for me. My parents love and support each other. It seems to me that they were born for each other and it's a miracle that they found love in this huge world! I love my family very much. My family is my little world. But it's an amazing world. And I will open the curtains only for a special man, who will get the biggest place in my life.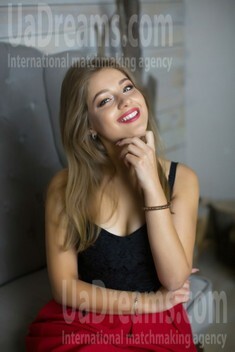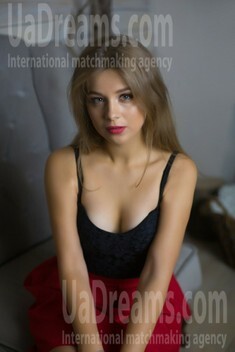 What I do in my leisure time?
I like to spend my leisure time actively. I like sport so I try to keep myself in a good shape. I enjoy spending my time with friends. We like to go to the cafe, cinema, or just have a walk with coffee, etc. I adore travelling!!!! I travelled not far from my city, just around Ukraine. So, one of my future goals is to open this world and new countries for me. I hope that I will do it with my beloved together.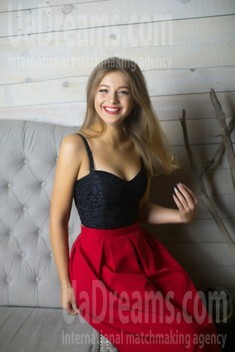 The type of man that I desire
I want to see a man, who will be caring, kind, gentle, and sensitive, with a good sense of humor next to me. I want to be with a man, who really wants it in this life, who will be ready to open his heart to me. The most important male's feature for me- he must be ready for serious relationships. I understand that nobody is ideal, but I am a lady who can find a compromise in all the situations and is able to care about my man. We need to complement each other and it will be a successful relationship :)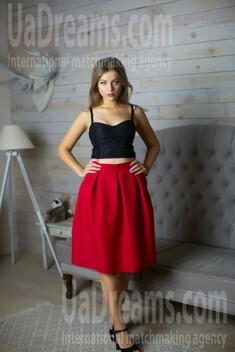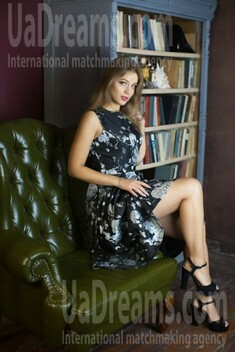 How would I describe myself
I am a sincere and communicative person. I am always positive, smiling and cheerful. To tell the truth, I can talk about myself a long time...But I want you to give an opportunity to know me and my inner world better:)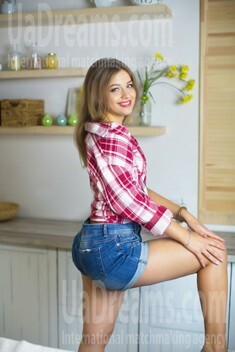 Our personal opinion of this Lady
This lady is like sunlight. She shines so brightly, so all the staff was forced to wear sunglasses:) She is kind, sensitive, sincere, smart and charming. Moreover, she is a very beautiful lady with a Hollywood smile. She has all the qualities that all men want to find in the future girlfriend or a wife.