Our personal opinion of this Lady
Maria is a wonderful, sunny, happy and cheerful lady. She always has that positive aura around herself and will be there when you need her. Compromise is not a problem for her. She wants to find a good man to create a family.
See her fascinating movements and charming smile...
Feel as if it was your first date with this lady — it is worth 1000 pictures!
Watch this video for FREE
My future goals are
I think there is nothing impossible for me in life and I know with right determination, desire I can achieve everything. Coming here to the site I want to find a man and create family together. See more amazing places because our world is amazing and have that uncomplicated relationship. I think there are plenty of drama situations in life and in my personal life I just want simple and amazing happiness that will engulf us both. We can create that little OUR world together and enjoy it day by day making each other happier with each moment we spend together. Interested?)
What I do in my leisure time?
I am always in motion and I like to lead an active life style. I mean I can always enjoy a good rest but so far I do not have that man who I love to spend a quality relaxing time. When I find him I am sure I will enjoy doing everything with him. I love to experiment in the kitchen when I have time. I also like to travel and see new places. It is amazing to be able to experience new things, see new places. Do you want to enjoy that with me? I think doing something no matter what with person you love is even more fun!) I have two dogs and enjoy walking with them) I love to spend time with friends when I have free time)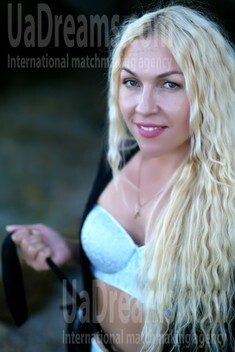 About my family
My family is great and I love them so much. My family is not big but they are my dear people who will stand by me when I need that. My parents are happy together and they want the same for their children. I also have a brother who is a bit older than me and with little age difference we are close and always help each other when needed. I do not live with my parents but they will always be there when I need them and I value that so much!
My typical day
I am always in motion during my day. I like to get up early and do everything that is on my list of things) I like to do sport in the morning but if I need to be at work early I can do sport in the evening time. I walk with my two dogs in the morning and enjoy such moments. After all we need to learn to enjoy simple things as well in life, do you agree?) I can always improvise when my plan is not working for the day and such thing will never make my mood less happy)
The type of man that I desire
I think being in that state of love with a person who is always there for you is priceless and I am here to try and find that love. I want a reliable man with me. I want us to be able to trust each other, to be able to talk to each other always and know what is on our minds. I want to have strong , honest, reliable uni0n. I want romance and passion in life. Something that is simple yet amazing... I want to be with a man who wants to love and be loved by me and knows that his happiness is with his beloved lady.))
How would I describe myself
I believe that if you want to live in a better world you need to start with yourself. Simple life without quarrels, fights is something I want and this way life is easier. I want love and to be loved. I know I can make the right man happy and I will always be happy to work on the relationship together) Love, passion, romance, respect that is all that I think important in life.
See her fascinating movements and charming smile...
Feel as if it was your first date with this lady — it is worth 1000 pictures!
Watch this video for FREE