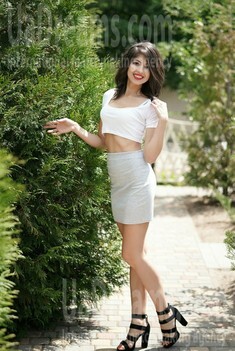 My future goals are
The main goal in my life now is to find my love and to start my own family. I am eager to be loved and to give my love. This is what the most important for me now. I dream about big and friendly family and to live in peace and harmony together. My desire is to take care and give all my attention and feelings to someone who loves me and want to have cute babies.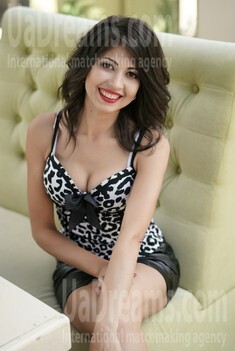 How would I describe myself
My dear future husband, it is not easy to write about myself. I think that the most important features which I have are tenderness, activeness, positiveness, I am also very kind and well mannered person, I like to communicate, I am very good listener and I can discuss different topics, because I am very open minded person.
See her fascinating movements and charming smile...
Feel as if it was your first date with this lady — it is worth 1000 pictures!
Watch this video for FREE
About my family
My family consists of my mother, grandparents, uncle, aunt and two first cousins. I think that it is not a big family, but maybe that makes us very close. We are friendly and like to spend time together indoors and outdoors. We like a lot of outdoors activities and we always have fun and enjoy time spending together. My love to family is eternal and it is very important for me.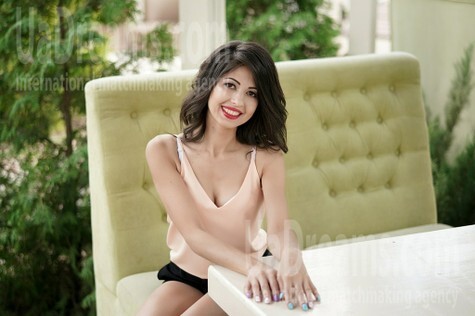 My typical day
Every day I start with a cup of coffee and then I have some tasty breakfast which I cook by myself of course. I am a shop assistant, my working day is very long, it starts at 9am and ends at 9pm. I work 6 days a week. One week I work and the next week is free. When I have a working week, I come back after work, eat, maybe read something or watch a movie and go to bed. And when I have free week I like to meet with relatives and friends. Very often I cook something tasty and invite guests. I adore to play different tabletop games. Of course I love to take care of myself and I can spend almost all day making different facial masks, manicure, pedicure etc.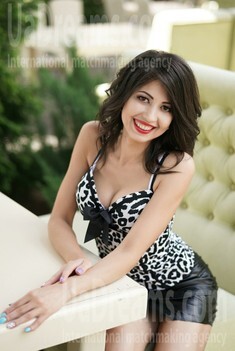 The type of man that I desire
Kind heart, good sense of humor, self-confidence, outsized ego and open mind - these are features that I like in a man. In addition, I like man who take care of themselves, I mean men who keeps fit and who are particular about appearance. I do not have any bad habits, like drinking alcohol and smoking, that is why I am negative about that but I am not judgemental. Besides, I like attentive and caring man who treats a woman with love.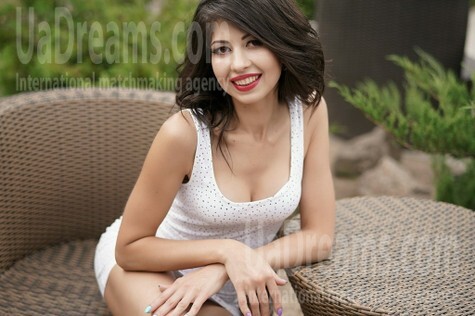 Our personal opinion of this Lady
From the first sight we understood that this beautiful woman is sincere and open person. It is very pleasant to communicate with her. She has very beautiful smile and her eyes are full of hope to find love and to be happy. And we noticed that she definitely knows what she wants from life. We think that she deserves to be happy.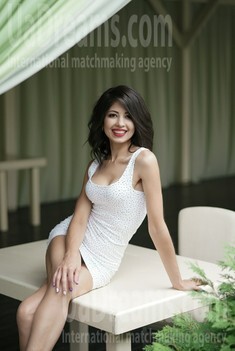 Domestic abilities
My domestic abilities are cooking, cleaning up the house, and making it cozy. For every day I cook Ukrainian dishes and when I have a little more free time I can cook anything what I want, it can be Italian, Chinese or Mexican cuisine. I just find interesting recipes and sometimes even do not know which cuisine it is. As for cleaning up the house, it is not hard for me. I like when everything is clean and in order, so I clean up the house with pleasure.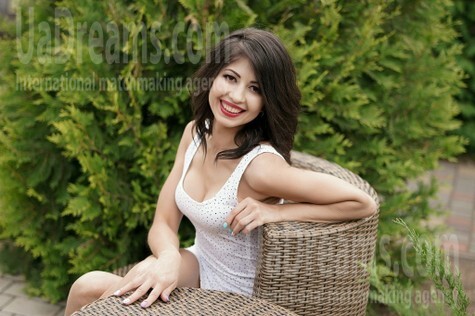 What I do in my leisure time?
When I have some free time, I like to watch some film or sometimes I read a book (usually novels). I think that watching movies is a very nice way to spend leisure time. You can choose a movie according to your mood and enjoy time and relax. I dream to hold hand of my future husband and hug him tenderly while watching a movie. Besides, few times a week I do fitness. This is what I really like to do. It helps to keep me up and makes me more energetic and of course healthy.