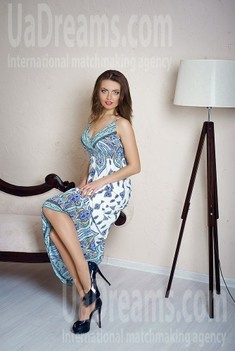 Domestic abilities
I believe my home is my castle. I believe if you want to be successful you have to do everything with love. You have to fill everything with love. Love has to fill you. This is my one more rule during my life) Every day I fill my house with my love. I have huge deposits of it;) I dream someday to fill with love my own house. I adore to decorate my house. Especially at Christmas holidays!) I believe the house where love lives will fill with love all the members)) Agree?)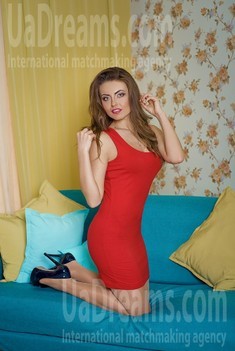 The type of man that I desire
Hmmm... as I have already told when I start to do something I always have a particular picture of the result. Do not think I am too pragmatic girl. No! Simply I have my own opinion about everything and I believe this is very right. )) So when I decided to register on the site I have already had a picture in my head))) Do not be too strict to my words. Simply I want to be honest with you. So, he is kind, responsible, attentive to me and my feelings, to my inner world. He has hobbies, some of them are similar with mine)) He is smart and has an opportunity to support his family.
Get a much better idea of the lady's personality!
Discover her life and secrets no other men know :)
It's intriguing like finding an unknown world...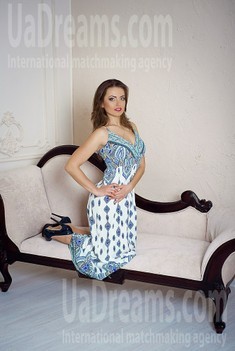 My future goals are
First and the most important goal is to become full personality as I have mentioned! The second one is to become a good wife and a good mother of course) I think family is a very important step. And I believe it is very important to become an independent person before to have a family. Saying independent I mean to have any principles, to have any experience and believes. I am sure you have to have at least any idea about your future husband, about your future family in general. And after you have this picture inside your head you have a right to start to find it. As you know, all thoughts are material. So, I have already had my picture and that's why I am here to achieve my goal))
How would I describe myself
I am very dreaming lady. I dream to achieve all my life goals and to become a successful lady in all spheres of my life. I want to become a good writer, a good wife and a good mother)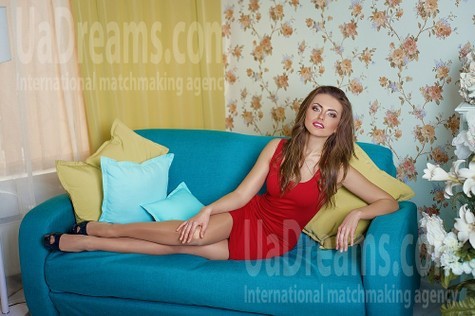 What I do in my leisure time?
I prefer to devote all my free time to myself or my relatives. I am sure every person has to be a full personality. I mean to be self-sufficient person. To be independent from others and others should be independent from me... So all my free time I devote to self-development. Both physically and mentally) I visit the gym regularly. I read a lot of books. I have a rule to discover something new every day and try to follow this rule)) Do you have any principles in your life? I think this is very important for every person! I adore all kinds of sports!! I visit the gym, pool and others!)) As I dream to become a writer all my leisure time I try to read any special literature) As you can notice I am many-sided girl;)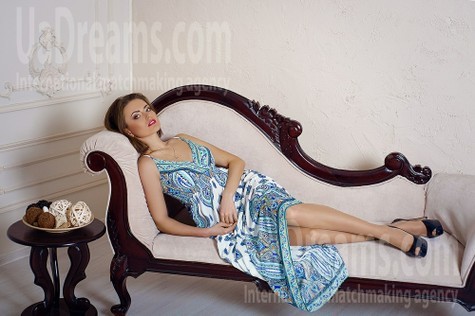 Our personal opinion of this Lady
She is very balanced lady. She is a lady who certainly knows what she wants and how to achieve it. She has an amazing feature: to combine the strong goal-orienting with feminine weakness. She certainly has so-called female wisdom))) At the first sign she is cold like a stone, but every stone wants to be warmed up and every peak wants to be conquered....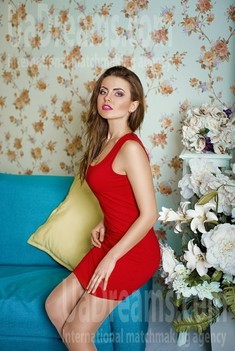 About my family
My family is the whole world for me now!!! I adore them. I have a full family: mom, dad and two brothers. I am the eldest child in the family. I have very close and tender connection with all of them. My mom is the best friend for me. She is really diplomat. She is very wise. I do not know another person who can be similar with her. She is very special. I share everything with her, both my happiness and unhappiness. After every communication with her, I know something new and very helpful for me)))I adore her)) Of course family where I have grown up is the model for my future family. I dream to have the same understanding and supporting people close to me. And I will do all my best to achieve this) I want to tell you something. I have already told you I am a girl with hard life rules, but I am sure the word family is very close to the word "understanding" and "concessions". I am sure if you are in love with somebody you will accept him as he is and any principles don't matter for you;)
My typical day
I am an early bird. I wake up at 6.30 a.m., have my breakfast and relax during morning talks with my parents. After this I usually work a little. It takes me a couple of hours. I am a re-writer of different text, online journalist. After work I prefer shopping or communication with my friends. I think communication with right people can inspire you and give you the right push to think in the right way)) After several hours of relaxation, I come back to my work and devote it another couple hours of my life. Every evening I visit the gym. This is very hard and stable rule for me. Gym every evening!!! I have already told you I am a girl with hard principles)))