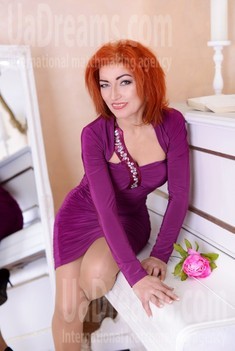 Domestic abilities
Actually I can do everything around the house, but I prefer when I have strong man's hands to help me to fix the problem with falling ceiling or something like that)))) My mum is a cook, so it's not difficult to guess what my favorite place in the house is : ))) I'm the same good at taking care of any place in the house. The bed will be made, the floor will be clean, the breakfast will be ready. But…only…if the woman of this house is happy!))) And if she is not happy…let's not go into details, because I am afraid I can ruin not only the ceiling, but the walls too!))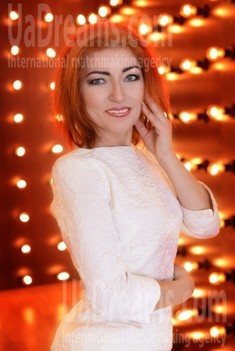 What I do in my leisure time?
I would like to spend my free time with my man: for my man, together with my man...isn't that wonderful to spend your time making someone happy? What can I do to make my man the happiest in the world? I can knit the warmest sweater for him, spend few hours in the kitchen cooking something tasty, and discuss a book with him that I have read recently. There are so many hobbies in my list which I'm ready to share with someone special. I like sport and have a category in long jump and long-distance running. It's very hard to make me tired, believe it or not ;)))) If to speak about my hobbies, I really like to knit, sew, cook. Nature and sport take a special place in my life, the same as communication))) I'm very talkative and even if we speak different languages we still will be able to understand each other))) I believe in the main language for couples, and its name is LOVE!
See her fascinating movements and charming smile...
Feel as if it was your first date with this lady — it is worth 1000 pictures!
Watch this video for FREE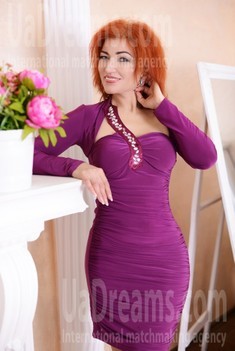 About my family
My family is really big and friendly! My mum is an amazing woman, she is getting on for eighty soon, but she still keeps working as a cook, because she loves it! Staying active no matter what is the motto of our family! I have two younger sisters, they are the same beautiful as me))) It's also our distinctive feature))) I have two kids, my son is quite a clever boy, he studies at one of the best schools in our city, he is good at mathematics and…cooking! He spends half time with me and half time with his father. My daughter lives separately, but we see each other very often. She has the same hair colour as me and the same temper))
My typical day
I do not have typical days in my life, they all are different! My working day depends on the amount of work I have. Sometimes I spend many hours there, sometimes I have more time for myself))) I really like to sew and a lot of my friends know it, and the friends of my friends know it too, so I always have something to do for extra money : ))) There is one rule in my every day life and its name is sport! I used to be into jogging before, but right now I prefer body flex gymnastics, it works good for both – my body and my mind! After reading a lot of literature and trying many types of sports I chose exactly this kind of every day activity for myself. It gives me extra energy for any plan that I have for the rest of my day!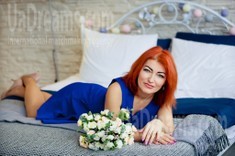 See her fascinating movements and charming smile...
Feel as if it was your first date with this lady — it is worth 1000 pictures!
Watch this video for FREE
How would I describe myself
I'm the one who does not believe that there are difficulties which we are not able to overcome. I'm the one, who cannot stay depressed for more than 2 hours. I'm the one, who does not believe that time passes by. I'm the one who can do it, even if everyone says it's impossible. The lady who believes in romance, the lady who believes in passion. The lady whose name is Lubov, translated as LOVE into English. It's all about me. I'm the one who can love and be loved without borders.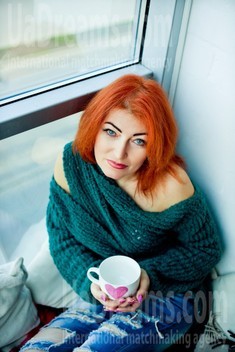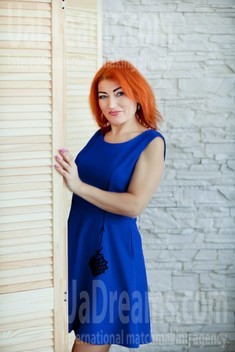 My future goals are
When I open my eyes in the morning I start smiling, because I turn on my imagination and believe that next year I won't wake up alone in my bed. I will wake up with MY man, and my smile will be presented for him! So right now I'm doing exercises in order to make sure that it will be the best smile he has ever seen before! I bet it's not difficult to guess what my main goal is now?))
The type of man that I desire
The type of man that I desire? Probably I would like to meet someone who is ready to become happy! Someone who is not afraid of an active woman, who speaks a lot, slеeps a little, laughs all the time, because she knows life is worth living! I will be happy to be together with a strong man, and I do not speak about muscles right now))) I would like him to be self-confident, but at the same time, romantic with me! I am afraid even to think when I've met such a man in my life last time. Maybe never, that's why I believe it's time for him to come into my life!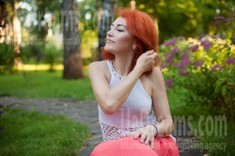 Our personal opinion of this Lady
She is the one of those women, who knows how to enjoy this life, be sincere, laugh loudly and melodiously, to be free always and everywhere. Her smile is infectious, and her voice is heard from afar. It's difficult to not notice this woman, with her bright appearance and strong character. Sometimes you may think that she is still a kid, and it's strange to say so about her. Maybe it's because the sparks in her eyes which attract and amuse you. While talking with her you may notice that she goes through life with faith in the best. With hope and confidence that better times are yet to come, and everything bad what happened must be forgotten. She believes there is no need to pay attention to the past. Because it's in the past.