About my family
I'm glad that I was born in a big family that helped me to understand what are the main right things in our life. There are five of us: my parents, my two older sisters and me. I was born in Russia but I live and work in Ukraine. I miss my family a lot. I'm glad that I can easily call them and their loving voices will help me. It is important to have a constant connection with the dearest people. I hope I'm a good daughter and I hope to follow my parents example. Very many thanks to them for my happy life. They are waiting for my own family nest to appear:)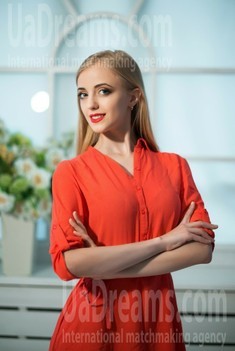 My future goals are
There will be nothing more important in the nearest future than making my fondest dream come true:) I wait with impatience for that day when I face my real love and it will last forever. Why not?:) Many women believe in a fairy-tale and I'm sure that it can be real. I think about it quite a lot and may I find a person with the same kind of that pleasant desire. Let it be! Also, I would like to develop myself in all life spheres. I want to blossom for my only one man like a tender rose without thorns. Am I too romantic?:)
See her fascinating movements and charming smile...
Feel as if it was your first date with this lady — it is worth 1000 pictures!
Watch this video for FREE
What I do in my leisure time?
Actually, I don't have a lot of spare time for all the things I like and what makes me happy. I just follow the rule that sweet candies should be after hard working time, right? But when I'm so happy to dedicate my time to more special things, of course, I visit gym to be in a good shape, I take care of my beauty, I develop my skills in professional sphere (yes, it is impossible to forget about it even in my leisure time) I practice my singing in a professional way. Who knows maybe once I'll sing for my darling during our wedding ceremony.
How would I describe myself
I'm an open-minded, straightforward, cheerful lady who is searching for her only one to be happy.
Our personal opinion of this Lady
This lady needs a tender man who is able to make her world happy and full of pleasant surprises.
Domestic abilities
I can easily cope with any kind of things about the house. My mom taught me to be a good keeper of my home, to keep everything in order and never refuse to cook something new. I need to be ready to do any kind of domestic tasks. But in any case I hope my man will always be happy to help me.
The type of man that I desire
I think my man will simply appear, take me by the hand and would never let me go. I'm searching for a loving, kind, attentive, caring man. I hope he will look at me and there will be no other ladies in front of his eyes. I just want you to read this message that I decided to hide between the lines. I want him to feel my breath of tenderness and love. Love is the main thing and it is the basic thing for everything. I hope to accept my man with my heart and he will do the same. I sincerely believe we will create a strong uni0n of hearts.
My typical day
My typical day always starts with my morning exercises and of course drinking a glass of pure water. Then I have my breakfast and think about the plans for the day. I always go to work in a good mood because I need to help people. I like what I do and I never show I'm tired of it. In the evening I relax listening to music and of course warm shower with vanilla aroma gel helps me to be fresh. I go to slеep with good thoughts for the better day. Sometimes I read something in the Internet and I never forget to get to know how my family is doing.