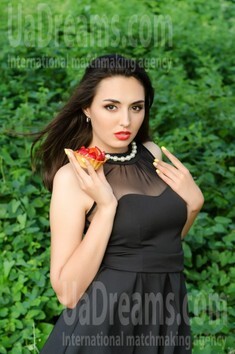 My typical day
My typical day begins early in the morning. I wake up, cook the breakfast, do some morning exercises and get ready for the new day to enjoy ! Sometimes when I really have a good mood I turn the music on and start dancing. I have many friends so I never get bored there. I like to devote time to my family, I like spending time with my amazing little brother, he is my best friend. Sometimes I bake muffins at home, bring it with me let my family to enjoy them. Friends often tell me that I will be a perfect wife for my future beloved husband.
See her fascinating movements and charming smile...
Feel as if it was your first date with this lady — it is worth 1000 pictures!
Watch this video for FREE
About my family
My family takes a big part in my life. I am very grateful to my mother and dad for everything that I learned from them. I was always close to my parents and would like to have the same relationships between me and my future husband. My close people don't know about my decision to look for my life partner abroad but they always support me in every my decision. It will be a pleasure to introduce my parents to my beloved man and I am pretty sure they will approve my choice.
Our personal opinion of this Lady
It is hard to meet such a positive, smiling and good-natured person like Anastasia. We suppose that her search will not take a long time cause every man is dreaming to have such a woman next to himself in a role of girlfriend or wife. She is able to make her choice the happiest in the world and enchant you from the first sight.
The type of man that I desire
It is a bit hard to imagine what exactly I am looking for here. Just because love doesn't count with you, it comes to your life unexpectedly and change your life. Do you agree with me? I don't want to organize casting or something like that. I want to wake up, check my mail box and find there letter from you, my fate! I decided to look for international man because I believe that foreign men are more attentive, purposeful and family-oriented. So I am waiting with impatience to meet the man of my dreams here.
What I do in my leisure time?
I like reading and learning something new . When I studied in university I read a lot . I have many different books in my home library and can give a good advise depends on what the person likes or how old is he or she. A big part in my life takes sport. I practice yoga. I want always stay graceful and sexy for my man. I don't know who are you but you are already a lucky one. I also like to spend my leisure time with family and friends. We do many interesting things together like hand-made or cooking that make us more closer.My recent passion is photography. I like both modelling and taking photos. I am improving my skills in photography now and maybe in future I very talented photographer.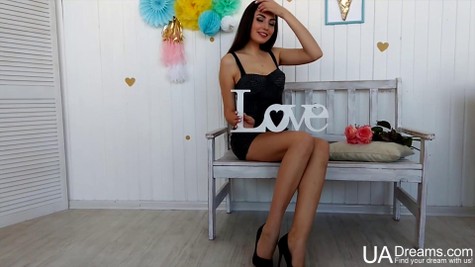 Get a much better idea of the lady's personality!
Discover her life and secrets no other men know :)
It's intriguing like finding an unknown world...


How would I describe myself
I could talk about myself a long time telling about my hobbies, accomplishment and advantages. I am young, motivated and talented lady. I am caring, tender, love cooking and am passionate lady. Did I already persuade you? :):) I am pretty sure my choice will appreciate my inner world cause I am not only beautiful but wise and want what real man needs. If you want to check if it is the truth don't hesitate, just write me! I am looking forward to know you better.
Get a much better idea of the lady's personality!
Discover her life and secrets no other men know :)
It's intriguing like finding an unknown world...


Domestic abilities
Among my domestic abilities are many different things like cleaning, cooking and making the place where I live cozy. I think every true woman would have a desire to surround her close people with care and coziness so I am not an exception. All these things bring me a pleasure because everybody who comes to visit me notice my thrift and tell me about it. It would be great to hear these compliments from my husband every time he will come from work to our family nest and I will meet him with a delicious dinner or candlelight meal that will make every evening special.
My future goals are
I am young but very motivated lady. I have many goals and am going to rich them all in the Future. The main one is to experience what "real love" means and to find that person who will help me to discover it. I think love is the most important thing in the life and everybody should try at least once to fall in love with somebody. But to find a partner is not easy but I hope that I will meet you here soon. I am ready to give all myself if I will understand that I've found that what I was looking for. I would like also to develop myself as a professional. I am fond of history, I like to analyze the past the present and imagine how future would be . We are nobody without the past . My recent goal is to become a skillful photographer. I am just a beginner now but I love working in the creative atmosphere, deal with talented people, and to be part of the art.