Birth Date
Height
Weight
Eyes
Hair
Build
Glasses
She is
Smoke
Drink
6 September
173cm 5' 8''
57 kg 125 lbs
green
brown
slim (slender)
No
right-handed
No
Socially
Birth Date
City
Height
Weight
Eyes
Hair
Build
Glasses
She is
Smoke
Drink
I'm looking for
6 September
173cm 5' 8''
57 kg 125 lbs
green
brown
slim (slender)
No
right-handed
No
Socially
Romance, Friendship, Penpal, Fun, Relationship
Marital status
Single and No children
Want to have children?
will decide with my husband
My future goals are
I dream to find my future husband that will be my soul mate. I believe in true feelings and I hope that my fate will help me to find my future husband and to create our family nest and to fill it with a lot of photos that will remember about spending positive time together)). I want to imbue it with all my care and love;)
About my family
I have a very friendly family and I like to spend time with my parents. My mother always tries to help me and to give a piece of l advice;). Therefore, I want to say that family plays an important role in my life and I hope that in future I will create my own family.
How would I describe myself
I'm very sociable girl and I like to meet with new people, to communicate with them and at the same moment I'm shy and sensitive;). I enjoy each moment of our my life and I hope that soon I will find the man of my dream that will love and care about me, and will be my inspirer;))
What I do in my leisure time?
Each day is very different for me and I try to spend it with a benefit for me. I'm very sociable person and therefore I like to spend time with my friends, to visit a lot of cool places together and to know a lot of interesting things for me)). My friendly family is a great and precious part of my life. So sometimes my parents and I go to the country, we live in the tent, prepare something delicious, to sit near the fire and to talk a lot;))
The type of man that I desire
I hope that my future husband will be kind and generous, the man that will understand me and with whom I will be ready to the end's of the earth)). I hope that he will be calm and happy, who will be the king of my heart and will do all my best to show him all my love, care, respect, understanding and true feelings.
My typical day
Usually my day begins with a cup of coffee or tea that I like to drink on the balcony and to look at the sleeepy city and busy people. Then I help my Mom to prepare a breakfast for us. I read an interesting book and meet with my best friend. We like to spend time together, to talk a lot and to help each other;)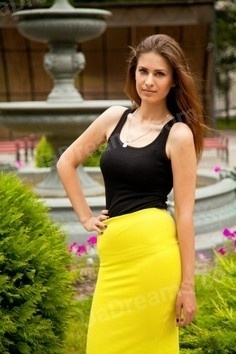 Our personal opinion of this Lady
This is very cheerful and polite lady that is ready to open her heart to the man, that will love her and be her soul mate. She is like a princess who is ready to love and to create a lovely family)