My typical day
I got used to get up at 6.30 am. Then I'm preparing myself for work and I start my working day at 9 am in the morning. Usually I work till 6 pm and after work I can walk a little bit. I go to the gym 4 times a week and I really like it and follow the proverb that there is a healthy mind in a healthy body. In the evening I can do some home chores, cook dinner, watch a film or read a book.
What I do in my leisure time?
In my free time, I like to watch different movies, I like reading a lot and finding new interesting books. I adore attending different concerts, exhibitions, going to the cinema or theater. I'm active and I like being close to the nature and I enjoy BBQ parties; this is nice to go to the cafe with close people or friends, to go in for sport and to go to the beach.
See her fascinating movements and charming smile...
Feel as if it was your first date with this lady — it is worth 1000 pictures!
Watch this video for FREE
The type of man that I desire
This is very important to me to feel a kind heart in my man and I hope that I can rely on him. I'm not looking for super qualities in my soul mate, I just dream to share many nice moments and goals, to travel together, to think about new goals and to achieve them, I want a man who will like animals and who will be ready for creating a family.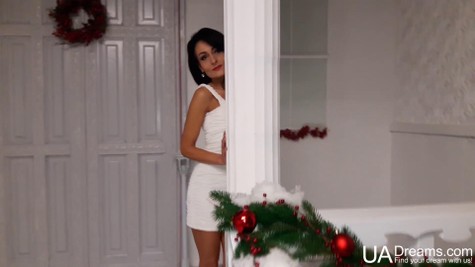 Get a much better idea of the lady's personality!
Discover her life and secrets no other men know :)
It's intriguing like finding an unknown world...


Our personal opinion of this Lady
The lady is ready to show her serious attitude to creating a family and to be with her future husband. She is open and positive, sincere and she has her own zest.
How would I describe myself
I can tell that I'm optimistic by nature, I'm calm and I like showing and telling about my true emotions and feelings. I want to try my chance in creating a family and I dream to make this goal come true soon.
About my family
The relations in my family is a nice example of caring attitude to each other. My father was a nice man and he cared a lot about me. My mother and father worked as engineers. I have a step sister and we have a very nice relationship with her too. We try to call each other and talk, and when we have a chance we always meet and discuss many things.
My future goals are
My main goal is to create a family and to enjoy life with my man. I want to share many special moments, to have our common plans and to follow them. My son is independent and I think that it is high time to think about my life and for me family is on the first place. I'm ready to move abroad and to live there with my husband and to have our family nest.