Charity Events in UaDreams
UaDreams tries to make children who don't have parents' care a bit happier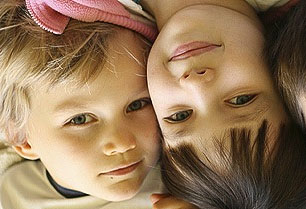 As you know, we see our mission in helping hearts to join together, in helping people from all corners of the world to have a real chance to find someone special, a person they might be waiting for all life long. (see our Testimonials and Marriages reports)
However we can not be focused ONLY on business and be oriented ONLY on profit. We believe that it's successful and developed companies duties are to help those who is in need and to try to make the world we all live in a bit better, make it brighter, kinder and filled with love.
There are a lot of children left alone without parents in Ukraine, as well as in other countries unfortunately. Our government undertakes obligations to take care about them, however because of limited financing of state programs, children from orphan houses are often deprived of everything that real childhood is replete with, of everything that real childhood of any person MUST be filled with: kindness, love, gifts, sweets, attention, warmth, cozy home, warm clothes, holidays, New Year and Christmas!
Of course we understand that we can not substitute a real family for those children, but we try to help and fill in with happiness the world for children who desperately require it.
Why do we tell you about this? We want you to know, that our company sends a part of its profit to local orphanages, children's hospitals and baby houses and that you are also relevant to this noble mission. Thank you!
P.S. Some comments from our members and Q&A you can see below the page.
Sincerely, Chiefs and Staff of UaDreams.com
Kharkiv: We go to the children living near the firing line
Only 7 km divide the boarding school we visited and the armed conflict location. It is Lugansk Oblast, Eastern Ukraine. 184 children with intellectual disabilities live in this boarding school, 15 of them have no parental care. Not so many volunteers come here to bring things to children who desperately need them. That's why we offered our help!
We brought play equipment for children's playground of the orphan house and installed it. We also bought summer slippers for all the children. And how could we come without something tasty for our little friends? Of course, they enjoyed fresh apples, cherries, bananas and cookies.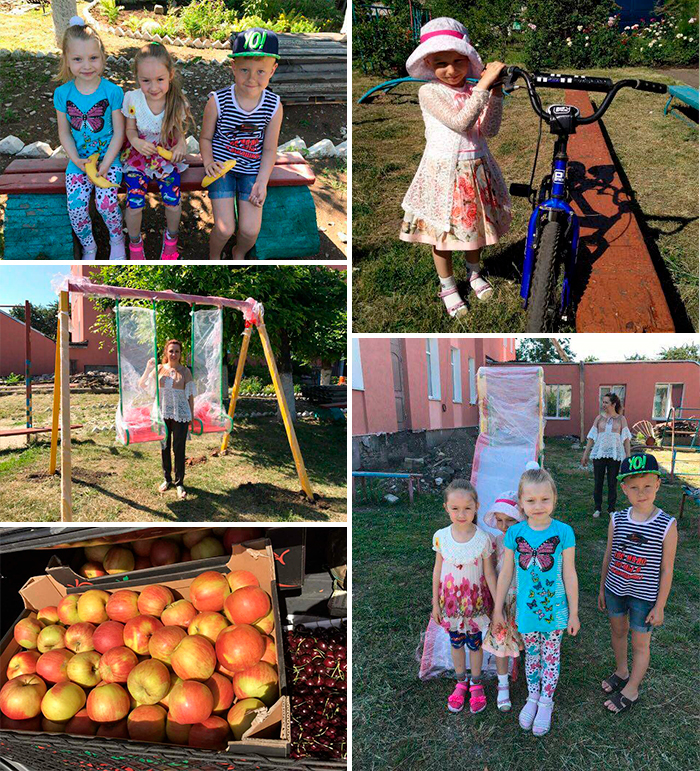 When we came to the orphan house, the majority of children had left for a short trip to the riverside, that's why we met personally just some of them. But everybody who saw us was very glad to get all the presents.
Imagine, how difficult it is to maintain comfortable living conditions for orphan children and pupils of boarding schools who live on the territory of Eastern Ukraine right now. When we provide them with at least some help by donating a part of our profit, we always think of you, our dear members. You are indirectly participating in our charity events, and we are so grateful to you!
Thanks to the staff of UaDreams company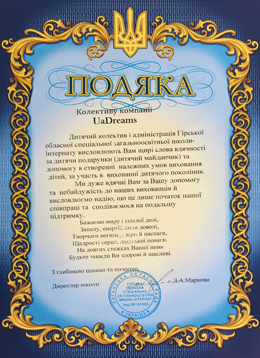 The children and administration of Hirske regional specialized boarding school express their sincere gratitude for presents (children's playground) and help in creating proper conditions for child-rearing and participation in upbringing of the younger generation.
We are so grateful to you for your help and unindifference towards our children and we hope that is it just a beginning of our cooperation and we are looking forward to your further support.
We wish you peace and bright destiny,
Eagerness, energy and a lot of strength,
A creative spark, hope and enthusiasm,
Heart generosity, human respect.
On the long ways of your fields
Be always healthy and happy.
With a deep respect and honor,
Headmistress L.A. Markova
Cherkassy: Hair salon travels to children
This time Cherkassy branch of UaDreams took up the charity torch. Our employees visited an orphan house in the suburbs of Cherkassy and brought the children a lot of necessary things for supporting cleanness and beauty.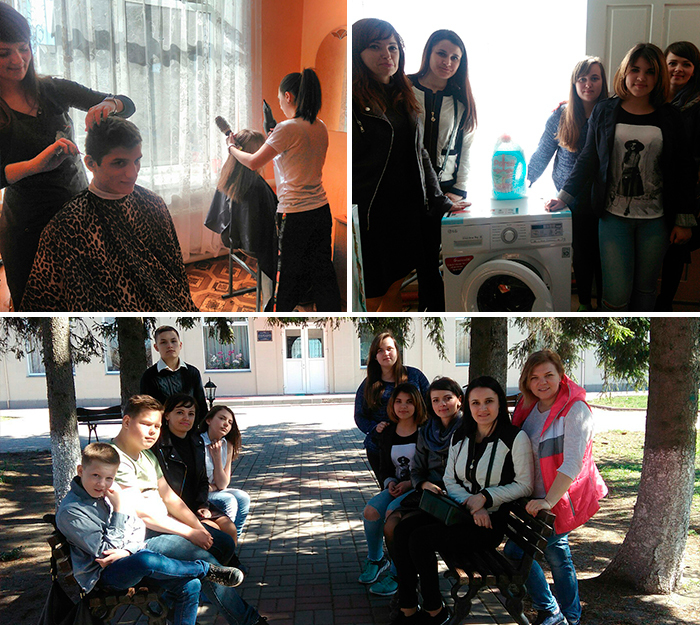 A washing machine was the most significant present. Besides each child received his own gifts. Boys got antiperspirant deodorants, lotions and shower gels. Girls rejoiced at shampoos, roll-on deodorants and personal hygiene means. And the most interesting part of the charity event was just ahead: two hairdressers came with us to make beautiful haircuts for all the children. By the way, one of them was our lady Natasha 4586!
Our visit wasn't long, because the children had to return to their school lessons that day. However we managed to make a little holiday for them and everybody was happy.
Thanks from the orphan house
We greet you!
The management and educates of the orphan house for school-aged children heartily thanks the head of the UaDreams Cherkassy branch Natalia for beneficent aid in buying a washing machine LG and express our special thanks to hairstylists Anna and Natalia.
Your help is a good support for our children.
May your dreams come true and everything bad keeps away from you.
Headmistress T.G. Filipova
Zaporozhye: Gifts from St. Nicholas and UaDreams
In anticipation of the holiday season we really want to make happy those children, who unfortunately, can not feel the warmth and cheer of holiday celebrations like St. Nicholas day, New Year and Christmas. Of course, during this magical time, we would like to bring joy to all the children!
We have decided to make a visit to Zaporozhyan regional center of psychosocial rehabilitation of children. It is the place where kids from disadvantaged families come. Mostly kids from this center have parents and relatives, but because of some life circumstances parents were deprived of paternal rights and now children spend their «golden time», their childhood in expecting. Maybe parents will take them back, maybe some of them will be adopted or, it is possible that some of them will have to continue living in an orphanage. But only this orphanage teaches children that life is much fuller and brighter than moments that they have had experienced in their families.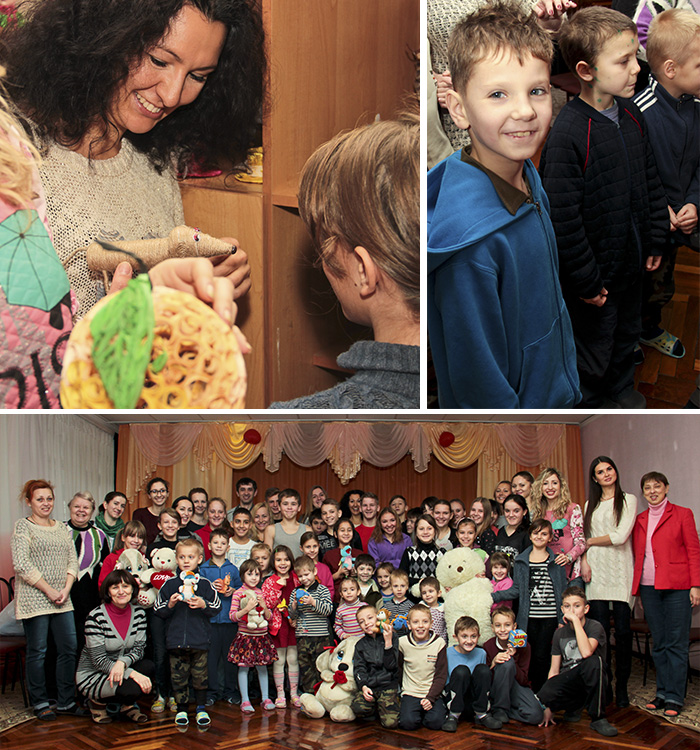 When 57 children of various ages (from 2 to 15 years) live in a large house, all the furniture is worn out much faster than in any of our homes. So we bought sofas for children, because the sofas in the orphanage are worn a long time ago. And of course we pleased children with sweets and toys.
The ladies of our branch took an active participation in our event. They also have bought toys and sweets for the children, and all together we visited this wonderful, cozy and what is most unimportant, full of cheerfulness children's orphanage.
Orphanage staff is wonderful! They are not only example and support for kids, but also their true friends. Every corner of this center is filled with love and care. Children are very thankful to their teachers for their care they never got from parents and they express it in art. We were just stunned with how talented these children are! We couldn't leave any handicraft they created unattended.
We were trying to spend some time with each child, to hug a smaller kid, give an advice to a teenager, and unintentionally we've got an example of the vivacity, amicability and genuine love from children.
We are very grateful to children and teachers who brought us in that marvelous atmosphere. It wasn't an orphanage for children without families, but it was a real home of a very big family! We will definitely come back there, as from now on we have friends there, too!
Thanks from the orphanage staff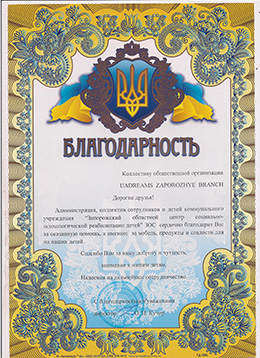 To the staff of
UADREAMS ZAPOROZHYE BRANCH
Dear friends!
The management, staff and children of the «Zaporozhye Regional Center for Children's Social-Psychological Rehabilitation» public institution expresses heartily gratitude for the rendered aid, namely: furniture, food products and sweet treats for our children.
Thank you for your kindness, empathy and attention towards our kids. We hope for our further cooperation.
With gratitude and respect,
Headmistress O.N. Kutcher
Lutsk: The play room looks like a real home!
A few years ago we helped the local orphanage in Lutsk to purchase new windows for their play room. This time they received some new furnishing with our help. The children of this orphanage are between 1.3 and 2 years old. All of them suffer from health problems and need medication every day. They also need diapers and lots of stuff children of this age require all the time. The government provides them with some essential things but there are a lot of problems that cannot be resolved because of the difficult financial situation in our country.
The orphanage is a place where children live most of their lives and we tried to make their play room look like a real home. Their old furniture was bought many years ago and it wasn't good to use any more. Some parts have been damaged and broken through the years. Now the room looks cosy and inviting. Besides we asked the furniture maker to renovate their old wall unit and now it looks as good as new!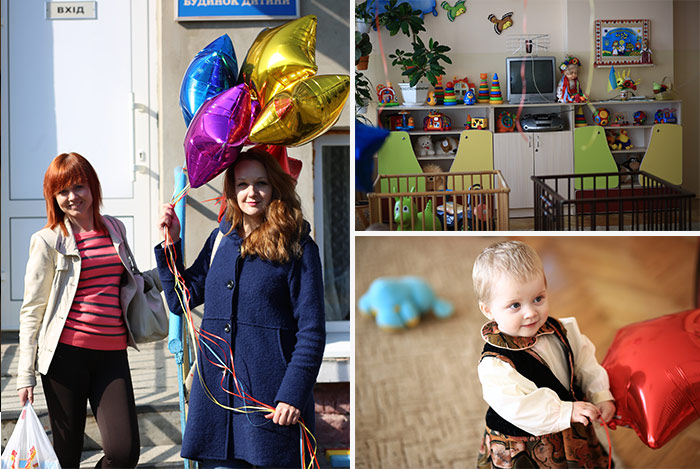 We also wanted to treat children with chocolates and sweets. It was a good idea to buy them a several air balls to play with. We enjoyed looking at the kids playing with their new toys and laughing. We managed to make them a bit happier that day. It's a pity not all of us could visit those children as their tutors said kids could be afraid of a crowd of strangers. They all are still babies.
It was a great day and we'll continue helping the orphanage. The children's joy was our greatest reward! The more you give the more you get!
Thanks from the orphanage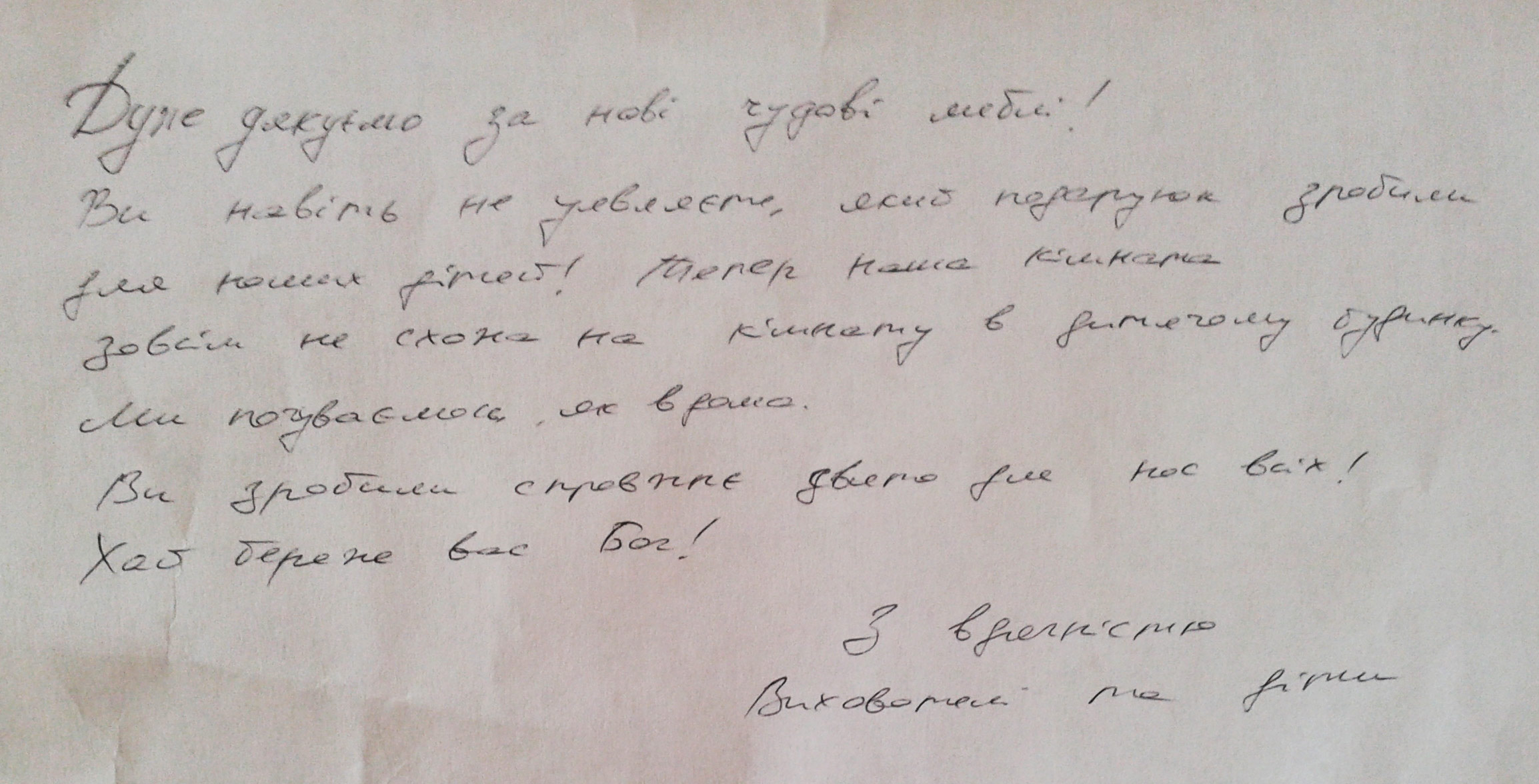 We thank you for the new furnishing so much!
You cannot even imagine what a gift you have made for our children! Now our room even doesn't look like a room of an orphanage. We feel like at home.
You have made a real miracle for all of us!
May God bless you!
With gratitude, tutors and children
Poltava: We are trying to help Nastya to see the world
Expecting for a child is the best feeling ever. However, the parents' happiness can be overclouded by a disease discovered not long after the birth of a child. From this moment nothing matters for them except health and productive life of their kid. It can be possible to cure a little son or daughter, to find doctors and medicines, but the parents just cannot afford such expensive treatment. They are willing to give their own health to their child, but... only currency is needed.
Some time ago we heard about a 5 months old girl Nastya who was born with a congenital defect. Her diagnosis is congenital ophtalmic nerve hypoplasy and partial atrophy of both eyes. The operation can be conducted in Israel, but Nastya's family is not able to pay $7500 for the treatment. All possible ways to gather money are being used.
UaDreams employees talked to her father Timur and were fascinated by his little princess Nastya. This girl is so cute and deserves all sweets of life! Naturally our company couldn't stay impassive and donated a part of amount needed for the operation.
Rovno: A neсessary medical device for children's rehabilitation
There is a city specialized children's house in Rivne, Ukraine, where about 50 orphans live. Parents bring their children for treatment of different disabilities and disorders to a children's rehabilitation department there. It's about 100 children a day.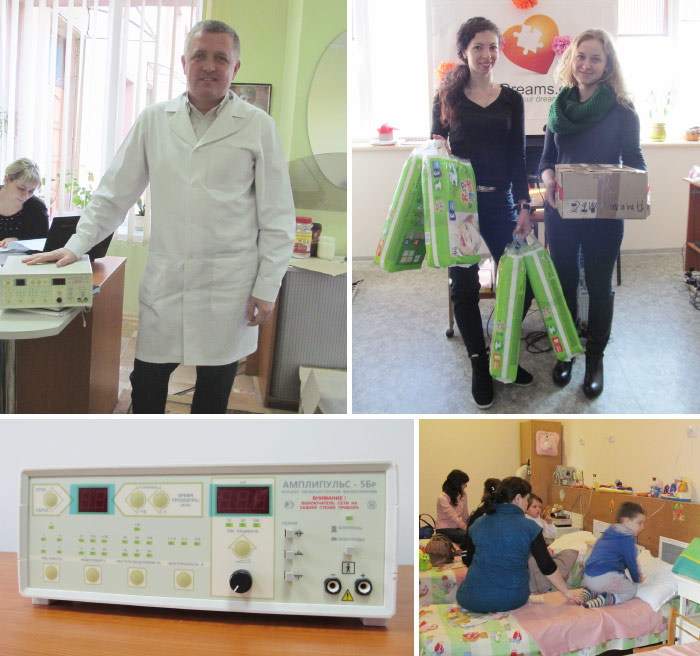 We were really glad to extend a helping hand and bought the Amplipuls medical device for the children's rehabilitation department. This device is used for the physiotherapeutic treatment of various diseases, and the old one which is more than 20 years old has been already out of work there. We also bought daily necessary things for babies — diapers and baby wipes.
All those caring people do their best to make this children's house a real home for orphans and to provide professional help for children with different disabilities. We hope it is not the last time we helped this specialized children's house.
Nikolaev: We try to make hospital stay pleasant
for children!
We would love to mention about another important event regarding our social activities. Ukraine experiences a difficult period nowadays as a great amount of government funds is to be spent to military purposes, while orphan houses and hospitals are financed even worse than usually. With all our heart we cannot accept this.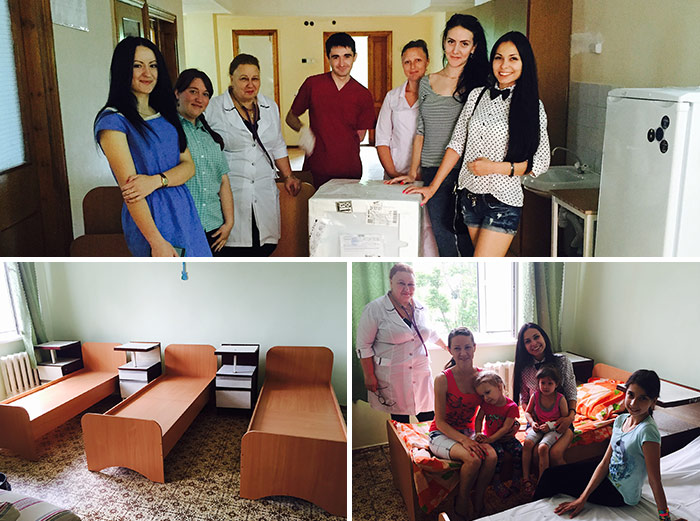 That's why we considered the situation carefully and decided to help the children in need so much! First of all, we are grateful to all kids for being strong enough and for their patience. This time we gladly provided our immediate help to the allergy pulmonary department of a hospital for children in Nikolaev.
We bought a refrigerator and 15 new children beds for this in-patient department. Now children can enjoy their tasty foodstuff and keep it fresh for a long time. And we believe that it will be more comfortable for kids to see their sweet dreams in new beds and have good and calm rest.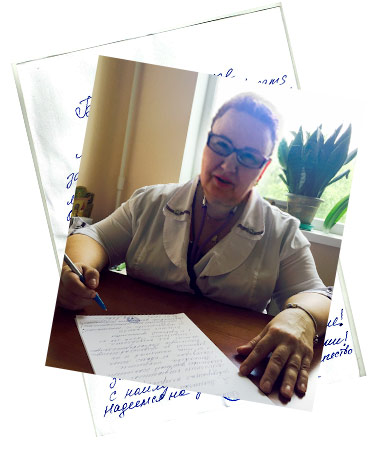 Thanks from the headmistress
I, Lesnichaya Natalia Evseevna, the headmistress of the allergy-pulmonary department of the disctrict children hospital in Nikolaev, express big thanks in my name and in the name of all patients and their parents for the provided beneficent aid for our department:
Refrigerator NORD 507-011
15 single beds
Thank you very much for collaboration and understanding! With best regards! We hope for further cooperation.
Kharkov: Wes from the USA helped Ukrainian children
Easter is a holiday when we feel an extremely strong desire to help our fellow creatures and try to make this world at least a little bit better and kinder. So, we would like to share a story with you about such a deed of charity.
One of our members Wes from the USA told us about his wish to help children from Kharkiv orphanage. Per his request, our employees enquired what this orphanage needs most of all. They found out that vacuum cleaners are really needed to keep the rooms clean. Than Wes presented two vacuum cleaners to this orphanage. The children and the employees of the orphanage are so grateful to him.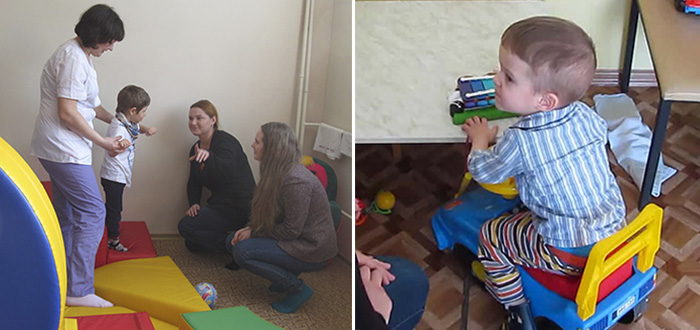 It is our company's duty to give a portion of our profit in order to help the residents of the children's home and provide them with the most necessary things. We have already replaced windows, bought household appliances and medical equipment, furniture, clothes, baby food and diapers, and organized funny holidays for children.
Kharkiv: Station «Kharkiv». Volunteers
In order to hold this charity event we contacted a charity organization "Station Kharkov" that helps refugees from the East of Ukraine.
At first we consulted with organization representatives and learned what the children need the most. We bought and gave to the families diapers of all sizes and baby food for children from 6 months. But then we found out that one woman became a mother recently, so we bought also baby food from 0 to 6 months specially for her.
A representative of the "Station Kharkiv" asked us to give a big thank you to UaDreams members for their invaluable help!
Kharkov: Damaged foster home in Slaviansk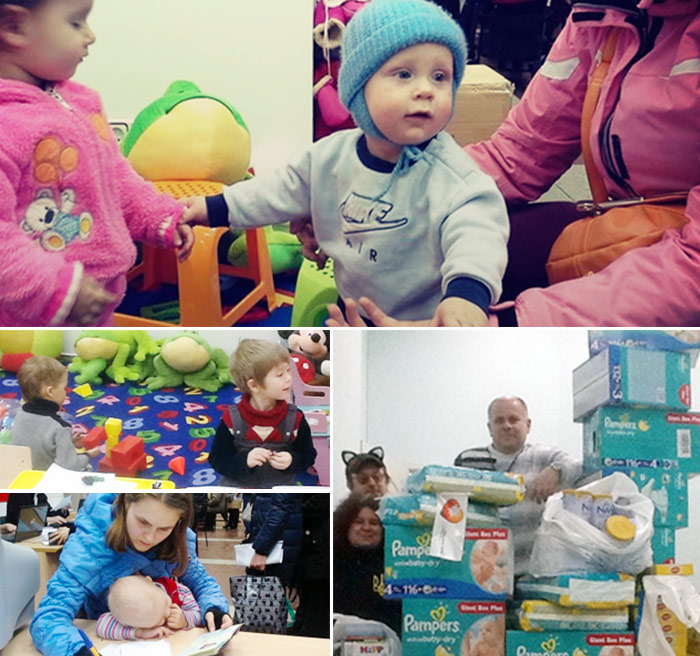 The Slaviansk boarding school was occupied and completely plundered by separatists. That's why after the town's release children who are brought up there need some material aid. 180 children are experiencing a disastrous lack of clothes and living essentials.
In order to help these children UaDreams has bought winter jackets for boys of 6 through 17 years old. If only you could see joyful, grateful and excited eyes of the children! These are indescribable emotions!
Thank you very much, our dear members, that you are taking part in this noble mission helping those ones who are in need!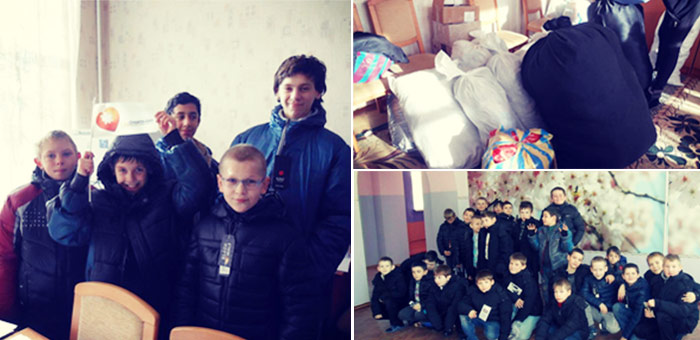 Poltava: Charity event on New Year's Eve
Last December was special for Poltava branch, as we had a chance to bring happiness and joy to kids from Poltava regional center of social protection "Lubistok".
W We had a little entertaining program for them already prepared, so just after entering the hall they appeared in the magic workshop where they were proposed to create a symbol of the year 2015 – a wonderful charming Mr Sheep.
It was so cute to watch their little fingers working with cotton and glue. Just after having our Mr Sheep done, we all were invited for a tea ceremony with cookies, candies and a wonderful story about Samovar that was a kind of traditional teapot in old times. Children were listening with a big interest! Not so many people pay attention to these small kids in their life...
Tea time finished, but our program did not, and we presented airbubbles show to children. Children were impressed, and we as well, by the way :)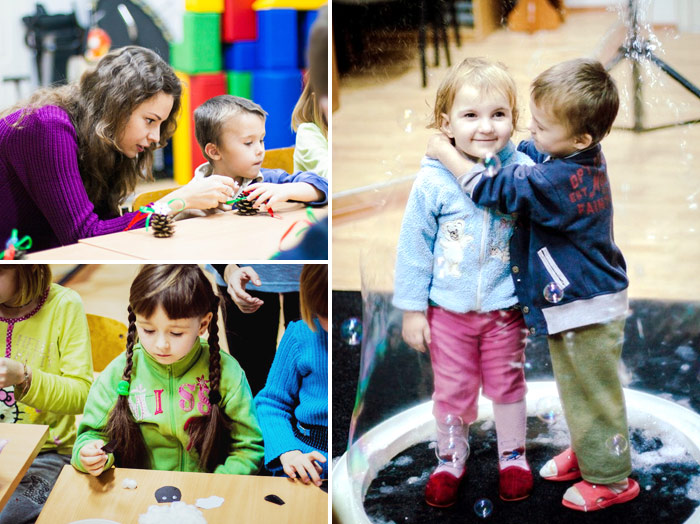 We noticed one very interesting thing: making charity you get much more than give, that's probably a kind of a rule. All our team smiled a lot, felt warmth and happiness. We not only watched the show, but also helped and assisted during the whole evening.
Watching the show, all our team smiled a lot and felt a lot of warmth and happiness.
There is nothing better than to give, right?
We are very thankful to everybody who participated in creating of this event. The greatest thanks is to you, our dear members. Each of you took part in this charity event.
Simferopol: we continue to support an orphanage
for children living with AIDS
Since March 2014 a complicated situation took place in Crimea (read our articles about Euromaidan and Russian aggression). Now the Russian authorities run the show there, and the life on the peninsula became much more difficult. Nevetheless we decided to keep our branch in Simferopol working till it is possible and to fulfill our mission to join hearts.
Besides we remember about an orphanage for children living with HIV/AIDS whom we have already helped. We did not forget about them in spite of all difficulties!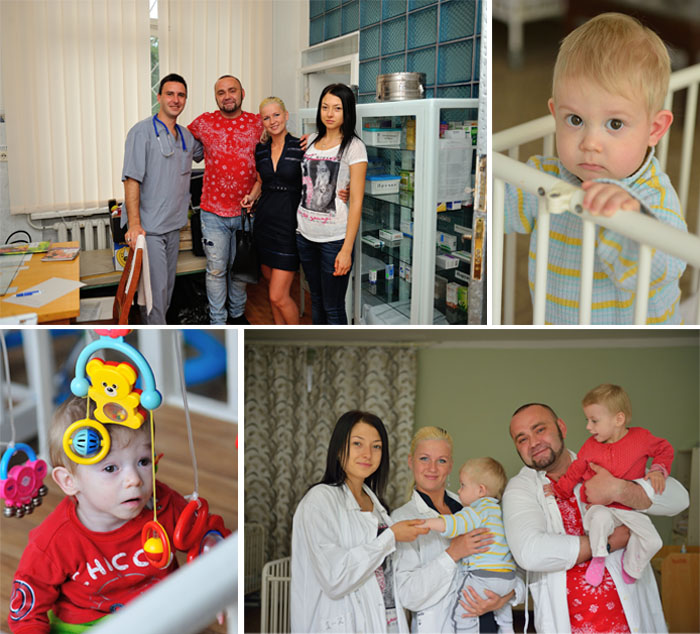 Simferopol branch manager Alexey and ladies members of our agency Tanechka and Valery visited a group of HIV infected children in the the orphanage «Yelochka». Whatever the political situation is, the most vulnerable and defenceless citizens of Ukraine shouldn't suffer, they are children deprived of parents' care and especially ill children.
Our employees bought almost all the necessary medical supplies for normal treatment of these children for next 6 months. We all hope very much that it will make their lives easier.

«When we came there we plunged into the atmosphere of pain, the pain caused by the fact that the society and state left so wonderful children to their fate. They are very lovely and sweet and need the warmth of human contact so much, the feelings of happiness and pain overwhelmed us. We don't want to stop helping, we will try to do for these children as much as possible!»
Kremenchug. Orphanage named after Makarenko
(a famous children's educator of the beginning
of 20th century)
Ukraine has a new President and the present day our country is busy with formation of the democracy and economics. What is more it tries to renew the military defence as well (because of Russia's invasion to the East of Ukraine).
At these difficult times, when the state's attention is aimed at top-priority tasks, we understand that while helping the Ukrainian army we should remember about orphan children.
We HAVE to and CAN help these poor children! This is our public duty and a corporate responsibility.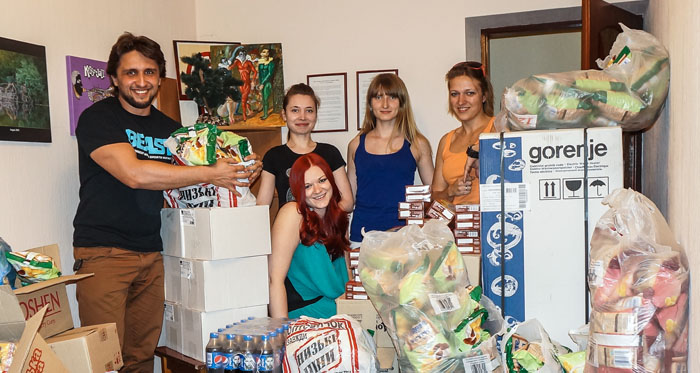 164 kids live and study at this children's home. Their age varies from 6 to 16. All these children are either entirely orphaned or their parents abdicated them. They have no relatives in this world, and they need our help, care and support very much!
Our help is focused on the improvement of these children's living conditions. We also should help the way nobody could steal this help from children and assign (unfortunately it is quite possible in our country but we hope that Ukraine will beat corruption and stealing!)
So, children need hot water. Indeed! We bought a big water boiler (the orphanage could not afford to buy such an expensive equipment). We also bought some sports outfit for children: roll mats and balls. All children were very excited about everything and happy to get our presents.
We were deeply touched by the words of the director who said that some children have never tasted chocolade or even drunk «Coca cola». The state provides only the most necessary things for survival and they almost never taste real delicacies... That's why we decided to gladden children with such tucks as chocolate, sweets and cookies (about 2000 items). We prepared an individual pack with presents for each kid – all these packs hardly got into 3 cars. :)
Finally, we organized a real soap bubbles holiday for the children
We invited children actors and they were so delighted with soap bubbles performance. Our staff has never seen such a performance as well — and it was a real miracle and magic for children!
Everybody was pleased: little kids and older ones, teachers and all employees of UaDreams Kremenchug office. Children took part in the performance and many of them even found themselves in large soap bubbles :)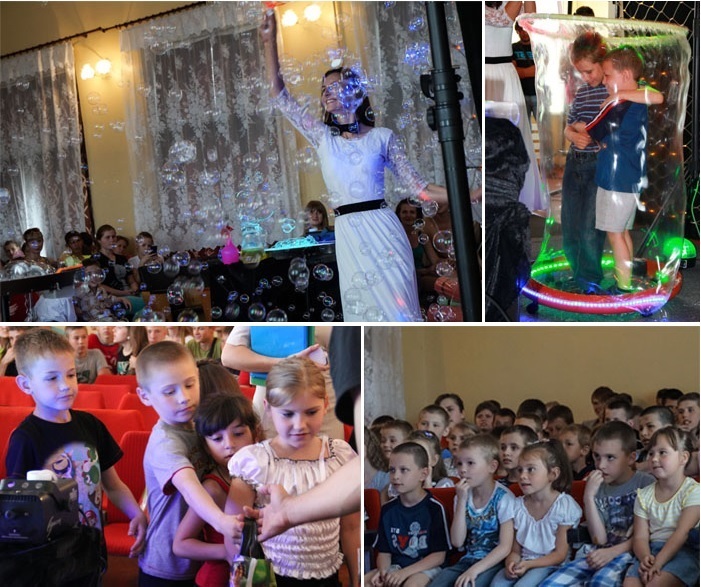 Thank-you letter from the orphanage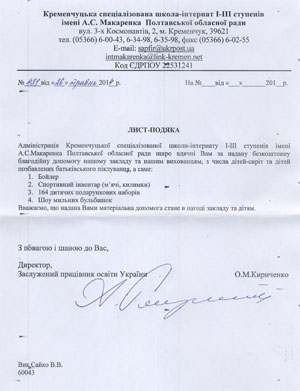 Administration of the specialized educational orphanage of I-III stages named after A.S. Makarenko in Kremenchug that belongs to Poltava Regional Council sincerely thanks you for the free help that you provided to our institute and all foster children who are orphans deprived of parental care and attention. The help consists of the following:
Water boiler
Sports outfit (balls and roll mats)
164 children gift sets
Soap bubbles show
We are sure that this welfare assistance will be very useful both for the educational orphanage and children.
With best regards,
Head master,
Honoured educator of Ukraine,
O.M. Kirichenko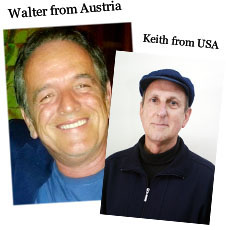 Thank you very much, our dear members!
Why do we tell you about this? We want you to know, that our company sends a part of its profit to local orphanages, children's hospitals and baby houses and that you are also relevant to this noble mission. Thank you!
Special thanks to Walter from Austria and Keith from the USA.
Cherkassy: We pass good from heart to heart
Our charity programme is continued! And we help those, who need our help again — and we say «thank you» our dear members for this help!
We visited one more orphan house — this time in a little Ukrainian town Chyhyryn. We decided to purchase for this orphan house kitchen equipment and a tv-tuner for receiving satellite channels.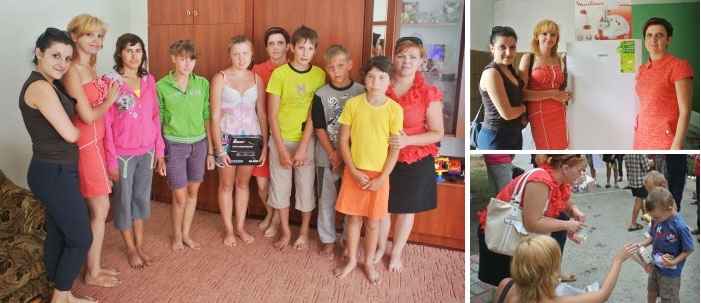 When we came to Chyhyryn, we found out that all children left for vacations to a health resort on the bank of river Dnieper. We left in the orphan house a refrigerator and an industrial meat-mincing machine, and of course, we stocked up sweets and biscuits. Children liked the tuner the most, because now they can watch many various cartoons, and, of course, sweets fascinated them!
Of course, it it very sadly to see that most of the children have health deviations. A boy with celebral palsy impressed us, who coudn't come to us, and he sat down right on the asphalt. We brought him sweets, but he continued to sit on the asphalt. This touched us a lot.
We went home in silence. On the one hand, our hearts were filled with joy for helping these children, but on the other hand it was very pitty that there are things in the world that we cannot change, though we really would like to.
Ron from USA
There are many that do not care about kids from other countries....all they care about is either finding someone to love or just vacation sex.....to me our children around the world are very important as they are our future...how we teach them and help them to learn about life will help them to become the best they can be.
Reading the message you sent about the staff going to an orphanage made me realize that I am not the only one who thinks doing things for the young kids that have no homes...no parents that care....and for that I say to you... JOB WELL DONE.
It is little tings like this that makes me take notice of who I deal with and for this little message I know that I am dealing with the right people to find the one I love.
Yong from Seoul, South Korea
I received this e-mail and I felt the sorrows in my mind.
What can I do for them?
Please advise me the way how to help.
/ comments from us: see Q&A section below
Robert from Los Angeles, USA
Hello, I want to know how can I give to a charity of a children's orphanage in Simferopol.
Steven from Chicago, USA
I was checking out the home page and came across the vidios of the children with aids in Simferopol's boarding house. How many children are there? Do the ladies from the gallery in Simferopol visit the children?
Robban from Gothenburg, Sweden
Dear Support!
I read your email right now about ST. Nicholas day and I was moved!
It's just that with the orphans that I want to do really!
Kind Regards
Tim from South East, United Kingdom
Charity Events. I hope you do this in all of the cities. But, great idea!!!!
Thank you site from the children to you at UAdreams.com and people who have participated in helping. It probably be only simles or pictures, but ... a thank you, is a thank you. And the children will then be giving back in their own way.
Tim
Hi - I'm not currently enrolled in your site but I just was in Sumy to meet someone I met on another service. The idea of working with kids who need help appeals to me.
Thank you.
George
I wanted to write to you and express my thank you for supporting the many children whom have not a family. I am extending my blessings and prayers to you for supporting such a wonderful will in heart!Many seek women and at my age well, I have almost given up trying to find that lady. But, in turn, my heart is at a very happy place after reading what you do for the many children.
You know it is said, "In your heart there is a place for Love, In you soul there is a place for your God" I am not a perfect man yet, when you read or see such tender passion , it is my soul that says, "Brother your are alright".
Thank you.
Frequently asked questions:
How do you choose those who need your help?
We try to help those who are less protected and who need the help most of all. In our country it is children, usually those who are sick and left without parents and protection.
Government helps such children, doesn't it?
Yes, it does. But usually because of a lack of financing the help of the government is minimal for surviving. Often and often children do not have even elementary conditions for living, cold rooms, there is no place to wash the clothes etc.
What exactly do you do?
As a rule we try to improve everyday life conditions for kids. We concider it to be inefficient just to give money to orphanage as we are not sure that children will get such help. Instead we do something concrete to improve the conditions of life for children and present sweets, our attention and love to them. Believe, we regret to say there are kids who have NEVER tried eaten sweets. We can't tolerate such state of things.
I also wish to help. How can I do that?
We are not a charitable organization and all we do we do for our own cost. While using our services you ALSO automatically help - we give part of our profit to this social program. We cannot accept charitable payments through credit cards, though if you want to help contact our Support Center and we will tell you what is the best way to do this.
Once again thanks for your unindifference. It was very important for us to know this.
Kindest regards, UaDreams.com