English-Russian Romance Dictionary
Want to impress your lady?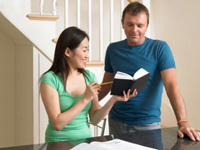 What is the best way to show your interest to your Lady's culture? The answer- to learn her language! We do realize how difficult it is to learn Russian or Ukrainian that's why we want to offer you another option!
You may learn just some most commonly used Russian words. It will help you in communication with your lady!
In our Romance Dictionary you will find all the sweet words you may address to your beloved. You will also find other useful words there .You can see the words in Russian, in English and transcription helping you to pronounce them correctly.
Learn, what else Russian women like except sweet words!
We showed the stress in a transcription of a word with capital letter. Surprise your lady using our English-Russian Romance Dictionary!
List of tender forms you can use.
Audio recordings of useful Russian phrases
| | | |
| --- | --- | --- |
| I love you | Я люблю тебя | Ya lyublyU tebyA |
| My dear | Дорогая | DorogAya |
| My love | Моя любовь | MoyA liubOv' |
| My sunshine | Солнышко | SOlnyshko |
| I think of you | Я думаю о тебе | Ya dUmayu o tebE |
| Hello! | Здравствуйте! | ZdrAstvujte! |
| Hi! | Привет! | PrivEt! |
| Good Morning | ДОброе Утро! | DObroye Utro! |
| Good day | ДОбрый день! | DObriy den'! |
| Good afternoon | ДОбрый вЕчер! | DObriy vEcher! |
| Welcome | ДобрО пожАловать | DabrO pozhAlovat'! |
| How is everything? | Как дела? | KAk delA? |
| Good bye | До свидания! | Do svidAniya |
| Bye! | Пока! | PokA! |
| See you again | До встречи | Do vstrEchi |
| See you! | Увидимся! | Uvidimsya! |
| Good night | Спокойной ночи | SpokOynoy nOchi |
| Sleep well! | Хороших снов! | HorOshich snow! |
| Have a good trip! | Счастливого пути! | Schaslivovo puti! |
| Do you speak English? | Вы говорите по-английски? | Vy govorite po angliyski? |
| I don't speak Russian | Я не говорю по-русски | Ya nie govoryU po rUsski |
| I don't know what it means | Я не знаю, что это значит | Ya ne znayu, shto eto znAchit. |
| I understand you | Я вас понимаю | Ya vas panimAyu |
| It's clear | Понятно | PoniAtno |
| Repeate, please | Повторите пожалуйста | Povtorite pozhAlusta. |
| Excuse me please | Извините пожалуйста | Izvinite pozhAlujsta |
| I am sorry | Простите | Prostite |
| Happy birthday! | С днем рождения! | S dniOm rozhdEniya! |
| Merry Christmas! | С Рождеством! | S RazhdеstvOm! |
| Happy New Year! | С Новым годом! | S NOvim gOdom! |
| Christ resurrects! | Христос воскресе! | HristOs voskrEs! |
| Good luck! | Удачи! | UdAchi! |
| Have a success! | Успехов! | UspEhov! |
| All the best! | Всего наилучшего! | VsegO nailUtshego! |
| I wish you happiness | Желаю счастья | ZhelAyu schAstya! |
Tender Russian women names
| | | |
| --- | --- | --- |
| Anastasia | Анастасия,Настя, Настенька, Настюша, Настёна, Настасья | Anastasiya, NAstya, NAsten'ka, NastyUsha, NastyOna, NastAs'ya |
| Alexandra | Александра, Саша, Сашенька, Сашка, Шура, Шурочка | Alexandra, Sasha, Sashen'ka, Sashka, ShUra, ShUrochka |
| Alla | Алла, Аля, Аллочка, Аллушка | Alla, Alya,Allochka, Allushka |
| Alyona | Алёна, Алёнушка, Алёнка, Аля | AlyOna,AlyOnushka, AlyOnka, Alya |
| Anna | Анна, Аня, Анюта, Анечка, Аннушка | Anna, Anya, AnyUta, Anechka, Annushka |
| Daria | Дарья, Даша, Дашенька,Дашечка, Дашуня | DAria, DAsha, DAshen'ka, DAshechka, DashUnya |
| Diana | Диана, Дианушка, Дианочка, Дина | DiAna, DiAnochka, DiAnushka, Dina |
| Ekaterina | Екатерина, Катя, Катюша, Катенька, Катерина, Катюшка | Ekaterina, KAtya, KatyUsha, KAten'ka, Katerina, KatyUshka |
| Elena | Елена, Лена, Леночка, Ленок, Еленушка | YelEna, LEna, LEnochka, LenOk, LEnchik, YelEnushka |
| Eleonora | Элеонора, Эля | EleonOra, Elya |
| Elizaveta | Елизавета, Лиза, Лизонька, Лизок, Лизочка | ElizavEta, Liza, Lizon'ka, LizOk, Lizochka |
| Elvira | Эльвира, Эля | Elvira, Elya |
| Eugenia | Евгения, Женя, Женька, Женечка | EvgEnia, ZhEnya, ZhEn'ka, ZhEnechka |
| Galina | Галина, Галочка, Галчонок, Галенька, Галюшка | Galina, GAlochka, GalchOnok, GAlen'ka, GalyUshka |
| Inna | Инна, Инночка, Иннуля, Иннуленька, Инуся, Инок, Инесса | Inna, Innochka, InnUlya, InnUlen'ka, InnUsya, InOk, InnEssa |
| Irina | Ирина, Ира, Иринка, Ириночка, Иришка, Иринчик, Ирунчик | Irina, Ira, Irinka, Irinochka, Irisha, Irishka, Irinchik, IrUnchik |
| Julia, Yulia | Юлия, Юля, Юленька, Юлька, Юльчик, Юлёныш, Ю, Юла, Юленьчик | YUlia, YUlya, YUlen'ka, YUl'ka, YulyOnysh, YU, YulA, YulEn'chik |
| Ksenia | Ксения, Ксюша, Ксюшка, Ксюшенька | KsEnia, KsyUsha, KsyUshka, KsyUshen'ka |
| Larisa | Лариса, Лара, Ларочка | Larisa, LAra, LArochka |
| Lilia | Лилия, Лилечка, Лиля | Lilia, Lilechka, Lilya |
| Ludmila | Людмила, Люда, Люся, Людочка, Мила, Милочка | Lyudmila, LyUda, LyUsya, LyUdochka, Mila, Milochka |
| Lyubov | Любовь, Люба, Любонька, Любаша, Любочка | Lyubov, LyUba, LyUbon'ka, LyubAsha, LyUbochka |
| Margarita | Маргарита, Рита, Маргаритка, Риточка, Ритуля, Марго | Margarita, Rita, Margaritka, Ritochka, RitUlya, MargO |
| Maria | Мария, Маша, Машенька, Машуша, Машуня | Maria, MAsha, MAshen'ka, MashUsha, MashUnya |
| Marina | Марина, Мариша, Мариночка, Маришка | Marina, Marisha, Marinochka, Marishka |
| Nadezhda | Надежда, Надя, Наденька, Надюша, Надюшка | Nadezhda, Nadia, NAden'ka, NadyUsha, NadyUshka |
| Natalia | Наташа, Наташенька, Наташечка, Ната, Натусенька, Натусик, Натаха | NatAsha, NatAshen'ka, Natshechka, NAta, NatUsen'ka, NatUsik, NatAha |
| Nina | Нина,Ниночка, Нинок, Нинуля, Нинушка | Nina, Ninochka, NinOk, NinUlya, Ninushka |
| Oksana | Оксана, Оксаночка, Ксюша, Ксюшенька, Ксана | Oksana, OksAnochka, KsyUsha, KsyUshenka, KsAna |
| Olesya | Олеся, Леся, Лесенька | OlEsya, LEsya, LEsen'ka |
| Olga | Ольга, Оля, Оленька, Олюшка | Olga, Olya, Olen'ka, Olyushka |
| Polina | Полина, Поля, Полинка | Polina, POlya, Polinka |
| Roza | Роза, Розочка, Розита, Рози | Roza, ROzochka, Rozita, Rozi |
| Sophia | Софья, Соня, Сонечка, Софочка, Софи | SOphia, SOnya, SOnechka, SOphochka, SophIe |
| Svetlana | Светлана, Света, Светочка, Светланка, Светик | SvetlAna, SvEta, SvEtochka, SvetlAnka, SvEtik |
| Tamara | Тамара, Тома, Томочка, Тамарка | TamAra, TOma, TOmochka, TamArka |
| Tatyana | Татьяна, Таня, Танечка, Танюшенька, Танюшка, Танюська | TatyAna, TAnya, TAnechka, TanYUchen'ka, TanyUsha, TanyUshka, TanyUs'ka |
| Valentina | Валентина, Валя, Валюша, Валюшка, Валенька, Валечка | ValentIna, VAlya, ValyUsha, ValyUshka, VAlen'ka, VAlechka, |
| Valeria | Валерия, Лера, Лерчик, Лерунчик, Леруся, Лерок, Леруня | ValEria, LEra, lErchik, LerUnchik, LerUsia, LerOk, LerUnia |
| Vera | Вера, Верочка, Веруня,Верок | VEra, VErochka, VerOk |
| VeronIka | Вероника, Ника | Veronika, NIka |
| Victoria | Виктория, Вика | ViktOria, Vika |
Tender forms of addressing your lady
| | | |
| --- | --- | --- |
| My sweet | Милая моя | Milaya moyA |
| My sweetheart | Любимая моя | Lyubimaya moyA |
| My sweet (tender) | Ласковая моя | LAskovaya moyA |
| My sun | Солнышко моё | SOlnyshko moyO |
| My joy | Радость моя | RAdost' moyA |
| My gold | Моё золотце | MoyO zOlotse |
| My dear | Дорогая моя | DorogAya moyA |
| My angel | Ангел мой | Angel moy |
| My little girl | Девочка моя | DEvochka moyA |
| My bunny | Зайчик мой | ZAychik moy |
| You're my little Angel | Мой милый ангел | Moy miliy Angel |
Tender words about Love
| | | |
| --- | --- | --- |
| I love you | Я тебя люблю | Ya tebyA lyublyU |
| I can't live without you | Не могу жить без тебя | Ne magU zhit' bes tebyA |
| I need you | Ты нужна мне | Ty nuzhnA mne |
| I need you so much | Ты очень нужна мне | Ty Ochen' nuzhnA mne |
| I need you more and more | Ты нужна мне всё больше и больше | Ty nuzhnA mne vsyO bOl'she i bOl'she |
| I wish you were mine | Хочу, чтобы ты была моей | HachU, shtoby ty bylA moyEy |
| I love you with all my heart, with all my soul | Люблю тебя всем сердцем, всей душою | LyublyU tebyA vsem sErtsem, vsEy dushOyu |
| There's no borders for my love | Моя любовь не знает границ | MoyA lyubOv' ne znAyet granits |
| Love came to my heart | Любовь вошла в моё сердце | LyubOv' vashlA v moyO sErtse |
| I fly to you on wings of love | Лечу к тебе на крыльях любви | LechU k tebE na krYl'yah lyubvi |
| Love overcomes everything | Любовь всё преодолеет | LyubOv' vsyO preodolEyet |
| There's no obstacles for our love | Для нашей любви нет преград | DlyA nAshey lyubvi net pregrAd |
| I fell in love with you from the first sight | Я полюбил тебя с первого взгляда | Ya palyubil tebyA s pErvogo vzglyAda |
| I knew I find you | Я знал, что найду тебя | Ya znal, chto naydU tebyA |
| Come to me, my love | Любовь моя, приди ко мне | LyubOv' moyA, pridi ka mnE |
| Love in my heart is forever | Любовь навеки в сердце моём | LyubOv' navEki v sErtse moyOm |
| My love is stronger day by day | Я люблю тебя с каждым днём всё больше | MoyA lyubOv' rastyOt den' Oto dnyA |
| All ages are dutiful to love | Любви все возрасты покорны | Lyubvi vse vOzrasty pakOrny |
| I can't live without your love | Мне не жить Без твоей любви | mne ne zhit' Bez tvayEy lyubvi |
| I am getting bad without your love | Мне плохо без твоей любви | Mne plOho bez tvayEy lyubvi |
| I am full of love to you | Я полон любви к тебе | Ya pOlon lyubvi k tebE |
| My heart is full of love | Моё сердце полно любви | MoyO sErtse palnO lyubvi |
| Give me your love | Подари мне свою любовь | Padari mne svayU lyubOv' |
| I give you all my love | Я отдаю тебе всю свою любовь | Ya daryU tebE svayU lyubOv' |
| With love | С любовью | S lyubOv'yu |
| All I need is your love | Всё, что мне нужно - это твоя любовь | VsyO, shto mne nUzhno - Eto tvoyA lyubOv' |
| There's no happiness without your love | Без твоей любви мне счастья нет | Bez tvayEy lyubvi mne schAst'ya net |
| I will always love you | Я буду всегда любить тебя | Ya bUdu vsegdA lyubit' tebyA |
| Let's keep our love forever | Давай сбережём нашу любовь навеки | DavAy sberezhOm nAshu lyubOv' navEki |
| I'm ready to cry about my love to you for whole world | О своей любви к тебе я готов прокричать на весь мир | O svAyEy lyubvi yA gatOv prakrichAt' na ves' mir |
| I want you to know - there's love in my heart | Я хочу, чтобы ты знала - в моём сердце есть любовь | Ya hochU, shtoby ty znAla - v moyOm sErtse yEst' lyubOv' |
| My love is like a bird that is ready to zoom up to the sky | Моя любовь словно птица, которая готова взвиться в вышину | Moya lyubOv' slOvno ptitsa, katOraya gotOva vzvyt'sya v vyshinU |
| Our love won't disappear with years | Наша любовь не пройдёт с годами | NAsha lyubOv' ne praydyOt s gadAmi |
| I am proud with our love | Я горжусь нашей любовью | YA garzhUs' tvoEy lyubOv'yu |
| I am ready to write legends about my love | О своей любви я готов слагать легенды | O svoyEy lyubvi yA gotOv slagAt' legEndy |
Tender Words of admiration
| | | |
| --- | --- | --- |
| You are so beautiful | Ты такая красивая | Ty takAya krasivaya |
| You are so tender | Ты такая нежная | Ty takAya nEzhnaya |
| You are so wonderful | Ты такая чудесная | Ty takAya chudEsnaya |
| You are so splendid | Ты так великолепна | Ty tak velikolEpna |
| You are so magnificent | Ты так великолепна | Ty tak velikolEpna |
| You are so exciting | Ты такая волнующая | Ty takAya valnUyushaya |
| You are so lovely | Ты такая красивая | Ty takAya krasivaya |
| You are so pretty | Ты такая привлекательная | Ty takAya privlekAtel'naya |
| You are so cute | Ты такая прелестная | Ty takAya prelEsnaya |
| You are so sweet | Ты такая милая | Ty takAya milaya |
| You are so sensitive | Ты такая чувствительная | Ty takAya chustvitel'naya |
| You are so sentimental | Ты такая сентиментальная | Ty takAya sentimentAl'naya |
| You are so talented | Ты такая талантливая | Ty takAya talAntlivaya |
| You are so wise | Ты такая мудрая | Ty takAya mUdraya |
| You are so understanding | Ты такая понимающая | Ty takAya panimAyushaya |
| You are so soft | Ты такая нежная | Ty takAya nEzhnaya |
| You are so gentle | Ты такая нежная | Ty takAya nEzhnaya |
| You are so delightful | Ты такая восхитительная | Ty takAya vashititel'naya |
| You are so delightful | Ты такая очаровательная | Ty takAya ocharovAtel'naya |
| You are so supernal | Ты такая божественная | Ty takAya bazhEstvennaya |
| You are so devoted | Ты такая преданная | Ty takAya prEdannaya |
| You are so unaffected | Ты такая непосредственная | Ty takAya neposrEtstvennaya |
| You are so empyreal | Ты такая небесная | Ty takAya nebEsnaya |
| You are so fairy | Ты такая волшебная | Ty takAya valshEbnaya |
| You are so unusual | Ты такая необычная | Ty takAya neobichnaya |
| You are so honest | Ты такая честная | Ty takAya chEsnaya |
| You are so sincere | Ты такая искренняя | Ty takAya iskrennyaya |
| You are so kind | Ты такая добрая | Ty takAya dObraya |
| You are so open | Ты такая открытая | Ty takAya otkritaya |
| You are so glamorous | Ты такая обаятельная | Ty takAya obayAtel'naya |
| You are so glamorous | Ты такая очаровательная | Ty takAya ocharovAtel'naya |
| You are so engaging | Ты такая очаровательная | Ty takAya ocharovAtel'naya |
| You are so faithful | Ты такая преданная | Ty takAya prEdannaya |
| You are so faithful | Ты такая верная | Ty takAya vErnaya |
| You are so heavenly | Ты такая изумительная | Ty takAya izumitel'naya |
| You are so heavenly | Ты такая восхитительная | Ty takAya voshititel'naya |
| You are so gifted | Ты такая одарённая | Ty takAya odaryOnnaya |
| You are precious | Драгоценная моя | DragotsEnaya moYa |
| You have a wonderful sense of humor | У тебя отличное чувство юмора | U tebYa otIichnoe chUstvo Yumora |
| You make me happy | С тобой я счастлив | S tobOi Ya schAsliv |
| You make me smile | Ты радуешь меня | Ty rAduyesh menYa |
| You brighten my day | Ты озаряешь мой день | Ty ozarYayesh mOi dEn' |
| You make my life worth living | Ты делаешь мою жизнь прекрасной | Ty dElaesh moYu zhizn' prekrAsnoi |
| Your picture makes my heart melt | Мое сердце тает, когда я смотрю на твой фотографии | MoYo sErte tAet, kogdA ya smotrYu na tvoi fotogrAfii |
How to ask your lady to marry you with tender Russian words
| | | |
| --- | --- | --- |
| Will you marry me? | Ты выйдешь за меня? | Ti viydesh za menyA? |
| I want you to be my wife. | Хочу, чтобы ты стала моей женой. | HachU, shtoby ty stAla moyEy zhenOy. |
| Let's get married. | Давай поженимся. | DavAy pazhenimsya. |
| I love you very much and ask you to be my wife. | Я очень люблю тебя и прошу стать моей женой. | Ya Ochen' lyublyU tebyA i prashU stat' mayEy zhenOy. |
| All I want is you were my wife. | Всё чего я хочу - чтобы ты стала моей женой. | VsyO, chevO ya hachU, shtoby ty stAla mayEy zhenOy. |
| I give you my hand and my heart.. | Я предлагаю тебе свою руку и сердце. | Ya predlagAyu tebE svoyU rUku i sErtse. |
| All I pray for God is you saying Yes! | Всё, о чём я молю Бога - чтобы ты сказала "Да!" | VsyO, o chOm yA malyU bOga, shtoby ty skazAla da |
| I wish it so badly! | Как сильно я хочу этого! | Kak sil'no yA hachU Etovo! |
| Be my wife! | Будь моей женою! | Bud' mayEy zhenOyu! |
| Marry me! | Выйди за меня замуж! | Vyidi za menyA zAmuzh! |
| We are created for each other. Say Yes! | Мы созданы друг для друга. Скажи "Да!" | Mee sOzdany drug dlya drUga. Skazhi da |
| I dream about the day when we'll be one family. | Я мечтаю о том дне, когда мы станем одной семьёй. | Ya mechtAyu o tom dnE, kogdA my stAnem odnOy semyOy. |
| I consign you my heart and ask for your consent. | Я вверяю тебе своё сердце и прошу твоего согласия. | Ya vveryAyu tebEe svoyO sErtse i prashU tvayevO soglAsiya. |
| We feel so good together. Let's make a family. | Нам так хорошо вместе. Давай создадим семью. | Nam tak harashO vmEste. DavAy sozdadim sem'yU. |
| I want we always be together. | Я хочу, чтобы мы всегда были вместе. | Ya hachU, shtoby my vsegdA byli vmEste. |
| Let's go through life together. | Давай пройдём по жизни вместе. | DavAy praydyOm po zhizni vmEste. |
| I want so badly we had a real family. | Я так хочу, чтобы у нас была настоящая семья. | Ya tak hachU, shtoby u nas bylA nastayAshaya semyA. |
| Let's create a real family. | Давай создадим настоящую семью. | DavAy sozdadim nastayAshuyu sem'yU. |
| I want so much you married me. | Я так сильно желаю, чтобы ты вышла за меня. | Ya tak sil'no zhelAyu, shtoby ty vyshla za menyA. |
| Let's get married. | Давай сыграем свадьбу. | DavAy sygrAyem svAd'bu. |
| Be my wife! | Стань моей женою. | Stan' mayEy zhenOyu. |
| My heart belongs to you evermore. Be my wife! | Моё сердце принадлежит тебе навеки. Будь моей женою! | MoyO sErtse prinadlezshit tebE navEki. Bud' mAyEy zhenOy. |
| We love each other so much! | Мы так любим друг друга! | Mу tak lyUbim drug drUga! |
| I love you so much. | Я так люблю тебя. | Ya tak lyublyU tebyA |
| I dreamt about this day all my life | Я мечтал об этом дне всю свою жизнь. | Ya mechtAl ob Etom dne vsyu svayU zshisn'. |
| Finally I want to tell you this: | Я наконец хочу сказать тебе это: | Ya nakanEts hachU skazAt' tebE Eto: |
| When I met you for the first time I understood: it's forever. | Когда я впервые встретил тебя, я сразу понял: это навсегда. | KagdA ya vperviye vstrEtil tebyA, ya srAzu pOnyal: Eto navsegdA. |
| I need you so much. | Ты так нужна мне. | Ty tak nuzhnA mne. |
| I can't live without you. | Я не могу без тебя жить. | Ya ne magU bez tebyA zshit'. |
| You drive me crazy. | Я схожу по тебе с ума. | Ya skhazhU po tebE sumA. |
| You drive me crazy. | Ты сводишь меня с ума. | Ty svOdish menyA sumA. |
| I will live just for you. | Я буду жить для тебя. | Ya bUdu zhit' dlya tebyA. |
| All I do is just for you. | Всё, что я делаю - лишь для тебя одной. | VsyO, chto ya dElayu, lish dlya tebyA odnOy. |
| I want to give you all this world! | Я готов подарить тебе весь мир! | Ya gatOv padarit' tebE ves' mir! |
| Say that you love me! | Скажи, что любишь меня! | Skazhi, shto lyUbish menyA! |
| I feel so good next to you. | Мне так хорошо с тобою. | Mne tak harashO s tobOy. |
| Never in my life I felt myself so good. | Мне никогда в жизни не было так хорошо. | Mne nikogdA v zhizni nE bylo tak harashO. |
| You became everything for me! | Ты стала для меня всем! | Tee stAla dlya menyA vsem! |
| My happiness, did I really find you? | Счастье моё, неужели я нашёл тебя? | SchAstye mayO, neuzhEli ya nashOl tebyA? |
| I thank God that I met you. | Я благодарю Бога, что встретил тебя. | Ya blagadaryU bOga, shto vstrEtil tebyA. |
| Thanks God he sen you to me. | Слава Богу, он послал мне тебя. | SlAva bOgu, on poslAl mne tebyA. |
| You were sent me by God | Ты послана мне Богом. | Ty pOslana mne bOgom. |
| You are my destiny | Ты - моя судьба. | Ty mayA sud'bA. |
| I swear I'll give you my heart. | Я клянусь, что отдам тебе своё сердце. | Ya klyanUs', shto otdAm tebE svayO sErtse. |
| You are always in my mind. | Ты всегда в моих мыслях. | Ty vsegdA v moih myslyah |
| I think of you night and day. | Я думаю о тебе день и ночь. | Ya dUmayu o tebE den' i noch. |
| How we lived apart all these years? | Как мы жили друг без друга все эти годы? | Kak my zhili drug bez drUga vse Eti gOdy? |
| What a happiness that you exist! | Какое счастье, что ты есть! | KakOye schAstye, shto ty u menyA yEst'! |
| I can't live without you. | Мне не жить без тебя! | Mne ne zhit' bez tebyA! |
| You are all that I need. | Ты всё, что мне нужно. | Ty vsyO, shto mne nUzhno. |
| Am I deserving for your love? | Достоин ли я твоей любви? | DostOin li ya tvayEy lyubvi? |
| You are all that I have. | Ты - это всё, что у меня есть. | Tee eto vsyO, shto u menyA yEst'. |
| Believe me. | Поверь мне | PavEr' mne. |
| I see you in my dreams. | Я вижу тебя во сне. | Ya vizhu tebyA vo sne. |
| You come to me in my thoughts. | Ты приходишь ко мне в моих мыслях. | Ty prihOdish ko mne v maih myslyah. |
| Thank you for being yourself. | Спасибо тебе, что ты есть. | Spasibo tebE, shto ty yEst'. |
| I am the happiest man on Earth because I met you. | Я самый счастливый человек на Земле, потому что у меня есть ты. | Ya sAmyi schaslivyi chelovEk na zemlE, patamU shto u menyA yest' tY. |
| I want you to be only mine. | Я хочу, чтобы ты была только моей. | Ya hachU, shtoby ty bylA tOl'ko mayEy. |
| Let's never part with. | Давай никогда не расставаться. | DavAy nikagdA ne rastavAt'sya. |
| I need you more then anything else in this world. | Ты нужна мне больше всего на свете. | Tee nuzhnA mne bOl'she vsevO na svEte. |
| I will bring you stars from the sky. | Я достану тебе звезды с небес. | Ya dastAnu tebE zvyOzdy snebEs. |
| I thank my destiny for sending you to me. | Я благодарен судьбе, что послала мне тебя. | Ya blagodAren sud'bE, shto paslAla mne tebyA. |
Tender forms of greeting your lady
| | | |
| --- | --- | --- |
| Good Morning. Morning. | ДОброе Утро! | DObroye Utro! |
| Good day | ДОбрый день! | DObriy den'! |
| Good afternoon. Good evening. | ДОбрый вЕчер! | DObriy vEcher! |
| Good night. | ДОброй нОчи! | Dobroy nOchi! |
| How do you do? | ЗдрАвствуйте! Как делА? | ZdrAstvuyte! KAk delA? |
| Hello. Hi. | ПривЕт! | PrivEt! |
| Welcome. | ДобрО пожАловать! | DabrO pozhAlovat'! |
| How are you? | Как поживаешь? | Kak pozhivAesh? |
| How are you feeling? | Как ты себя чувствуешь? | KAk ty sebyA chUstvuesh? |
| I hope you are feeling well. | Надеюсь, ты себя хорошо чувствуешь. | NadEyus', ty sebyA harashO chUstvuesh. |
| Not too well, I'm afraid. | Да, кАжется не Очень хорошО. | Da, kAzhetsya, ne Ochen' haroshO. |
| How are you getting on? | Как поживаешь? | KAk pozhivAesh? |
| How have you been keeping? | Как ты поживаешь? | KAk ty pozhivAesh? |
| How is everything? | Как дела? | KAk delA? |
| Pretty fair, thank you. And what about you? | ВполнЕ ХорошО, спасибо. А как ты? | VpolnE harashO, spasibo. A ty? |
| Fine, and how are you? | Хорошо, а как ты? | Harosho, a kak tY? |
| So-so. | ТАк себе. | TAk sebe. |
| Not too bad. | НеплОхо. | NeplOho. |
| What about your health? | Как твоё здоровье? | KAk tvoyO zdorOv'e? |
| Aren't you sick? | Ты не болеешь? | Ty ne bolEesh? |
| Is everything all right? | Всё в порядке? | VsyO v poryAdke? |
| Are you OK? | Ты в порядке? | Ty v poryAdke? |
| Are you really OK? | Утебя правда всё хорошо? | U tebyA prAvda vsyO horoshO? |
Tender forms of parting with your lady
| | | |
| --- | --- | --- |
| I must be going. | Мне надо идти. | Mne nAdo idti |
| Good-bye. | До свидания. | Do svidAniya |
| Bye for now. | Пока. | PokA |
| See you soon. | До встречи. | Do vstrEchi |
| So long. | До скорого свидания. | Do skOrova svidAniya |
| See you again. | До скорого свидания. | Do skOrova svidAniya |
| See you later. | Увидимся позднее. | Uvidimsya pozdnEe. |
| Cheerio! | Пока! | PokA! |
| All the best. | Всего наилучшего. | VsegO nailUchshego. |
| Good luck! | Удачи! | UdAchi! |
| Give my regards to.. | Передавай привет.. | PeredavAy privEt.. |
| My love to.... | Передавай привет.... | PeredavAy privEt(less official way) |
| I hope to see you soon. | Надеюсь вскоре встретиться с тобой. | NadEyus' vskOre vstrEtit'sya s tobOy |
| I'll call you later. | Я позвоню тебе позднее. | Ya pozvonyU tebE pozdnEe |
| Have a comfortable journey! | Счастливого пути! | Schaslivogo puti |
| (In Response) | Счастливо оставаться! | Schastliva ostavAt'sya! |
| Keep well! | Не болей. Будь здорова. | Ne bolEy. Bud' zdorOva. |
| Take care! | Береги здоровье! | Beregi zdorOvie! |
| Till we meet again. | До новых встреч. | Do nOvyh vstrEch! |
| Write me. | Пиши. | Pishi |
| Here's my address. | Вот мой адрес. | Vot moy Adres |
| It's for а keepsake. | Это на память. | Eto na pAmyat' |
| Have a success! | Успехов! | UspEhov! |
| Sweet dreams! | Приятных снов! | PriyAtnyh snOv! |
| Be happy! | Счастливо! | Schaslivo! |
| See you! | Увидимся! | Uvidimsya! |
| I miss you already | Я уже скучаю по тебе | Ya uzhE skuchAyu po tebE |
| I think about you all the time | Я все время думаю о тебе | Ya vsyO vrEmya dUmayu o tebE |
| I feel close to you always | Я всегда с тобой рядом | Ya vsegdA s tobOi rYadom |
Tender forms useful to express your understanding
| | | |
| --- | --- | --- |
| Is this clear? | Это понятно? | Eto panyAtno? |
| Pardon? | Простите? | Prastite? |
| I'm sorry, what did you say? | Простите, что вы сказали? | Prastite, shto vy skazAli? |
| I see | Понятно Ясно. | PanyAtno. Yasno. |
| Am I speaking fast? | Я быстро говорю? | Ya bYstro gavaryU? |
| Do you understand me? | Вы понимаете меня? | Vy menyA panimAyete? |
| I don't understand you. | Я не понимаю вас. | Ya ne panimAyu vas |
| I understand you. | Я вас понимаю. | Ya vas panimAyu |
| I quite understand you. | Я вас вполне понимаю. | Ya vas vpalnE panimAyu |
| I understand you quite well. | Да, я вас хорошо понимаю. | Da, ya vas haroshO panimAyu |
| I understand every word you say. | Я понимаю каждое ваше слово. | Ya panimAyu kAzhdoye tvoyO slOvo |
| Yes, perfectly well. | Да, все понятно. | Da, vsyO panyAtno |
| Speak louder, please. | Говорите, пожалуйста, громче. | Govorite, pazhAlusta, grOmche |
| Please, speak slower. | Говорите, пожалуйста, медленнее. | Govorite, pazhAlusta, mEdlennee |
| I'm sorry, I didn't quite catch what you said. | Простите я не совсем понял, что вы сказали. | Prastite, ya ne savsEm pOnyal, shto vy skazAli |
| Write it down, please. | Напишите, пожалуйста. | Napishite, pazhAlusta |
| Translate it. | Переведите. | Perevedite |
| Please, say it again. | Повторите, пожалуйста. | Pavtarite, pazhAlusta |
| How do you say that in English? | Как это сказать по-английски? | Kak eto skazAt' po angliyski? |
| We need an interpreter. | Нам нужен переводчик. | Nam nUzhen perevOdchik |
| We don't need an interpreter. | Нам не нужен переводчик. | Nam ne nUzhen perevOdchik |
Tender forms of expressing your ignorance and incomprehension
| | | |
| --- | --- | --- |
| I haven't the faintest idea. | Не имею ни малейшего представления. | Ne imEyu ni malEisheva predstavlEniya |
| I have no idea (how to do it). | Не знаю (как это сделать). | Ne znAyu |
| Ask me another. | Почем я знаю. | PachyOm ya znAyu |
| I wouldn't know. | Откуда мне знать. | AtkUda mne znAt' |
| I don't know. | Я не знаю. | Ya ne znAyu |
| I really don't know. | Я действительно не знаю. | Ya deistvitel'no ne znAyu |
| He's a stranger to me. | Я его не знаю. | Ya evo ne znAyu |
| I don't know him from Adam. | Я его совершенно не знаю. | Ya evo savershEnno ne znAyu |
| What's she driving at? | К чему она клонит? | K chemU ona klOnit? |
| You never can tell what he will do next. | Никогда не знаешь, что он еще выдумает. | NikagdA ne znAesh chto on eshyO vYdumayet |
| There's no knowing what will happen now. | Неизвестно, что теперь будет. | NeizvEsno, shto tepEr' bUdet |
| I can't follow you. | Я не понимаю вас. | Ya ne panimAyu vas |
| I don't get it. | Не понял. | Ne pOnyal |
| I can't make head or tail out of it. | Ровным счетом ничего не понимаю. | Rovnym shyOtom nichevO ne panimAyu |
| I can't make it. | Не могу разобрать. | Ne magU razabrAt' |
| It beats me how people can believe him. | Просто не понимаю, как люди могут верить ему. | PrOsto ne panimAyu, kak lyUdi mOgut vErit' yemU |
| I suppose there's no alternative. | По-видимому, нет другого выхода. | Pavidimomu, nyEt drugOva vYhoda |
| I'm afraid not. | Боюсь, что нет. | BayUs' shto nyEt |
| I am puzzled. | Я затрудняюсь. | Ya zatrudnyAyus' |
| I'm afraid I can't grasp what you mean. | Боюсь, я не понимаю, что вы имеете в виду. | BayUs' ya ne panimAyu, shto vy imEete vvidU |
| I can't remember how it's called. | Я не могу вспомнить, как это называется. | Ya ne magU vspOmnit' kak Eto nazyvAyetsya |
Delicate words useful when you are trying to phone your lady
| | | |
| --- | --- | --- |
| May I speak to Helen? | Можно поговорить с Еленой? | MOzhno pagavarit' s YelEnoy? |
| May I speak to Helen? | Можно Елену? | MOzhno YelEnu? |
| May I speak to Helen? | Елену можно? | YelEnu mOzhno? |
| Is Helen at home? | Елена дома? | YelEna dOma? |
| Good morning. Helen please. | Здравствуйте. Елену, пожалуйста. | ZdrAstvuyte. YelEnu pazhAlusta. |
| I need to speak to Helen. | Мне нужна Елена. | Mne nuzhnA YelEna. |
| Whom am I talking to? | С кем я говорю? | S kem ya gavaryU? |
| Please call Helen. | Пожалуйста, позовите Елену. | PazhAlusta, pazavite YelEnu. |
| May I hear Helen? | Могу я услышать Елену? | MagU ya uslishat' YelEnu? |
| Be so kind, invite Helen. | Будьте добры, пригласите Елену. | Bud'te dobry, priglasite YelEnu. |
| Good morning. I need to speak to Helen. | Здравствуйте. Мне нужно поговорить с Еленой. | ZdrAstvuyte. Mne nUzhno pagavarit' s YelEnoy. |
| I want to put a call through to Ekaterinburg | Мне нужно позвонить в Екатеринбург | Mne nUzhno pazvanit' v EkaterinbUrg |
| Would you please book me a call through to Ekaterinburg? | Примите,пожалуйста, заказ на разговор с Екатеринбургом | Primite, pazhAlusta, zakaz na razgovOr s EkaterinbUrgom |
| How does one use this phone? | Как пользоваться этим телефоном? | KakpOl'zovat'sya Etim telefOnom? |
| What is your phone number? | Какой у вас номер? | KakOy u vas nOmer? |
| Will you give me her number? | Дайте мне её номер телефона | Dayte mne eyO nOmer telefOna |
| How do you call Tanya? | Как позвонить Тане? | Kak pazvanit' Tane? |
| Will you give me the area code of Moscow? | Дайте код Москвы. | Dayte kod MoskvY |
| Hello! | Aлло! | AllO! |
| This is Jason | Это говорит Джэйсон | Eto gavarit Dzheison |
| Is that Natasha? | Это Наташа? | Eto NatAsha? |
| Could I speak to Vera? | Позовите, пожалуйста, Веру | Pazavite,pazhAlusta, Veru |
| I'd like to speak to Olga | Я бы хотел поговорить с Ольгой | Ya by hotyEl pagavarit' s Ol'goy |
| Is she there? | Она там? | AnA tam? |
| Who is speaking? | Кто говорит? | Kto govorit? |
| Ekaterinburg is on line. | Вас вызывает Екатеринбург. | Vas vyzyvAyet Ekaterinburg |
| The number is engaged. | Абонент занят. | AbonEnt zAnyat |
| Sorry, wrong number. | Извините, вы ошиблись. | Izvinite, vY oshiblis' |
| There's no one by that name here. | Здесь таких нет. | Zdes' takih nyEt |
| Just a minute: | Минутку | MinUtku |
| Hold on.. | Не вешайте трубку | Ne vEshayte trUbku |
| Will you wait? | Вы подождете? | Vy podozhdyOte? |
| You are wanted on the phone. | Вас к телефону. | Vas k telefOnu |
| I can't hear you very well. | Я вас плохо слышу. | Ya vas plOho slYshu |
| I can't make out what you are saying. | Я не могу разобрать, что ты говоришь. | Ya ne magU razobrAt', shto ty gavarish |
| Speak up! | Говорите громче. | Gavarite grOmche |
| It's me again. | Это опять я. | Eto opyAt' yA |
| We were disconnected. | Нас разъединили. | Nas raz'yedinili |
| We were cut off. | Нас разъединили. | Nas raz'yedinili |
| I'm sorry, she is out. | Жаль, её нет. | Zhal', eyO nyEt |
| Any message? | Что-нибудь передать? | ChtO nibUd' peredAt'? |
| Please ask her to call me back. | Пожалуйста, попросите её позвонить мне. | PazhAlusta, poprosite eyO pazvanit' mne |
| I'll call again. | Я перезвоню. | Ya perezvonyU |
| When should I call again? | Когда мне перезвонить? | KagdA mne perezvonit'? |
| Write down my number, please. | Запишите, пожалуйста, мой номер. | Zapishite, pazhAlusta, moy nOmer |
| Tell her Robert called. | Передайте ей, что звонил Роберт | PeredAyte ey,chto zvonil Robert |
| I will give her the message. | Я передам ей. | Ya peredAm Ey |
| I will have her call you back. | Я скажу, чтобы она позвонила вам. | Ya skazhU, shtoby onA pazvanIla vam |
| What are you doing? | Что ты делаешь? | Chto ty dElayesh? |
| Are you going any-where? | Куда-нибудь собираешься? | KudA nibUd'sobirAyeshsya? |
| Sorry to have troubled you. | Простите, что я вас побеспокоил. | Prostite, shto vas pobespokOil |
| I couldn't get her on the telephone. | Я не мог к ней дозвониться. | Ya ne mog k nEy dazvanit'sya |
Tender words to calm and cheer up your lady
<tdpolozhis` na menyA
Remember, I'm always next to you
Помни, я всегда рядом
POmni, ya vsеgdA ryAdom
You can reckon upon me
Можешь рассчитывать на меня
MOzhesh raschitivat` na menyA
Depend on me
Положись на меня
I'll do everything perfectly
Я всё сделаю как надо
Ya vsyO sdElayu kak nAdo
Don't worry, I'll see everything
Не волнуйся, я обо всём позабочусь
Ne volnuysya, ya obo vsyOm pazabOchus`
Relax, I'll do that
Расслабься, я этим займусь
RasslAb`sya, ya Etim zaymUs`
Let me do that
Предоставь это мне
PredostAv` Eto mnE
Everything is under control
Всё под контролем
VsyO pad kontrOlem
Trust me
Доверься мне
DovEr`sya mne
Everything's gonna be alright
Всё будет хорошо
VsyO budet harashO
You know, I'm always next to you
Ты же знаешь, я всегда рядом
Ty zhe znAesh`, ya vsegdA ryAdom
I'll do everything I can
Я сделаю всё, что смогу
Ya sdElayu vsyO, shto smogu
You'll manage it
Ты справишься
Ty sprAvish`sya
You can do it
Ты сможешь
Ty smOzhesh
I believe in you
Я верю в тебя
Ya vEryu v tebyA
I'll help you
Я помогу тебе
Ya pomogU tebE
You are not alone
Ты не одна
Ty ne odnA
I'm next to you
Я рядом
Ya ryAdom
I'm here
Я здесь
Ya zdes`
Darling, don't worry
Любимая, не волнуйся
Lyubimaya, ne volnUysya
You're strong
Ты сильная
Ty sil`naya
We will do it
У нас всё получится
U nas vsyO polUchitsya
Easy, everything is OK
Успокойся, всё хорошо
Uspokoysya, vsyO harashO
Everything is going all right
Всё идёт как надо
VsyO idyOt kak nAdo
It's normal
Это нормально
Eto normAl`no
You know, it must be like this
Ты же знаешь, так и должно быть
Ty zhe znAesh, tak i dolzhnO bit`
Holiday congratulations
| | | |
| --- | --- | --- |
| Happy Birthday! | С Днем Рождения! | S DnyOm RozhdEniya! |
| Happy anniversary! | С Годовщиной! | S Godovschinoi! |
| Happy Mother's day! | С Днем Матери! | S DnyOm MAteri! |
| Happy Father's day! | С Днем Отца! | S DnyOm OttsA |
| Happy Name day! | С Днем Ангела! | S DnyOm Angela! |
| Happy Victory day! | С Днем Победы! | S DnyOm PobEdy! |
| Happy Independence day! | С Днем Независимости! | S DnyOm Nezavisimosti! |
| Merry Christmas! | С Рождеством! | S RazhdеstvOm! |
| Merry Christmas, my dear! | С Рождеством, моя милая! | S RazhdestvOm, moya milaya! |
| Merry Christmas! | Счастливого Рождества! | RozhdestvA! |
| I wish you merry Christmas! | Желаю тебе счастливого Рождества! | ZhelAyu tebe schaslivovo RozhdestvA! |
| Merry Christmas! | Весёлого Рождества! | VesyOlogo RozhdestvA! |
| My Christmas congratulations! | Мои Рождественские поздравления! | Moi RozhdEstvenskie pozdravlEniya! |
| My Christmas congratulations! | Поздравляю тебя с Рождеством! | PozdravlyAyu tebya s RozhdestvOm! |
| Christmas is so beautiful! | Рождество - это так прекрасно! | RazhdestvO - eto tak prekrAsno! |
| Happy New Year! | С Новым годом! | S Novim godom! |
| Happy New Year! | Счастливого Нового года! | Schaslivovo NOvogo gOda! |
| I wish you a happy New Year! | Желаю тебе счастливого Нового года! | ZhelAyu tebe schaslivovo NOvogo gOda! |
| New Year congratulations! | Поздравляю с Новым годом! | PozdravlyAyu s NOvim gOdom! |
| I wish you best of luck in a New Year! | Удачи в Новом Году! | UdAchi v NOvom GodU! |
| Happiness in a New Year! | Счастья в Новом году! | SchAstia v NOvom godU! |
| Be well in a New Year! | Здоровья в Новом году! | ZdorOvia v NOvom godU! |
| All the best in a New Year! | Всего доброго в Новом Году! | VsevO dObrovo v NOvom GodU! |
| Take my Christmas congratulations. I wish you happiness and joy! (Rhyme) | С Рождеством Вас поздравляю. Счастья, радости желаю! | S RazhdestvOm vas pozdravlyAyu, schAstia, rAdosti zhelAyu. |
| Be My Valentine | Будь моей Валентиной | Bud' moei Valentinoi |
| Would You Be My Valentine? | Будешь ли ты моей Валентиной? | Budesh li ti moei Valentinoi? |
| Happy Valentine's Day! | C Днём Валентина! | S Dnyom Valentina! |
| Christ resurrects! | Христос воскресе! | HristOs vaskrEse! |
| Really resurrects! | Воистину воскресе! | Vaistinu voskrEse! |
| Happy Easter! | С праздником Пасхи! | S prAznikom pAskhi! |
| Happy Easter! | Со святой Пасхой! | So svyatOy pAskhoy! |
| God bless you! | Благослови тебя Бог! | Blagoslovi tebyA bog! |
| God bless you! | Благослови тебя господь! | Blagoslovi tebyA gospOd'! |