How to distinguish a potential dating scams? Is it possible at all?
24 Jan 2017
If you accept the thought that you are unique with your problem with scammers you are completely wrong. Uadreams alerts that scams are so popular that this word became like a signal of adornment of yours as an experienced user. If you take for example, letters.
Love Letters
Within correspondence you can be sure that modern scammers use some details however you have to know that they never read your letters attentively. You can imagine how many clients or like we say potential victims they do have!
They won't answer your question, they have no time to analyze details and indicate something special in their response. Being very busy with another letters they never remember in particular what you said. They never refer your previous content or so. Like we mentioned, they make some samples of different letters and organize mailing between dating websites users – that gives them good result of immediate reaction. You may guess that such a pleasant letter you received – anybody could have as well. Meanwhile you encouraged with your feelings, you get monologue describing extraordinary love to you, incredible desire to meet, to marry, to be together always. Sometimes mentioning some barricades or special reasons that separates both of you on the way of endless love.
Such patterns are to be prepared in advance, just changing the names of clients in the first part of the letter, then scammer may use
"Darling"
"Sweety"
"Sweetheart"
"My love"
"The only"
this gives no suspicious thoughts of being unfair to you.
So we came to the point when both of you have some circumstances that do not allow to be together, for example, moneys. Very often they used to be finished and scammer needs to ask you for a financial help: let it be plane ticket, medical treatment, no job, poor relatives, death of dearest mother, expensive education of children and etc.
UaDreams warns you: this is a red spot! In case you noticed some signals described above please let Member's Support Center know about it and head management will take all measurements to fix this issue and to punish criminals.
Fun Lovers
Let us tell you some words about "fun lovers" who they are. Mostly these are girls who like being members of many dating websites simultaneously, corresponding with many men-members as well. Then they gladly like to come from one country to another and meet with different men with some order and spend good time spending men's' money of course. No matter what country, costs need to be paid properly: shopping, travelling, experience, food and etc. Probably you may take it as serious intentions and start of long term relationship but it's just for fun for her. Not to make all things complicated, she is truly young and all life is ahead, so she can wait with marriage and family, she can choose the man of her life and just have a look on easy lifestyle with language study as well. So at the end of the trip she will inform you that she is not ready for that, you had wonderful time together but she doubts and needs time to reconsider what to do with that.
It is almost impossible to be in another country by yourself only if you are not employed, in case she has 3 months vacations – this may definitely warn you – what a student has so many days of vacations in the university? So this free-time period of 3 months will show you what to expect and it's your choice if to have fun with such a lady and have no serious plans or break up as soon as possible and run away.
Caution!
Be extraordinary with your letters, pay attention to the details what is your profession, what interests or hobby, what is your favorite color, music album or special song that has long and important story of your life you have told about, may be retro car of your farther you have now, or movie that makes you sensitive. All of that you can use in your letter to talk about and lately to refer to this topic again, such a way will show you if a person you are corresponding with is scammer or such a simple member-user same as you.
If your beloved feels great to speak about it again and remembers all you've told before – that will give you a proof. If not – block this user and report to head management about scam notice.
UaDreams Anti-Scam Settings
UaDreams as a rule removes such profiles from their system if there are such cases mentioned above. However using special anti-scam policy there are less risk to meet scammers here on the website. Indeed all profiles of girls are need to be checked properly (sometimes another agencies never do that as they do not care if their girl probably can be users of many website at once). Then it is important to check marital status and not only once when registered but lately and on a regular basis (sometimes ladies can meet someone outside of virtual life and forget about their profiles somewhere).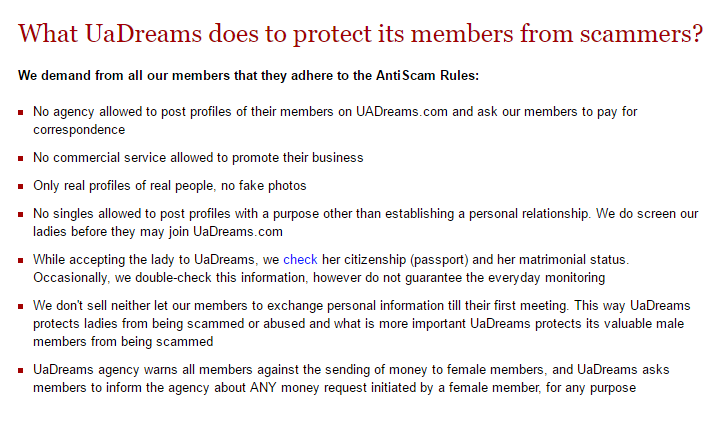 If to share ones private information like email address, home address, passport data or any other – all of that is prohibited completely! There is no guarantee of non-using in someone's profit. That is why such information is to be removed when posted immediately. It is possible to communicate without any help after first meeting in the agency – that gives a unique guarantee that planned meeting will definitely be in real life, in real office in real agency with real girl (s) and what is more with the greatest help of managers who arrange everything in their best way.
Support Center reacts on each your notice or suggestion and investigate all provocative situations accordingly. You may use mails or skype calls to contact them and speak in live or leave a message, no one is hiding and they are always ready to be helpful any time. This experience of theirs is more than 10 years of good communication with people. And remember: you are not a website client, you're a member, a human with your own desire, wish, problem, and special intentions, you are always welcomed!