Interracial dating
If you ask someone what he or she is thinking on interracial couples and dating you could hear various responses. We live in multicultural world, and interracial dating is a great opportunity to be acknowledged with traditions, religious beliefs, myths and all aspects of a culture that is totally different than yours. Interracial dating is always challenging experience. You need to be patient, calm and strong enough for developing your relationship. Remember – no matter what color of skin of your partner, only thing you need to know – what he is doing for you and your couple.
Our wedding agency UaDreams conducted a big survey among our clients, Ukrainian woman, with the purpose to discover whether there are a lot of prejudices in Ukraine in the scope of interracial dating. Results are amazing – 2 out of 3 women think in positive way on interracial couples and possibility to meet through web site uadreams.com a guy with another color of skin.
You could check it by yourself - just visit "Just married" section on our web site UaDreams.com and check out our progress. We have so many exciting love stories to tell you!
Interracial couples - our experience.
Our wedding agency UaDreams has been working more than ten years for supporting men and women from all over the world to find their love and to start online dating in easy and productive way. In our portfolio you could find a lot of happy interracial couples. We do respect if a couple doesn't want to share their experience with a whole world, but some of our couples agreed to send us their wedding photos and made videos for us. We are very happy to share these love stories with you!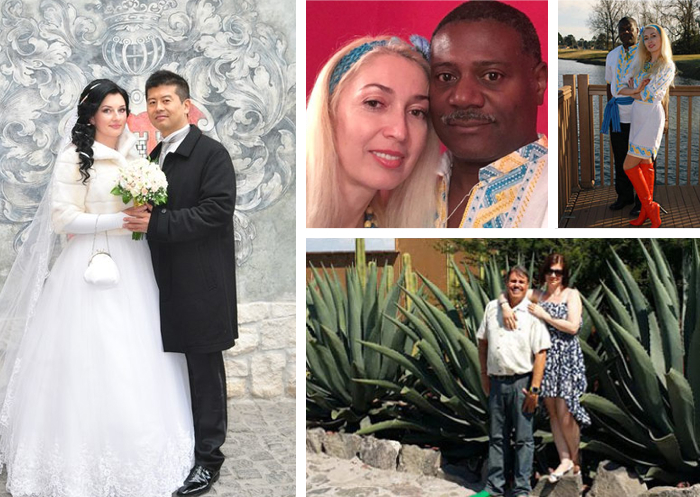 Yutaka and Natalia are one of the most bright couples in UaDreams. Nobody else had such romantic dating! Yutaka overcame a huge distance between Japan and Ukraine to meet his dear Natalia. He sang his favourite Japanese and Ukrainian songs for her through skype. Just imagine, Yutaka learned Ukrainian songs! Natalia adored his singing. After Yutaka came to Ukraine and they understood that they want to be together, Natalia started to learn English and soon she could speak really well. Now they live in Japan with Yutaka's son and nobody have ever seen such a great family.
The story of Andre and Irina was very romantic. They started their acquaintance in chat, it was late at night or early in the morning when she saw a chat invitation from him. This call may change the whole life of both of them. They have met sunrise together, talking to each other and smiling. They started to write each other mails later. They had so many similar features and aims, it seemed to them that they have known each other for ages. Soon Andre proposed to Irina.
Miguel and Alyona met when it was Christmas time in Ukraine. Their first dates passed in the festive atmosphere, Christmas trees and holiday mood were everywhere. They spent amazing time together and Alyona did not want to let Miguel return home. Now they are a happily married couple.
Story of Fernando and Yana is one of the most romantic stories. They made a great video for us after their wedding. From the first minute Yana saw Fernando she was impressed by him. He was so friendly and polite, it was so interesting to talk to him. They felt very quickly that they want to be together. Yana was shy and tender, and Fernando fall in love. They are husband and wife now, live in Mexico together and are very happy.
Every couple has unique experience, but all of them started from online chatting through our web site UaDreams.com. After several months of online dating our clients ask us on support in organisation of a trip to Ukraine with a purpose of offline meeting with their beloved Ukrainian women and we supported them with the full cycle of services (from translating to logistic aid). Majority of our happy clients said that the main issue was to relax and don't think on organisation of a date in a totally new country. It was an issue for wedding agency UaDreams, and the only issue for clients were their feelings and development of their relationships with Ukrainian beautiful woman.
All this beautiful couples took a chance and won the best gift in a world – their new families, full of love and happiness.
Interracial couple relationship.
When starting to discuss on interracial dating, we could mention traditions of the nature. You could hear a green warbler for 200 meters. All these trills, of course, are for attracting a female. In fact, European and Asian subspecies of warblers are completely different. But despite their differences, they do not fight, but intersect. What is a great example for all of us, humans, that our thrills and songs not only for representatives of our own race.
So, if you want to build a family with a partner that has grown in a different culture you need to remember main principles of building harmonious relationships in interracial couple, that we formulated below.
1. Respect your partner; even you don't understand him or her. You need to learn a lot about another culture, traditions, and religion, whatever. Try to understand or, as minimum, don't challenge rules of life of your interracial partner. If you are in long-termed relationships, do all your best for incorporating all aspects of another culture into your daily life.
2. Always remember that your marriage is an amazing experience on combination of languages, traditions and moral rules. Combine it in a way that match to both of you – it's your life and your choice how to live it.
3. Learn new language – it's better to start from your first meeting, no matters, is it online interracial dating or offline meeting. Ask your interlocutor on basic words, how to say in his or her language "Hello", "How are you?", "What is your name?". It may break an ice between two of you.
Don't hesitate to try start dating, interracial marriage is worth all your efforts. So, break your prejudices and register on our web site Uadreams.com for starting online dating with anybody you want – and perhaps in several months we could write a story of your happy interracial family and your wedding in Ukraine with amazing Ukrainian woman.