29 Oct 2018
In our rapidly changing world, no one will be surprised by the web communication and virtual acquaintances, or the setting up of serious love relationships in the internet. For some ten years, mobile gadgets have become our regular companions, they have practically replaced PCs for many people who are 24 hours online, both at work and in their personal lives.
For people of different ages, wealth and areas of interest, one of the most convenient ways to find new friends or even love is dating through mobile apps for iOS and Android: simple and affordable. Mobile programs for dating are convenient enough to use. There are a lot of them, international and local. These are generally recognized favorites and recent innovations. Their functions and design are constantly updated and improved, since there is a rather large competition among the developers of this product.
Also, Ukrainian designers of flirting mobile apps are not lagging behind the general trend. Among their products are many convenient and worthwhile applications for dating and  chatting with charming ladies. A worthy place among them is a new mobile dating app offered by UaDreams. About this will be discussed in the following article.
Choosing and chatting Ukrainian girl.
Recently UaDreams pleased their members with an international dating app. Live Video Chat (newest version 21.0.1) is ideal for users of Android 4.0.3 or the latest. Hundreds of beautiful and vibrant Ukrainian unmarried ladies open for chatting are posted on UaDreams dating site. Having installed this mobile app, which is acceptable and easy to use, any man in any corner of the world, if he posted his profile (no payment for membership) on UaDreams, has the good fortune to talk to his beloved lady and make a soul connection.

How to communicate with girls using UaDreams Dating app.
So, did you decide to install UaDreams Live Video Chat in search of your dream? Then start by registering at the dating site. This is easy to do through any of your social networks. Now you can easily download your love date app directly from the Google Play Market. Sign up using the username and password of your profile on the dating site UaDreams. The next step is to sellect and configure your gadget webcam. You can choose such options (front camera, back or no video at all). Now you should indicate the speed of your Internet channel (fast, normal, slow). Be sure to check the video setup, you must know that your lady will see a high-quality image of you on her screen. If everything is OK, then feel free to click the "Let's go" button.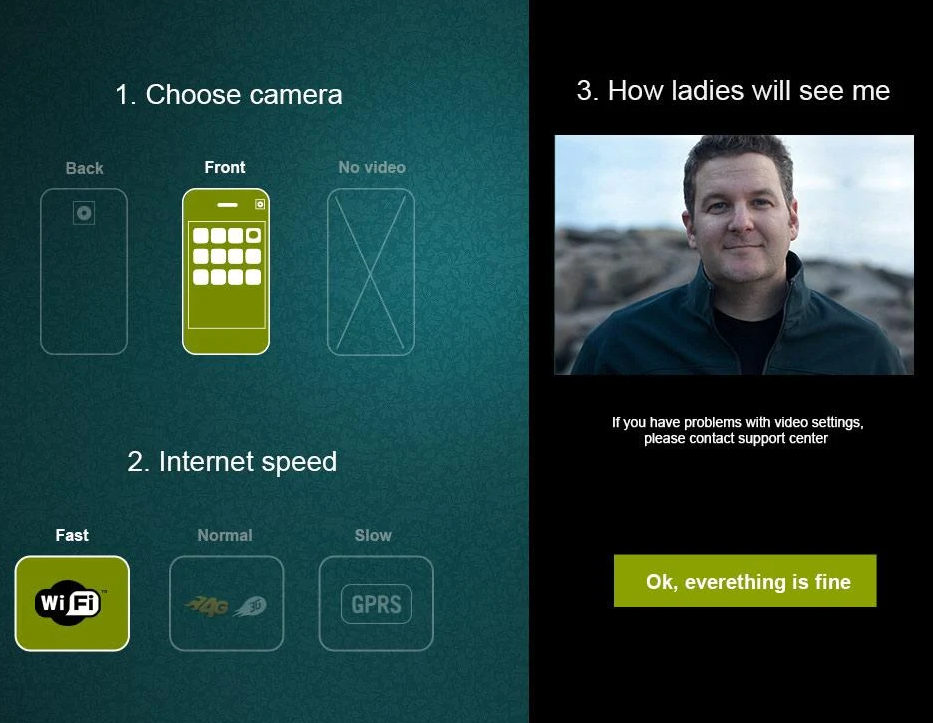 For starters, you can chat with girls who are just online and "ready to chat". This will help you learn how to use chat. By the way, the owners of iPhone and iPad can use the Puffin browser, using the "allow" button to connect the video and chat with the girl through the site.
Going into the chat you will see a small window for messages and a larger window for the image (very convenient for mobile gadgets). Attention, the "double connection" message that appears on the screen warns you that you will not be able to communicate with two or more girls at the same time.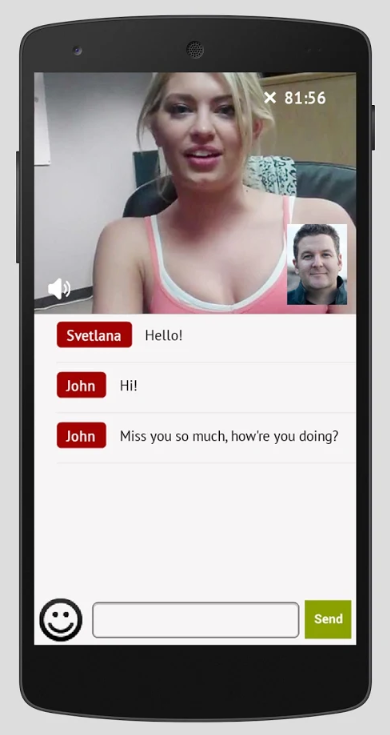 Like all modern European dating apps, the product from UaDreams developers provides a range of features, such as the ability to browse a photo gallery of girls and a promotional video of each lady to decide who to chat with. Besides the fact that you can see each other using the webcams of your mobile devices, you can also message with your sweetheart right through the app.
Do not forget that our dating application involves a serious relationship between its members and urges you to follow the rules of anti-fraud policy (too personal information is moderated), age restrictions (only for people over 18), and there is also a strict ban on posting nudity.
If you want to chat with the girl you like, send her a message with an invitation and the lady will let you know when she can communicate. Some girls go to chat from the office of UaDreams, as they need the help of a translator, others can go to chat from their gadget or home PC. Therefore, the speed of responses is not always the same. In any case, our support service for site members will always solve your problem, if any.
So, decide to register on our dating site and upload our new dating app to your gadget, do not hesitate and you will not regret it!
Dozens of new beautiful Ukrainian ladies post their profiles on UaDreams every day. They also are looking for true love and are always ready to chat with cute and interesting guys. The main thing to start and everything is with you!