The type of man that I desire
It is a right question - the man you DESIRE... I agree that everyone gets what they desire. :) Hopefully I will find myself confident, caring, responsible, strong-minded man and especially I am dreaming of a man with a great sense of humor. :) I am not an ideal woman, so I look for a normal simple man who will make us happy. :)
Our personal opinion of this Lady
Nadia is a very energetic and active woman. She really knows what she wants and she will get this without doubts. She is a young mother and she is a very responsible one. She can be different and it is really good.
See her fascinating movements and charming smile...
Feel as if it was your first date with this lady — it is worth 1000 pictures!
Watch this video for FREE
My future goals are
The main goal for me is to become happy and to be loved!!! I agree that all you need is love!!! If you are captured by this great feeling, then everything will be okay in all other spheres of your life. I am lonely but I am not alone, I have a son and I will do all my best to make me, him and my future man very happy!!!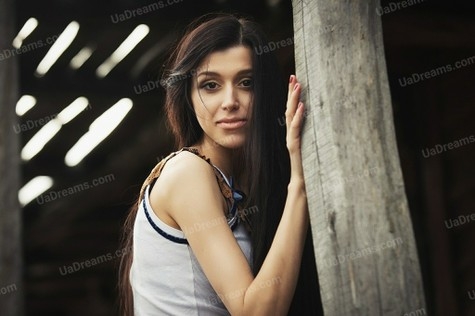 My typical day
I am a real hard-worker. :) I have a few main jobs - a mother, a daughter, a sister, a friend and assistant of the lawyer. :) I hope I will find a new position soon and my office will be in the heart of a special man for me. :) I try to spend more time with my son, he needs me very much. Also I try to be a good friend, sister and daughter and it is very important to find time in my schedule for every dear person!!!
How would I describe myself
I am an open and sincere woman, I do not like to lie and I prefer to say the truth even if it is not very pleasant... and I appreciate the same attitude to me. I want to find support and care here, a man with good life experience, a man who will advise me, teach me, show me something new. I am ready to change my life here and to change your life there. Life is too short to sit and to do nothing!
About my family
I have the best people in my life. They are members of my family - my parents and of course my great happiness - my son. :) They are my support and hope, we are very close and I hope to find the most important person in my life - my beloved. :) And he will be number one for me as a man. :)
What I do in my leisure time?
It is always great to find some spare time. :) Of course, I like to spend this time with my closest people, but sometimes I like to stay alone... A person also needs time to think about something personal or just to dream. :) I am just a girl who has great imagination and many dreams. :) Do you want to know any of them? ;) I also go to the gym very often, it is a good way of relaxation for me. I go to the swimming pool, I adore spa, pilates, yoga ... I also have a lot of ideas of how to spend our free time together. :) Just ask me! ;)