26 Oct 2017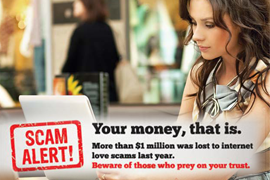 Nowadays scam activity on dating websites is very popular phenomenon. It is sad to recognize it because some dishonest people who cheat on dating websites don't let those really serious men and women find each other and create happy couples.
The main goal of female dating scammers is extracting money from men. Usually such kind of activity takes place if a man and woman have the possibility to exchange personal contact information. In this case the woman can ask man for money directly. If the man communicates with a foreign woman, and she starts asking him for financial help because some relative is ill or because of some serious problems in family, these are very clear characteristics of scam. The other popular example is when the lady persuades man in her deep love and asks him to help with visa and tickets in order to arrive to his country. Of course, when necessary financial help is received, the woman disappears completely in the majority of cases.
If you plan to use dating website for the search of your life partner from other country, pay attention on anti-scam protection which the chosen dating website offers. UaDreams.com is a popular Ukrainian dating resource and it pays a lot of attention to protection of male and female members from scam.