14 Jan 2016
The Final Sign That Our Job Is Done.
We know that usually dating websites fighting is very interesting and amusing thing to analyze.
However it is more interesting to be a part of discussing as real facts can help or wise verce. What help exactly and what is the purpose?
Let's see how many happy members we have nowadays: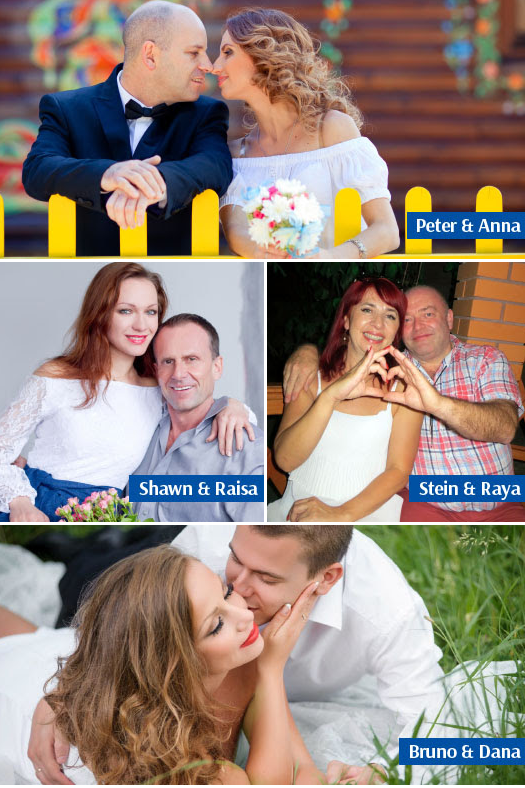 On this section you can see more uaDreams families  https://www.uadreams.com/agency/love-stories-marriages
As a rule our regular review per year is eliminated on our website for all members or non-members in doubts to receive real facts of our success. Go ahead and read about their stories, all of them are unique.
However we used to get questions about the reason why we do not post more information about those couples who got married. Actually, we put a note on our website as well: "Unfortunately we cannot post all our marriages. Only a few couples allowed us to show them to the world. Besides not all men and ladies give us information about development on their relationship. Most couples prefer privacy, sorry."
Such a notice could be rather disquieted, we bet you think so.
Lots of articles may bring the reputation of each agency to deception. As lots of managers from other agencies, well… even men who never came to our country, do post really unpleasant things, messages, review about us. We also read antiscam sites and are aware of those things that are written by some men. We can declare that the majority of the things they state there are not based on reasonable evidences. Anyone can write whatever he wants!
So we will try our best to argue and to prove that we are worth to pay for.
Usually we when the member of ours comes to us for a meeting with a lady we offer to leave a testimonial as a kind of feedback agreed to publish. Not all of them intend to do that at once. You may guess and think about lots of people who do not want to transfer their private life to public due to superstition or wish not to drown to the ocean of attention or whatever. That is why it is important for us to respect a person first of all, a wish, a right for a private life. It's a common thing.
Our splendid testimonials you may find here:
[FUNC get_last_testimonials(1)]
Our member's safety is equal to our further activity and dating business development. Yes, you definitely will not find anything about our members in the Internet.
If we speak about those couples who got married already and are sure in their future, who found their place for living and made plans for future, so what's wrong with that to be asked about them? You our position is aside as this is unfair to interfere to somebody's life. Nevertheless we are friendly open to keep the dialogue if our members are ready to share their concern with us, even after removing their profiles from our system.
Being matchmaking agency for more than 10 years our aim is to help people to get to know one another better and be together and we understand all the seriousness with the situation when the couple breaks off relationship.
In this case due to the wish of our members we do our best to keep our member's hope to find their beloved.
Our company is working on more individual ways of serving our members. We would love to offer our personal matchmaking service for those in need who got unsuccessful results, who tried but failed with living together. Of course, to get marry is the easiest, but to keep the flame – it is the hardest. So if we receive such cases we help to make the right choice of a female member if a man was not satisfied with the previous experience. This way he won't waste his time and money for developing multiple relationships that may bring him into nowhere.
For example, within this program our male member can forward us the most appropriate profiles of the ladies he was interested in. Not to be proactive, our special matchmaking department makes analysis and in turn when get results we will make a personal introduction of your profile to those ladies who were interested in this man as well. If some of them are really interested, we will let him know.
Actually it is not easy to be intermediary item, but without it - for many members though all over the world would be difficult to distinguish fake profiles, scam website from real intention of people to be happy. Not to break their hearts and empty their wallets.
 With great pleasure we would like to present you the testimonials we collect on UaDreams YouTube channel
We would like to underline again that we do receive bad reviews as well as good ones, and that is the most estimated thing we appreciate form our members. As their sincere feedback will prevent dating business from fraudsters activities and make the level of successful results to enhance surprisingly fast. As a new company we want to have our reputation clean right from the beginning and achieve a good score.
UaDreams strives for the best services only and personal approach to each member. If you have any questions regarding this post fell free to use our social links to contact us as well. But use some minutes of your free time to look through our best testimonials, probably they will inspire you, who knows?