Birth Date
Height
Weight
Eyes
Hair
Build
Glasses
She is
Smoke
Drink
7 November
175 cm 5' 9''
65 kg 145 lbs
green
light-brown
slim (slender)
Yes
right-handed
No
Never
Share your love with Alina!
Share your love with Alina!
Birth Date
City
Height
Weight
Eyes
Hair
Build
Glasses
She is
Smoke
Drink
I'm looking for
7 November
175 cm 5' 9''
65 kg 145 lbs
green
light-brown
slim (slender)
Yes
right-handed
No
Never
Marriage, Romance, Friendship, Relationship, Dating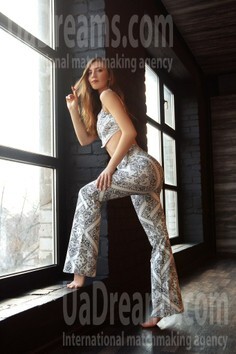 The type of man that I desire
The man of my dream is the strong wall who I can rely on. The man of my dream is an experienced man who knows what he wants in live. I dream about a man who will show me what real love is! Care, love, support, warm hugs and smiles! This is what I am looking for in my man! I am looking for a MAN for serious relationship, not a boy for playing games.
What I do in my leisure time?
I am a person who is full of energy and with a great deal of ideas ;) But at the same time I have a very romantic soul, so I watch films, go to the cinema and theater, read books where I can feel real romance. I hope soon I can feel all it in real! Do you like romance? Sometimes I go to escape rooms, because I like adventures and new emotions. Every day after university I go to the gym, so I always keep fit. ;) Oh, and most important of all, I am fond of dancing and singing. Get ready to listen my favorite songs when I take shower :) By the way, what is your favorite song? I will learn the song which you like for you ;) Another talent I have is acrobatics! ;) I go to the circus school and I can do lots of acrobatic techniques. I`m really enjoying camping with the tent and sitting near the fire at night, singing guitar songs. All in all, my interests are so diverse and I can bet that you will never be bored with me! ;)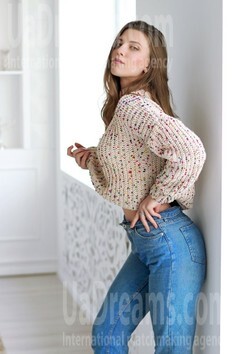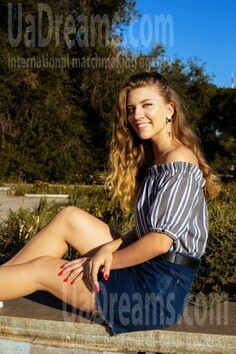 How would I describe myself
I am a very loving and reliable person!)) I can cook, clean and wash… I am almost perfect ;) All I miss is my second half who I can give all my love, care and support. Are you looking for the missing half too? ;)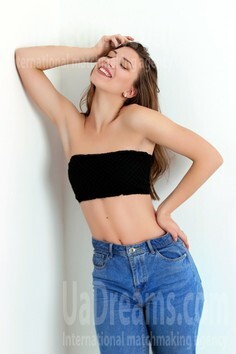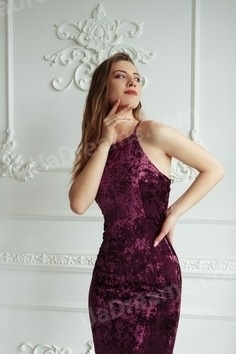 My future goals are
One of the main goals in my life is to find a good man, my second half, my best friend with whom I will build a serious relationship, create a family, having babies and preserving family hearth, share a lot of happy moments and open the new world for us! I am dreaming to spend romantic evenings and enjoying morning sun together. Do you have the same dream? Another goal is to get an education, graduate from the university. I plan to work and to develop my skills. I hope you do not mind :) Also, one more dream I have is to travel around the world with my beloved. We will see all the beauties, unusual places and cities together. Learn new cultures and meet new people. That`s why I want learn many languages to understand people and feel comfort anywhere in the world.
About my family
I am the only child in my family. My parents are divorced but I never felt lack of love and support. My mother is my real best friends and she supports me in everything! But still I am dreaming to have a complete united family, which I am ready to create.
Our personal opinion of this Lady
This lady is very positive, smiling, kind and good natured. She is very serious in her intentions to find her love and to create a family.
My typical day
Every day should start with a smile. Morning is an important time of day, because how you begin your morning can often tell you what kind of day you're going to have. So, wake up and smile at the world. The next main part of the morning is breakfast. I always try to eat healthy food, so I have cereals with milk and drink green tea for breakfast. Sometimes I can have a cup of coffee with dark chocolate, what about you, do you like coffee?)) After breakfast I go to the university. After my classes I go to the gym, because fitness helps me keep myself in a good form. Then, of course, I come back home, prepare for my lessons, and I cook a delicious dinner. My family always gets together for the dinner, we discuss how the day was spent and share our impressions. Then I read before bedtime, and you? Do you like reading?)) So, my day is drawing to a close and I go to bed thinking that I will have a sweet dreams.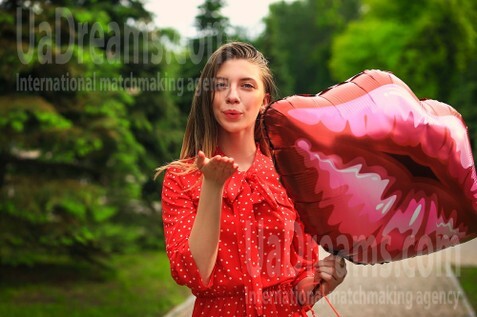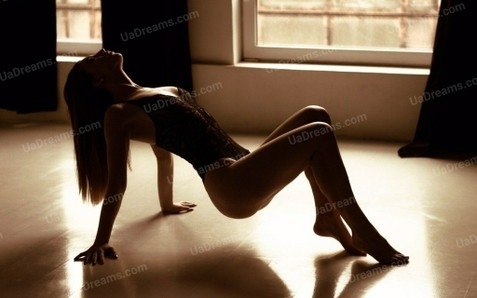 Lady will meet you in 11 hours Good luck!
Lady wants to chat with you in 11 hours
Lady offers to move chat for 11 hours
Lady declined invitation, but explains why:
Thanks but I can't come. Thanks though! Appreciate it!
She's online and waiting for you!
Lady is late, will be at 12:30