Russian girl for marriage
28 Dec 2017
Height

from 147 cm

4'10"

/ to 201 cm

6'7"




Weight

from 44 kg /

88 lbs

to 125 kg /

275 lbs




Eyes

brown / blue / green / grey / black / hazel



Hair

brown / black / red / blonde / grey / light-brown / hazel



Build

slim (slender) / petite / average / full figured / curvy



Glasses

Yes / No



She is

right-handed / left-handed



Smoke

Yes / No



Drink

Socially / Sometimes / Never


Religion

Buddhist / Christian / Hindu / Jewish / Muslim / Spiritist / Other



Education

High School Diploma / Student / B.A. / M.A.



Field of work

Administrative / Aerospace / Agriculture / Architecture / Interior / Arts / Automotive / Construction / Computers/Internet / Education / Electronics / Other



Marital status

Betrothed / Single / Divorced / Married / Widowed / Separated



Want to have children?

No / Yes / Have not decided yet / Maybe / Will decide with my husband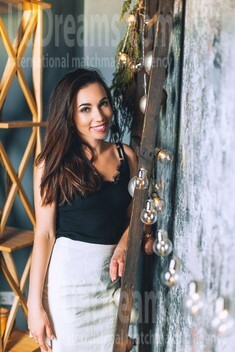 My future goals are
I am one of those Russian girls for marriage and so this is my goal number one. I won't deny I also dream to have a good carrier and my own income, to start my own business so that my job brought me personal satisfaction and helped in self-improvement every day. But first things first. I try to range all my life goals in the order of arrival and now the time of looking for long and stable relationships came. I will do everything to be happy and make my close people happy too.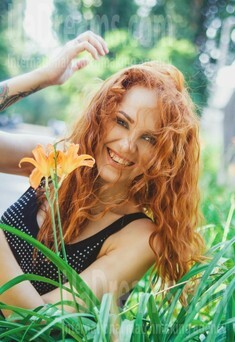 Our personal opinion of this Lady
This lady is an outstanding Russian girl. Marriage is definitely her cherished dream and she confesses that she wants to welcome a beloved and most trusted man into her life. She is always smiling and has a good sense of humor, making everyone around her adore her from the very first sight.
How would I describe myself
I don't know, if it is good or bad but I am persistent and maybe even a bit stubborn. But I will always hear the good reasoning so it is not impossible to persuade me in something. I can also be cajoled by something sweet, and it does not necessary has to be a piece of cake. Any girl from our country will tell you a proverb about the girls who love with their ears. I am definitely such a girl. I love to laugh and many people say that I have a good humor. I don't know if it is true or not but I know a lot of anecdotes and will be happy to raise your mood any time and day.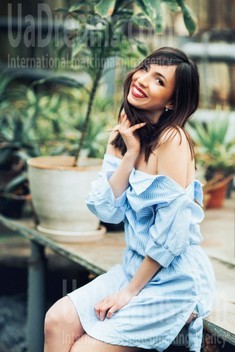 About my family
The roots of my family are placed on the territory of Russia but already two generations of it belong to Ukraine. My family is small and knit-tight, I have a mother, father and a sister 3 years younger than me. I also have a dog who is one of the main family members and sometimes makes all the important decisions, especially when it comes to walking him in the morning and in the evening. We are very supportive and always protect each other in any difficult situation.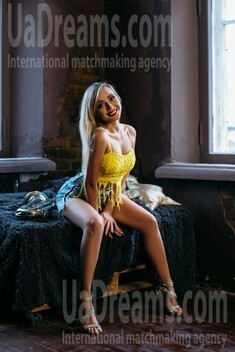 Domestic abilities
A Russian girl for marriage knows how to make her home welcoming for anyone who enters it, be it a dozen of guests or a beloved man coming from work. My home smells of cleanliness and home made dishes, by the way, I know a lot of recipes and even invented some new ones. Will you agree to be my guinea pig to taste them? We will see, if you are a courageous type of man... Joking. I am always the first to taste my new creations, so you will receive only the best ones after they pass a serious examination.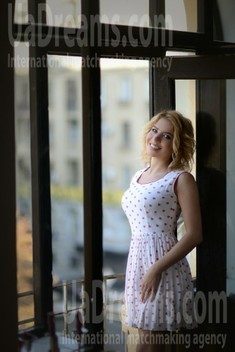 What I do in my leisure time?
What is leisure time? I do not have time for being lazy. I can be relaxed and do something for my small pleasures in my pastime but like many other simple women from Ukraine or Russia I am not used to sit at home doing nothing for too long. I need to be active, to go for walks, to meet with my friends or relatives, to play with my pets, to see new places and meet new people. But you need to agree that all those activities are even more pleasant if I do it in a good company. I prefer this company to be male and be MY man. I hope we both will enjoy those simple things that will be a significant part of our life together.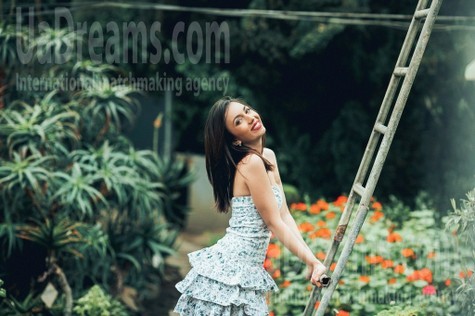 The type of man that I desire
I don't know. Really. I am sure that I will know him when we meet each other. I am not sure about love from the first sight, but I believe it will strike us as a bolt on our second date. Or third. And the feelings will grow deeper and deeper with each our meeting. I don't believe in knights on white horses and I am not a princess. But I hope to become a Queen for my own King and make our home our small and mighty kingdom.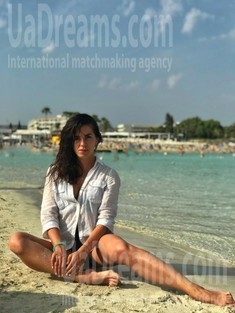 My typical day
I am not an early bird, am and owl, but my employers do not pay attention to it. So I wake rather early, prepare myself, walk our dog and then hurry to my work place. There I stay till evening and they come back. In the evening I give all my attention to my small hobbies and different activities that I listed as my leisure time. Before going to bed I like to read some interesting book, when staying already in bed.