New lady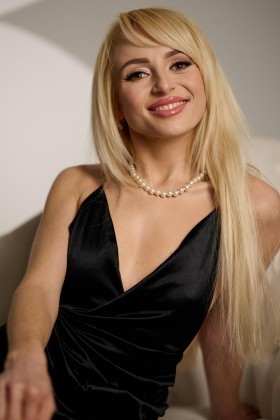 rovno
Birth Date
Height
Weight
Eyes
Hair
Build
Glasses
She is
Smoke
Drink
27 June
160 cm 5' 3''
51 kg 114 lbs
hazel
blonde
slim (slender)
No
right-handed
No
Socially
Occupation
Owner of cosmetics store
Marital status
Divorced and I have children / 1 girl
Children age
27 y.o.23 May
Want to have children?
No
I'm looking for
Marriage, Romance, Relationship, Dating
Share your love with Julia!
Share your love with Julia!
Birth Date
City
Height
Weight
Eyes
Hair
Build
Glasses
She is
Smoke
Drink
I'm looking for
27 June
160 cm 5' 3''
51 kg 114 lbs
hazel
blonde
slim (slender)
No
right-handed
No
Socially
Marriage, Romance, Relationship, Dating
My typical day
My typical day is pretty busy. My morning always starts with a cup of fragrant coffee. After enjoying this process (coffee lovers will understand me), I start cooking breakfast. I don't cook for my daughter anymore, because she is married, lives separately from me and is already feeding her own husband. After this morning ritual, I usually go to work. At work, I spend most of the working day, and I spend the evening in the gym, or on a walk in the evening city, or watching a good movie (sometimes with a glass of white dry wine).
About my family
Fortunately, I grew up in a prosperous family in love and respect for each other. My parents loved each other very much. I'm not alone in the family. I have a younger brother who is only 3 years younger than me. It is evident, I suppose, that I have the best and closest relationship with my daughter, because I am young at heart, and we understand each other even without any word. I also have a ginger cat named Barsyk. He is quite temperamental and impudent, although he might have been able to love a man whom I would let into my heart and soul.
The type of man that I desire
I want to come across a reliable, generous, intelligent man with a great sense of humour. I appreciate mutual support and friendship. First of all, I want to have an interesting companion, with whom I would like to spend quiet evenings, because, in my opinion, love is an interest in a person, attraction to him, a feeling of warmth when you are with each other. I am sure that betrayal is a treason. A man who cheated once will do it again, so I do not forgive betrayal. A serious relationship is trust, first and foremost. I will not accept male rudeness and alcohol abuse. The main springboard for a healthy and happy long-term relationship is a combination of such factors as respect, love, interest and sense of humour.
Our personal opinion of this Lady
A unique woman. Honestly, it's hard to believe that she is 45 years old, although it really is. She is distinguished among others by her sociability, intuition and long hair. This is not a small, green, naive girl. This woman, full of life experience, knows what she wants from life.
My future goals are
My plans for future? Ironically, at the age of 45 there are many of them. Well, first of all, I dream of marrying, but it should be really for forever and ever. I don't need a fairy tale about Cinderella, but just a reliable man next to me. As my daughter is an adult, I think I can finally concentrate a little on myself. I would like to travel more around the world, although I have already visited Egypt, Turkey, Russia, Poland and the Czech Republic. I dream of visiting Mexico and China, seeing the Grand Canyon, Victoria Falls and being to China. As for self-realization, my next goal is to open an online cosmetics store. In other words, I'd like to expand my own business a bit in the context of online youth trends.
What I do in my leisure time?
First, I love to read. As soon as I have a free minute, I can easily be found reading a new book. Then I easily plunge into the world of those heroes, live their life stories, abstract from the world. Max Kidruk's books are my favorites, and in general, travel books are my cup of tea. Secondly, fitness ... Yes, how to be in life without sports? No one wants to lose their toned and well-groomed body. Thirdly, in my free time I love to cook, except for any dairy dishes. I really hate them. I am a fan of oriental cuisine and healthy, light salads.
How would I describe myself
I have my own small business. I own a small cosmetics store. I have been working there for more than 20 years. I like to make females beautiful and well-groomed to emphasize their natural beauty. I have many regular customers. On the other hand, I am an extremely devoted fan of perfumery. Probably very expected, but my favorite flavor is coffee one. I get a lot of pleasure from a vacation at sea and the first sip of coffee in the morning. I am most afraid of diseases in my relatives. In addition, I love mountain scenery, oriental culture and good jokes.
Lady will meet you in 11 hours Good luck!
Lady wants to chat with you in 11 hours
Lady offers to move chat for 11 hours
Lady declined invitation, but explains why:
Thanks but I can't come. Thanks though! Appreciate it!
She's online and waiting for you!
Lady is late, will be at 12:30