23 Nov 2020
When you decide to bring flowers on the first date that says that you do care, that you wish to make a good impression and you wish to show that you appreciate that she decided to come on the date with you. The woman you are dating will like this try and it will be a good start. She will realize that you like her and this date is important for you. Bring a bouquet, smile, and give the flowers to the woman. Of course, these flowers will melt her heart and she will be in a great positive mood. She will feel appreciated and you will see a smile on her face.
Should you choose flowers for your first date
So many people, so many minds. Some experts suggest bringing flowers to the second date and here are their reasons. First, they say that flowers on the first date mean additional pressure and your relationships are in the very beginning so it is better to use the first date just for knowing each other better. For sure, you will have a chance to impress her with flowers but not on the first date. You are the person who decides and chooses how to do it right.
Anyway, the tradition to bring flowers is alive and many men do this every day all around the world. If you decide to bring flowers for her, remember that they should be the right flowers because every flower has some particular meaning and says something instead of you.
How to choose best flowers for a first date gift
You wish to bring good flowers for the first date. Or you would like to bring the best flowers to your first date with a special woman? The best, for sure. What flowers are the best and what type of flowers for a first date to choose? Let us talk about the most common flowers that people choose. Every flower has its meaning, it symbolizes something special and is good for some particular situation.
Roses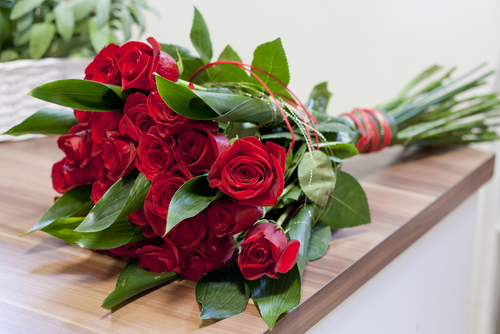 The first flowers that we think about are the roses. Are they good for the first date? Choose these gorgeous flowers for St. Valentine's Day or her birthday. The first date is too early for roses, especially red ones, because these flowers symbolize love and romantic relationships. However, if you know that the woman prefers roses choose another color like orange or lavender. These roses live longer in the vase, they will remind your woman about the date and the time you spend together longer.
Lilies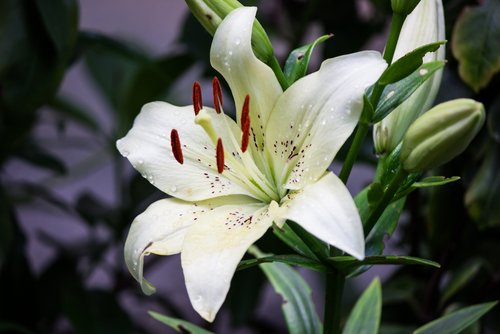 These are very special, tender, and famine flowers to choose for the first date and to impress the woman with them. White lilies symbolize purity. Of course, different countries and cultures have some special meaning, everything depends on the color and quantity of flowers. In European countries, these flowers symbolize motherhood and beauty. In China, they are associated with 100 years of love. However, some people are allergic to these nice flowers. Choose them if you are 100 percent sure that your lady isn't. Orchids
These exotic flowers will be to her liking. Not many men choose these flowers for the first date, only the brave and creative one can afford this. Orchids symbolize luxury, strength, and, of course, beauty. You may choose any color, size, or shape, any orchid will impress her. Show her that you are a special man.
Gerberas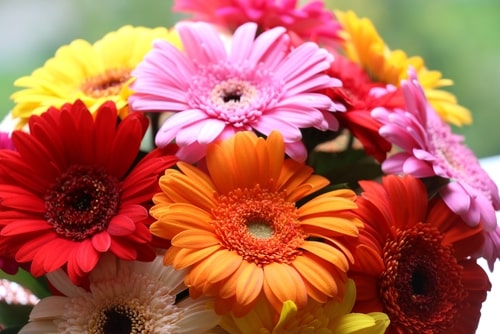 These cut flowers are not only bright and cute, they stay fresh for a long time in the vase. It is associated with purity and beauty. There is a big variety of colors and you will be able to choose any to your liking. Maybe orange, red, yellow or all colors together in one bright bouquet. A bright bunch of gerberas will make your woman smile and give a positive start. Gerberas are flowers for a girl you just started dating.
Tulips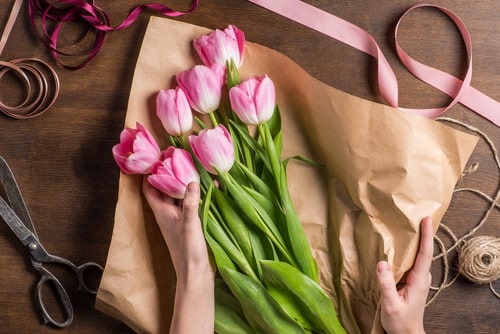 Nowadays these flowers are possible to buy all year round. However, tulips are strongly associated with spring, the beginning of something new. Thirty or forty years ago people could buy tulips in spring only so there is still a strong connection with the rebirth of nature and feelings. Give her a bunch of tulips if you wish to start serious relationships. A bouquet of tulips is a symbol of grace, beauty, and elegance. However, a lot of men and women know that tulips say about deep love. Choose this type of flowers for the first date without any doubts, they suit this occasion perfectly.
Let the first date with the woman be special and the beginning of something big and long-lasting. Choose the perfect flowers for the first date for the special lady, impress her, and enjoy her smile and sparkling eyes. Let it be the best evening full of bright emotions and colors.
Categories
Kate, 31

Giulia, 30

Olga, 28

Mila, 31

Sofiia, 21

Anna, 24

Marina, 25

Diana, 24

Daria, 31

Ivanna, 24

Ira, 35

Olia, 20

Katya, 24

Ira, 25

Julia, 29

Vita, 23

Nataly, 32

Nataly, 30

Angelina, 25

Helena, 21
More 900+ ladies
Support questions
Support: Hello, Lee!
How can I help?
You: Goodafternoon, You have video dating online